Every bloke needs his own space. But for some of us there's just not enough room to set up a retreat in the house or the shed. Luckily, there's another option that, for many, is quickly becoming the man cave of choice.
Man caves come in all shapes and sizes and when it comes to their design, the owner's imagination provides the only boundary.
We've come across man caves in the form of spare rooms in the house, sheds in the backyard, renovated warehouses and even an old brewery… the list goes on.
There are many reasons blokes may need to consider options outside of the home when creating their manly oasis and two of the most common seem to be a lack of space and disapproval from the better half. This is where sheds and garages make for good alternatives. But another option exists and is beginning to find its way into backyards all over the country.
Shipping containers make the world go 'round. They carry important contents from country to country and spend a lot of time out in inclement weather, over rough seas and on the back of trucks travelling from city to city. Because of this, they're built tough and can survive the harshest conditions known to man.
While it's unfortunate that Australia tends to import more goods than it exports, it does mean there are plenty of containers lying around the place just waiting to be repurposed into something greater than a lonely lump of steel in one of our major ports.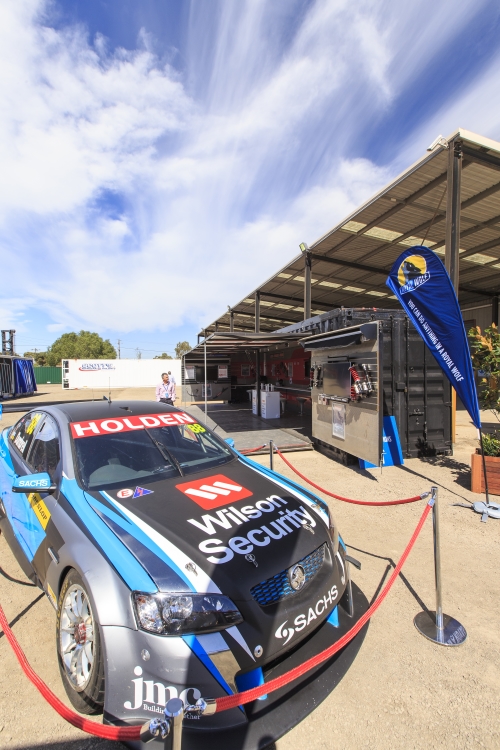 Repurposing shipping containers has become quite popular of late and they're currently being used for everything from miner's accommodation in remote locations to mobile kiosks, holiday houses and of course – man caves.
They come in a heap of sizes and negate the need to lay a slab but the best part is, they are portable – if you have to move, the whole thing slides onto the back of a tilt tray and away you go.
As far as finding a shipping container goes, there are a few ways you can go about it. The cheapest option is to grab a used container and get stuck into the refurbishment yourself (of course if you're going to put in plumbing or electrics, get a licensed tradie in).
"A second hand container is usually in service for about 10 years with a shipping company before they're sold into local markets. We have a variety of grading available for sale" says Steve Tenni, Royal Wolf, State Manager Victoria.
"Usually, a second hand container is over 10 years old but if you make sure they're protected from the weather – paint and maintain them – there's no reason they can't last for a long period of time."
The only real enemy of a shipping container is rust so, before you make a purchase, give the container a good going over to make sure there's no penetrating rust.
To identify penetrating rust, as opposed to scale or surface rust, keep an eye out for holes, patches or thin spots. These are likely indications that the container's structural integrity has been compromised and you're probably best moving on to the next one.
Once you've chosen a container it's important to eliminate any existing rust. This involves grinding off any rust patches on the container ensuring that you get rid of all of it. Once that's done the container will need to be primed and painted.
If all that sounds like too much work, you can buy readily refurbished containers from Royal Wolf – making it still significantly cheaper than going all out for a new one.
Then you need to decide how you're going to configure it. The thing about shipping containers is there's really no limit to where you can put doors, windows and vents. And while stacking containers can get expensive, the end result is nothing short of awesome.
For blokes who do have a bit of cash to throw around, Royal Wolf can produce custom-made, fully decked-out containers to order. These come fully insulated with plumbing, electrics, glass windows and even air-conditioning. You let them know how you want it configured and they'll do the rest.
"We even do fully-fitted two bedroom units made out of one 40ft container. They've got a bedroom up one end with a double bed, then a kitchen, shower, toilet and another room at the other end where you could put a bunk bed or whatever you like in there. People put them on a block of land and use it as a holiday house. There's also a 20 footer which just has the one bedroom," Steve says.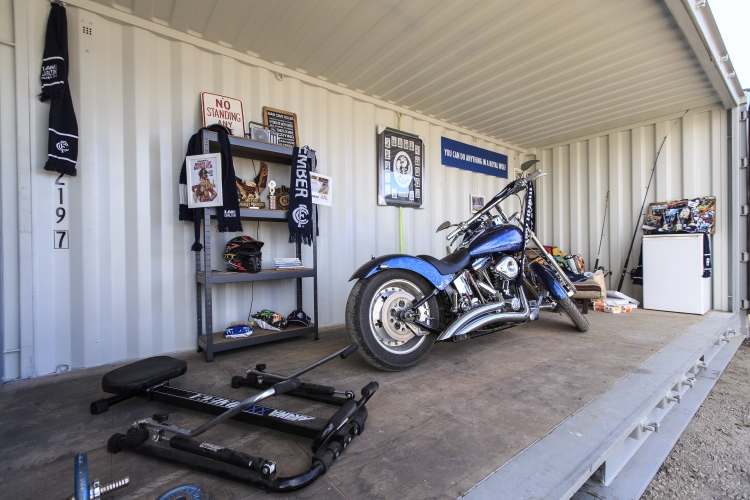 You don't have to go all out to get yourself a pretty sweet man-cave – there's enough scope here to suit almost any bloke in need of his own space. Whether you want to start with a blank slate and add your own modifications to a used container, or get the supplier to throw in a whirlybird or two and an awning window – the choice is yours.
"We've done modifications where the whole wall folds down and becomes an extension of the floor and another awning goes up so you've got an extra covered area and a deck space as well. Alternatively we can just cut in a normal door and a window or two – there's really nothing a customer can ask for that we can't do," Steve says.
When it comes to the external look of shipping containers, owners have the option of cladding them in a variety of building materials such as timbers or metals to soften the appearance or keeping them as they are, just with a lick of paint, to maintain that rustic container feel. Again, this can either be done on a D.I.Y basis or custom built when ordering the container.
Depending on your local council though, it may be necessary to conceal the container in cladding in order to gain a permit to locate one in your backyard so it pays to get in touch with them before making any decisions.
So, if you're looking for the perfect space to set your cave up in, perhaps a shipping container is the way to go. And remember, wherever you move, they can too.