A lot of people dream about making a living doing what they love. Rob Bast had this dream too, and set about making it a reality. Jacob Harris caught up with the renowned chainsaw sculptor to find out more.
Art and chainsaws don't find themselves in the same room a hell of a lot, or the same sentence for that matter. But for the last few years Rob Bast has been doing his best to change all that. He's a chainsaw sculptor who took out first place at the 2015 Australian Chainsaw Carving Championships in January with a carving of a dragonfly that is nothing short of spectacular.
As I pull up to Rob's cavernous workshop, he's hard at work welding a metal sculpture of an eagle for an installation at Healesville Sanctuary. He's a friendly, down to earth bloke who's happy to put down what he's doing and welcome me in for a chat.
As I walk into his massive shed, I'm confronted with owls, goannas, Vikings and a VW Amarok (about half the size of an actual car), all carved out of wood and surrounded by all manner of chainsaw. I ask Rob how he got into this unusual line of business and he tells me that from the minute he saw it being done at an agricultural show, he knew it was something he wanted to pursue.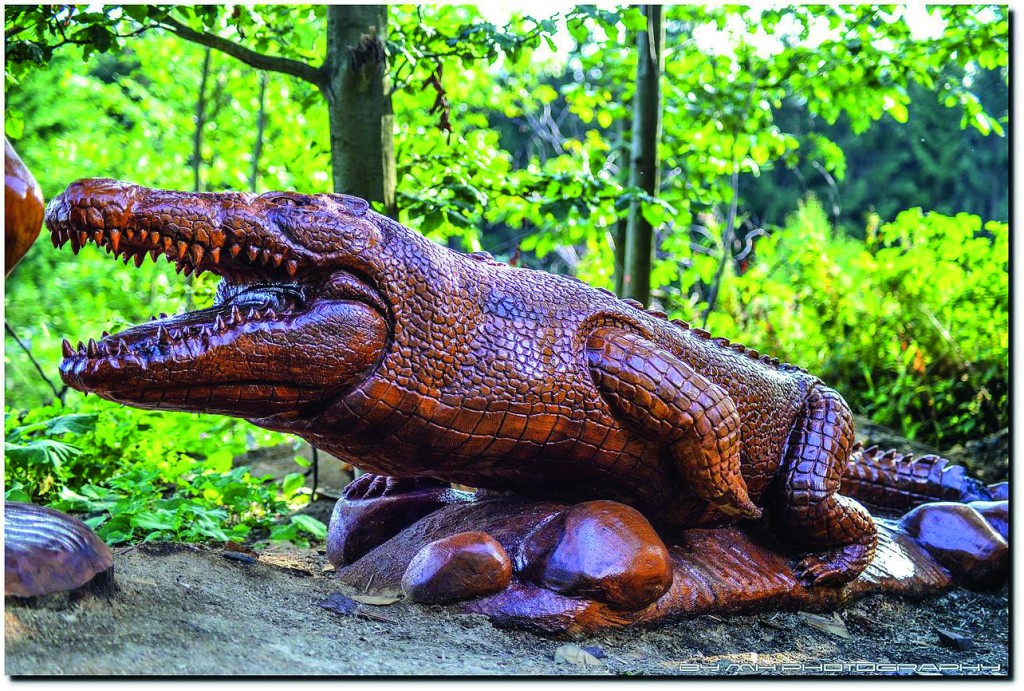 "I saw some guys carving at the Elmore Field Days and I thought 'I want to do that.' I think what appealed to me first was using an extreme tool to make something beautiful. So I went and spoke to them and a guy with a thick Canadian accent gave me some tips on how to get going. He basically said 'get yourself a carving bar (a chainsaw guide bar with a very fine tip) and go at it,'" Rob says.
While he did have a couple of mentors in the early days and says he still learns a lot from watching other guys carve, as far as I can tell, it's Rob's dedication to his craft that really speaks to the quality of his work. And just six years after he started, Rob made the transition from a hobbyist to a full-time commercial artist.
"I landed six weeks of work doing a playground for the City of Greater Dandenong. I was working with my brother at the time, so I asked him if I could have six weeks off. He wasn't wrapped but said we could work it out. But by the time I had finished that job I'd picked up another two weeks of work, so I rang my brother again and asked for more time off. He said 'give me a call when you're ready to come back.' That was in 2009, so I do miss my brother," Rob jokes.
"Seriously though, it's been grouse. I certainly fell on my feet and found a niche market . It's something I really love doing."
Creativity runs in Rob's family; his dad was a commercial artist and his grandfather a painter. Rob and his brother (both boilermakers by trade) also used to make and sell metal sculptures before Rob's foray into chainsaw carving. This might go some way to explaining his ability to create extremely lifelike sculptures – or it could just be the hours and hours of practice he's put in.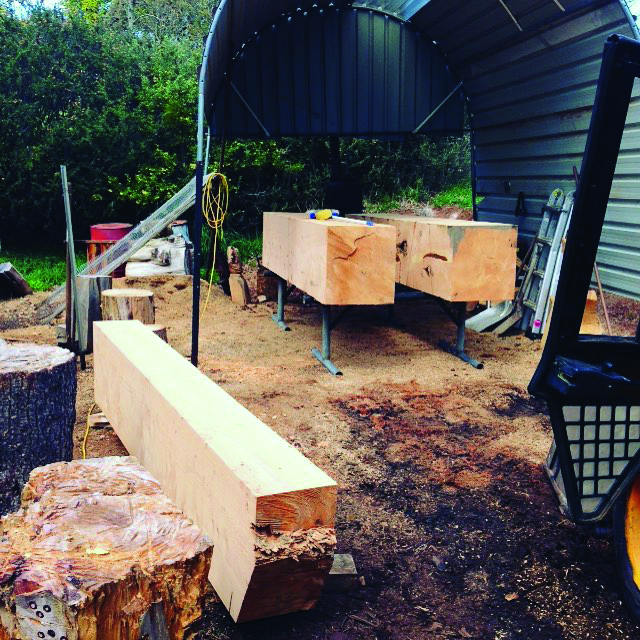 "When I'm sculpting and trying to get that realism, I study the animal I'm going to carve and see how they sit, how they move, where they put their weight and all that sort of thing. I also spend a lot of time just doing tutorials on the net and reading books on sculpture and chainsaw carving," Rob says.
But arguably the most impressive aspect of what Rob does is the time he does it in. We're chatting away about his work when he casually gestures to an owl that stands about a metre high and says, "these are really fast knockouts for me now. I do them in about two hours!"
"I do a lot of shows – agricultural shows, the Melbourne show and that sort of thing. So you have to do speed carves to keep the audience involved. If you're sitting there doing a massive piece that's going to take you the whole weekend people aren't going to be engaged. The audience loves it when you smash them out fast, so you just learn to get faster and faster," Rob says.
Chainsaw carving has taken Rob all around the world, and not just in wood. Glen Smith from Down Under Ice Design had given Rob a bit of ice carving work here and there before calling Rob one day and asking him to do a job.
"I was a bit worried because I'd only ever done four jobs with him at that point. But he told me I'd be carving with three other blokes who were experienced ice carvers, so I said I'd do it and asked him where the job was. He told me it was in Fairbanks and I was thinking it sounded like a housing estate when he added, 'Alaska. It's in two weeks!'"
It turned out the 'job' Rob had been asked to do was actually the World Ice Art Championships. He was competing as part of the Dutch team, carving huge blocks of ice.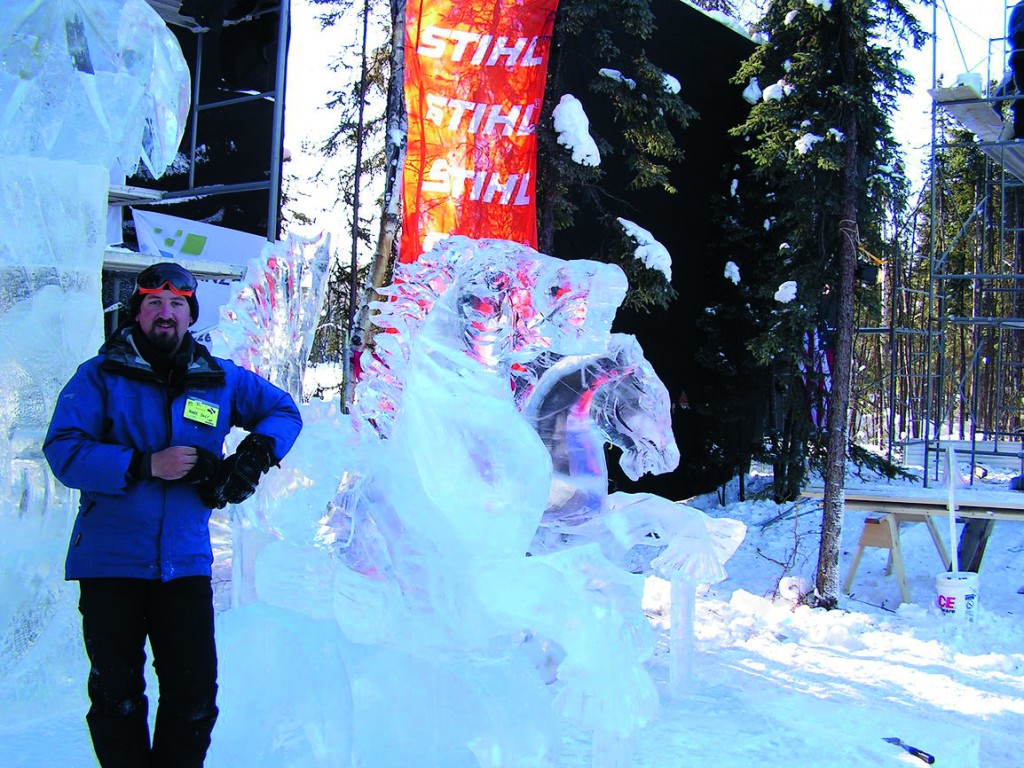 "There are guys out there carving sculptures eight metres high. I just kept thinking 'what am I doing here.' It was just mental. Those guys carve hard and party hard, so there were some interesting nights. You've got four days and you can use as many hours out of those days as you like, and let me tell you there are some crazy dudes out there!" Rob says.
When it comes down to it though, wood will always be Rob's medium of choice. He tells me it's a bitter-sweet feeling to finish an ice sculpture with the knowledge it'll soon melt. He likes the permanence of wood, and the fact it's a sustainable resource.
"There's no real call in the timber industry for the kind of cypress I use, so a lot of it just gets burned. There's actually a disease going around called cypress canker that's really knocking the trees around. So I might be getting a hell of a lot more wood in the near future!"

Business is booming for Rob these days and someone wanting a tree stump transformed into one of his sculptures might need to wait six months before he'll have a chance to do it. But like any good self-effacing Aussie, Rob isn't one to blow his own trumpet.
"Like any artist you work on perfecting your craft and you just get better and better. When people say 'wow I couldn't do that" I just tell them, 'I've been practicing for a very long time.'"