Ex-Australian cricketer Ian Callen has taken his love of cricket bat making to the next level by planting thousands of English willow trees in and around Victoria's Yarra Valley. Justin Felix caught up with the renowned bat maker to find out how he plans to put locally-made cricket bats on the map.
English willow has long been regarded as the best wood for making cricket bats. It is considerably lighter than Kashmir willow and its strength and resilience make it the perfect material for smacking balls all over the cricket pitch with.
The English have been crafting bats out of the stuff for centuries and fancy themselves as the best makers in the world; however, there are some fierce competitors emerging in Australia who have something to say about that. One of whom is an ex-Australian fast bowler whose love for the sport never quite dissipated, even long after his playing days were over.
Ian Callen was more often than not on the opposite end of the batter's crease; driving fast balls down the wicket to send batters marching. However, after spending some time repairing bats and studying their intricacies, his passion for them grew into something far greater than he was ever able to walk away from.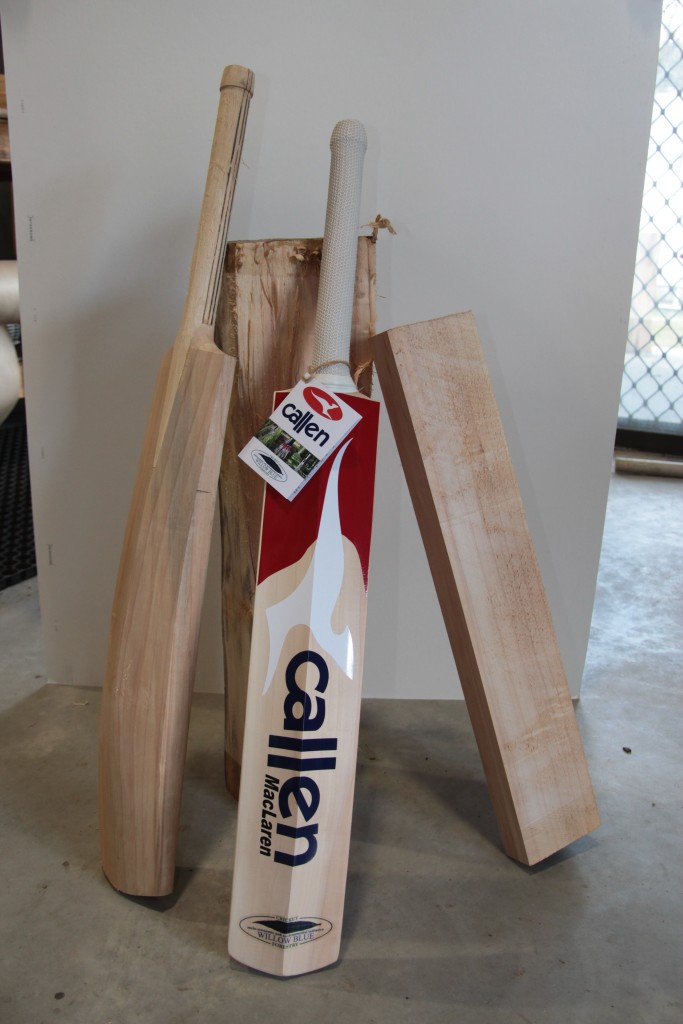 "When I was coming to the end of my cricketing career I owned a sporting store in Boronia, Melbourne. We were offering bat repairs as a service there so I got right into it whenever I was at the shop. Around the same time, during a trip to South Africa, I met a guy who had imported some clefts that needed handles attached. I helped him out and after working at it for a while I could really see myself getting hooked on it. I eventually reached a standard where I could produce a good quality bat," Ian says.
He admits to always being pretty handy with his hands and tools thanks to being brought up on a farm.
"My father was a boilermaker and often asked me to give him a hand so it wasn't hard for me to pick up some tools and make something.
"Many people would be daunted by the task of making a bat but it's definitely something that can be taught. I really think it's something people get great satisfaction out of so that makes it easier too."
Ian completed his bat making apprenticeship under Master Craftsman Chris Farrant in England in 1985 and immediately began making bats under the Callen label.
In fact, in his pursuit to become one of Australia's leading craftsman of quality cricket bats, he went as far as planting a large crop of English willow to ensure the future of the species in Australia remains.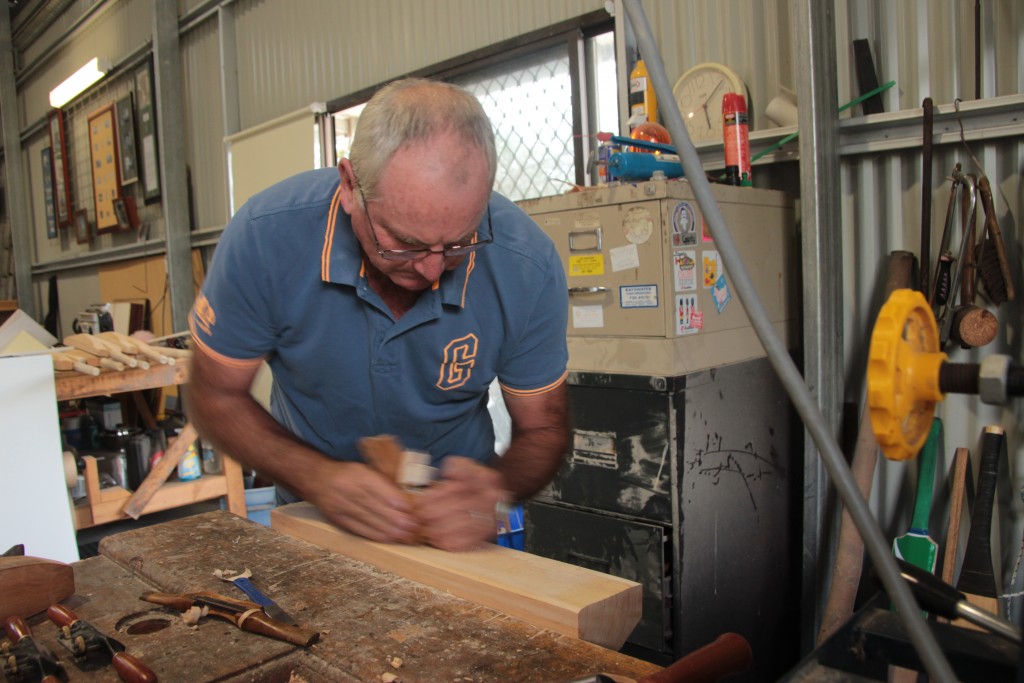 "I started toying with the idea in the mid-80s when I found out that English Willow was sent to Australia in 1902. The English Captain, Archie MacLaren, while honeymooning in Healesville, was struck by the similarities to the English climate. He sent English Willow cuttings to former test umpire Bob Crockett. The Crocketts were looking for people to grow them on their properties, a bit like they do in England. As a result of this a plantation was established at Shepherd's Flat near Daylesford, Victoria. This plantation was producing bats until it was bought by Slazenger in 1956 before being cut down. It seems we had the English worried even back then."
After hearing this story, Ian went on a mission.
"I found some of the original trees and began the long re-establishment process.  I also had the task of convincing the authorities that I was not cultivating a weed, together with the task of finding a suitable location for the plantation. I had Ecology Australia, Department of Conservation and the Centre for Forest Tree Technology all breathing down my neck.
"The other thing was; we wanted to grow them with the intention of eventually cutting them down so we didn't want people protesting when the time finally came for us to do that. It must have taken eight or nine years for us to get the permits to grow them. We collected root stock from various places and in 1994 on 25 acres of flood plain leased from the Healesville Racing Club, I planted my first set of English Willow. Over a number of years we added more and more and ended up with about 3000 trees. We also have guys growing them in different locations. One guy is putting a big plantation in over the next couple of years around 15,000 strong."
Ian suggests that the areas around river flats are most suitable for growing the willows; however he has also achieved moderate success when planting them on slopes if irrigated.
"We have made some mistakes along the way but it's all a learning curve. We couldn't get any information out of the English because they're adamant that English Willow can only be grown in one place and that's England."
They were wrong, as is evidenced by Ian's thriving crop in Victoria's picturesque Yarra Valley.
As they were English Willow to be grown under Australian conditions, Ian named the plantation Willow Blue. It hasn't been an easy slog though and plenty of patience has gone into the making of his bats.
"We originally thought it would take 12 years for the trees to reach the suitable height for bat making; however we later learnt that 20-24 years was the optimum time. This year marks their 22nd birthday.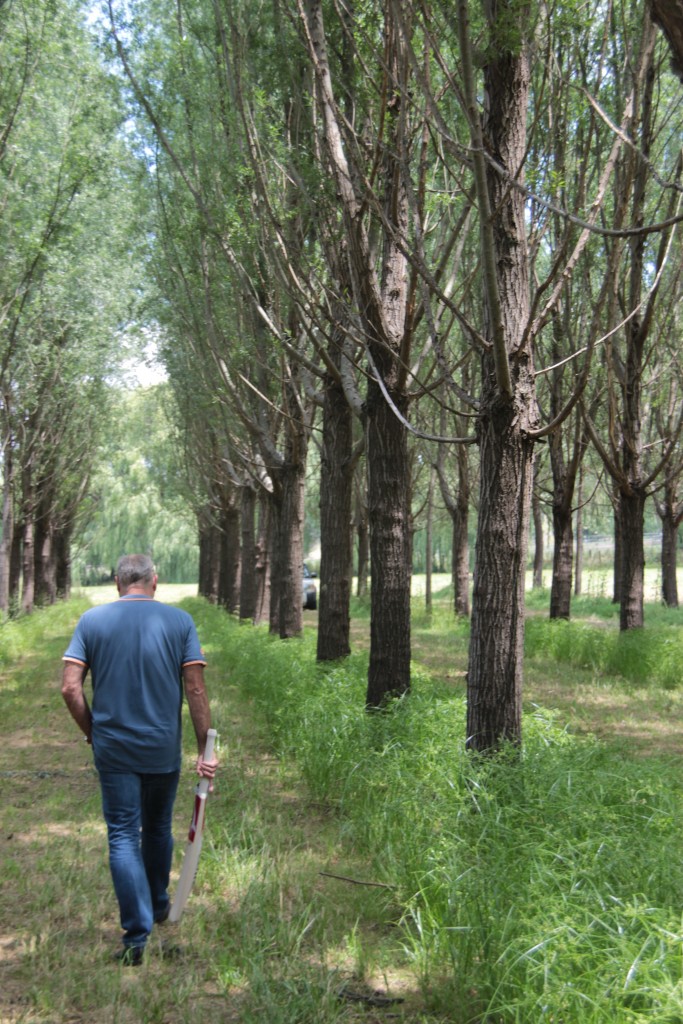 "I started preparing the land in February 1994 and planted them in July of the same year. I have been maintaining them ever since."
A walk around the plantation some three kilometres from Ian's home helped to really gain an appreciation for just how much work goes into keeping the crop in good order. There were rows upon rows of trees as far as the eye could see.
"So when do you know they're ripe for the picking Ian?" I wondered.
"When they reach 14 inch in diameter you can get bats out of them, but we prefer to wait until they reach 16 inches.
"We like to grow them a bit longer so that the red colouration grows out of them. We not only aim for the strongest bats but the most cosmetically appealing too."
Early reports suggest Willow Blue bats are fit for the purpose too with batters experiencing a lot of joy with them where it counts – on the pitch.
"We've been making bats out of the trees for the last three years now and we're pretty happy with how they've performed. I was always confident in the quality but now I'm convinced because I haven't received any negative feedback from batters. There haven't been any reports of splits or faces being caved in which was somewhat surprising as a lot of English Willow bats are buggered after 12 months. I think the wood will only get better too."
With demand for the bats expected to ramp up over the next few years, Ian knows that he cannot supply good quality products all on his own so he's set about training other Aussies in the craft. All up he 's looking for 75-100 bat makers all over the country.
The first three courses booked out quickly and the second lot are heading in the same direction so there's certainly no shortage of interest.
"I'm probably making about five bats a week. I used to do 500 a year but there's no way I could do that today. I'm reaching a stage now where I'm thinking about retirement. With the amount of trees we have now, I have 3000-5000 clefts coming through each year. There's no way I can make 3000 baits per year thus I came up with the idea of setting bat makers up all over the country. In order to do so we have arranged for courses to be conducted over the next 3-5 years. Course goers will become Accredited Willow Blue Bat Makers and as a result will be given access to supplies of raw material."
As Ian quickly pointed out; there's a big advantage to being supplied with Willow Blue's clefts as the majority of bat makers in Australia aren't able to get their hands on top quality willow.
"There are bat makers and then there are bat makers," Ian exclaims.
"Some blokes are happy to slap a sticker on whatever they can come across. They order wood from England but they're at the mercy of the English as to what is sent. Unfortunately, the best wood remains in England.
"The only people who will use our wood are our Accredited Willow Blue Bat Makers. Some will probably only do it as a hobby while others will go all out and full bore with it. These guys will be able to make bats as well as repair them which is great as they will be able to service their local areas."
The classes will be held on Ian's property with a fair chunk of time spent in the oversized barn workshop. They will be taught everything from how to set up their work space, using the tools and equipment, drawing the blade, grading willow, binding the handle, fitting the grips, repairing bats and even how to set up their own businesses.
"I never set out to compete with the big boys like Kookaburra and Gray-Nicolls. It was just my dream to create a sustainable cricket bat industry in our own backyard and it seems as though reality is finally kicking in."
Who knows, one of Ian's Aussie-grown English Willow bats might just win us The Ashes some day…