Every pair of headphones produces its own unique sound which varies depending on what they are made from. Plastic, wood and metal reverberate sound in different ways and consequently, each of these materials have their strengths and weaknesses in terms of sound. Ceramic however, is the most acoustically neutral; so if you want to hear your favourite artist the way they intended, look no further than the Nesta In-Ear Headphones from The House Of Marley.
The Nesta In-Ear Headphones are made with a zirconia shaped ceramic housing, which features a modern stainless steel trim. The result: a striking jewel-like aesthetic like no other – and thanks to the impartial acoustic properties of ceramic, you can now listen to music as it was heard in the studio.
The House Of Marley have coupled 6mm dynamic drivers with ceramic to produce a more balanced sound, ensuring deepened & smooth bass tonality which is coupled with a perfectly counterbalanced treble. These affordable headphones are designed to facilitate a more accurate soundstage alongside their ergonomic design, ensuring a more comfortable fit; so that you can listen to your favourite jams day-in, day-out.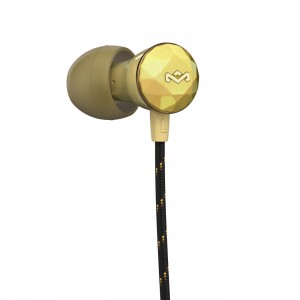 The House Of Marley consider the earth's environment when designing their product: this is why the Nesta In-Ear Headphones feature sustainable materials such as Precision Milled Aluminum and 100% recyclable packaging, in an effort to keep materials out of the waste stream.
To top it all off, the Nesta In-Ear Headphones feature a convenient three-button microphone for answering/hanging up calls and pausing and playing tracks.
With a stylishly angled ergonomic port and a 52" fabric covered cord for reduced tangling, the House of Marley Nesta In-Ear Headphones are the functional, stellar sounding and sharp looking headphones that you've been searching for.