For those of us who don't like the prospect of setting up a tent in a thunderstorm or sharing the roll mat with a small ant colony, a caravan is the best way to go camping. However, many caravans these days are kitted out with better technology than most of us have in our homes and that can really take the fun out of 'roughing it'.
That's why a lot of blokes have been searching for a middle ground – something with minimal set-up, but isn't a five-star hotel on wheels.
Surprisingly, the solution hasn't come from a new development; instead the answer lies in a smart little unit from the 1930s, known as a Teardrop camper. These little gems can be easily towed for a spontaneous fishing trip, without the need for a massive vehicle up front.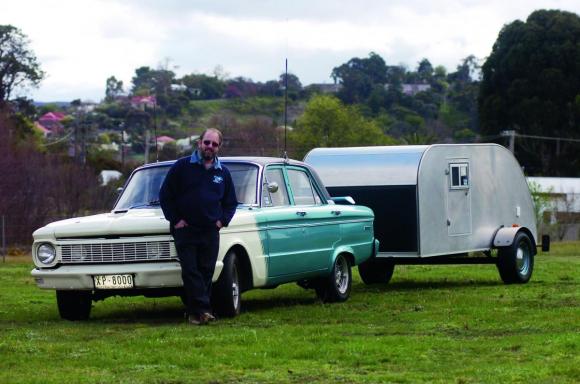 Getting their name from their teardrop-shaped shell, the trailers weigh in at less than 450kg and are no longer than 3m in length. However, they still manage to house a sleeping area for two, ample storage space, and even a modest kitchen.
For many, it's the simplicity of a Teardrop that is its most attractive quality, and that's why we're seeing a recent resurgence.
Oh … and they look really cool.
Simon Muntz is a Hot Rod fanatic who manufactures and distributes parts and accessories for Street Rods and Teardrops. He also sells plans for anybody looking to construct their own Teardrop, so he knows the inner workings of them better than most.
"The thing I love about them is that you can simply pull up to a campsite and you're good to go. You don't have to roll the tent out, set it up and put everything inside. You just unhook the unit from the car, connect the power, turn everything on and away you go. It's just so simple," he says.
From his experience selling plans, Simon says a lot of people use the instructions as a guide, but go on to customise their Teardrop and create something completely unique.
"A Teardrop is as basic or complicated as you want to make it. If you want to put a TV, DVD player, stereo system and an electric fridge in there, you can. Equally, if you just want something to sleep in, you can just put the essentials in – a mattress, a light and power switch – and you're set."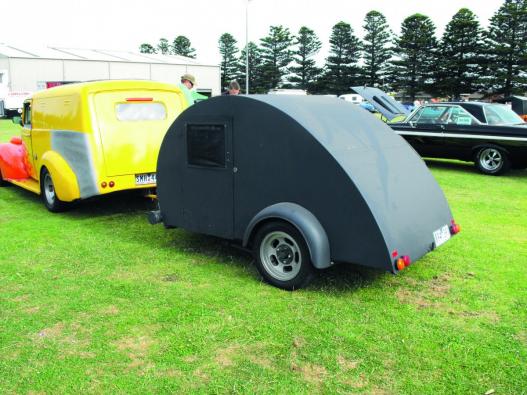 Simon built his own Teardrop back in 1994, and it's still going strong. His version is inspired by a 1950s/60s style, but he opted to include modern caravan components.
Also, unlike many who opt for a wooden outer shell, Simon's Teardrop is aluminium-skinned, giving it its distinctive look and making it lightweight.
"Many people make theirs out of marine plywood. If you know how to bend and shape the material, you can get great results. However it can be tricky to weatherproof," Simon says.
"A big downside to my aluminium cladding is that it regularly needs a substantial polish. Also, if a rock hits it, the dent will stay with it permanently. Then again, that kind of adds to the character; some people say stone chips are like war scars."
If you take a peek inside Simon's Teardrop, you see that it's tailor made for a getaway weekend. The main section has a mattress, allowing him to just throw a sleeping bag in and away he goes. It also has a light for reading and a 240V power point – ideal for plugging in a heater or fan.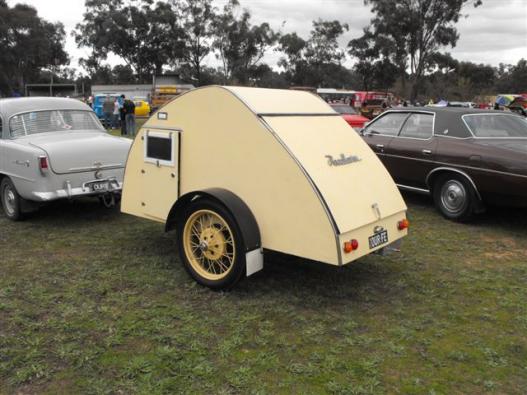 However it's the kitchen which is arguably the most impressive section, and also illustrates how a Teardrop isn't just a mobile tent.
"The thing I love the most is that you open the hatch and your kitchen is essentially as big as the whole outdoors. Mine is set up with a basin for a sink, a kettle, toaster, hot plate and a little electric fridge which can run on 12V battery or 240V mains power," Simon says.
Although there are caravan companies who manufacture and distribute brand new Teardrops, it is a common thought that a true 'Teardropper' will only restore an original, or get their hands dirty and start building from scratch. But how easy is it to actually build one?
Simon explains that it doesn't take a rocket scientist, but you still need to know your way around a toolbox.
"If you're a tradie, such as a cabinet maker, carpenter or boiler maker, you should be able to build it yourself, but you may need to outsource a qualified electrician. A Teardrop with 240V power needs to be double-pole insulated, so you need to know what you're doing," he says.
You also need to get your weatherproofing right.
"If you do it right, you shouldn't be limited by weather at all. Rain won't get in – I've even been in mine in a massive thunderstorm and it's fantastic! You begin to wonder whether you're going to survive it, but that's all part of the fun!"
Like many of a man's greatest pastimes, one of most rewarding aspects when building a Teardrop is the knowledge you gain and the supportive community you can involve yourself in along the way.
"Every time you talk to somebody who's building their first Teardrop, they're doing it for a completely different reason," Simon says.
"I recently met a guy who wanted to transport his Harley Davidson around, but he didn't want people to know that he wasn't riding it. So he built a Teardrop with a hatch that opens in reverse. Not only that, but when he pulls the Harley out, he's got somewhere to sleep!"
It's this ability to 'think outside the box' that is an attribute of a true Teardropper.
"It takes a certain person to build a Teardrop – they're the sort of person that wants something different and are prepared to figure it out themselves," Simon says.
"My advice for anybody wanting to take the plunge into Teardrop territory is to do your homework; go and look at them, do some web research and speak to as many owners as possible. If somebody has built a Teardrop from scratch, pick their brains, they'll love to talk to you about it."
Contact:
Simon Muntz's Street Rod and Accessories
www.streetrod.com.au