Some people get in a car and notice nothing about the drive – for them it is merely a means of getting from A to B. No disrespect… but I don't understand those people. For me, one of the great pleasures in life is getting into a unique vehicle and enjoying the drive for whatever it provides.
I've been lucky enough to be driven around a race track in a V8 Supercar by Alex Davison – that was pretty special. I know I've mentioned in the past how I have an incredibly basic MG in my garage – and despite its very … rudimentary nature, there is still something magical about being in it on a cruise along an ocean road. And after spending a good 20 minutes ripping through an abandoned quarry at angles and degrees I would not have believed possible, I will include the Tomcar in my list of ultimate automotive experiences.
The Tomcar is an Australian-made two-wheel drive all-terrain vehicle (ATV) that you truly need to experience to understand. Its capabilities in where it can take you is quite incredible, yet it boasts exceptional safety and is very straightforward to be worked on if needs be.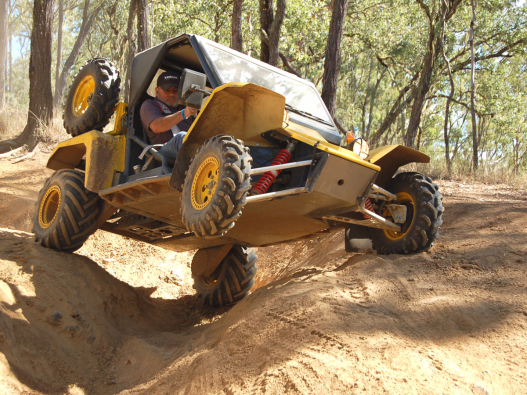 It is the culmination of seven years work by the Brim family, who saw the opportunity of an existing product overseas but wanted to improve and modify it for the Australian market.
Originally researched and developed in conjunction with the military, the Tomcar has been in continual active development for over 20 years. It still successfully serves numerous military and security forces in conflict zones across the world, the most recent with the British Army contingent of the NATO force currently stationed in Afghanistan. While it is something of a different beast in Australia, its roots are still clearly evident.
"The genesis of the Tomcar vehicle goes a long way back – to the 1967 Six-Day War in the Middle East to be precise," explains Tomcar Australia CEO and co-founder David Brim.
"There was an Israeli Special Forces Platoon that was parachuted behind enemy lines in the Sinai Peninsula with six old Jeeps. Perhaps not surprisingly, every car broke when they landed.
"Among the group was a man called Yoran Zarchi who managed to cobble together a working car from the various wrecks, then complete the mission and successfully get back to Israel.
"That experience later influenced Yoran Zarchi and he went on – after his time in the armed forces – to design a vehicle called the Tomcar. Its basis was to be something that was ultra-strong, capable of driving in extreme conditions and easy to fix should anything happen to it."
And that basis rings true today, with the name Tomcar still evident in a number of countries, largely constructed for the military sector with different specifications for varying needs and roles.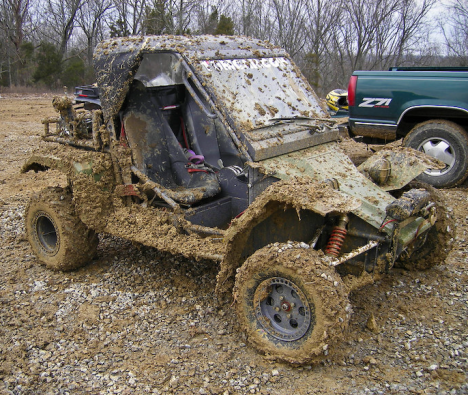 When David, his brother Michael and their father Joe saw the Tomcar in Israel, they believed it would be a perfect fit for Australia in both terrain and lifestyle. However they also believed it would need to be adapted to the local market and be available to the residential sector as well.
"It's been a family effort since 2005," says David. "We knew there would be a lot of development required to rationalise it for the Australian industry, but it was probably a bit more work than anyone could have anticipated. We wanted to improve the car's performance and yet also be able to mass produce it – and we wanted to be able to completely assemble it in Australia with as many locally sourced parts as possible.
"It's been enjoyable, but it has been a very long process. We've taken an excellent product and improved its reliability and quality. We've also turned it from a hand-made one-off vehicle for Special Forces into a production vehicle. And that takes years of development with a mountain of processes and legal requirements along the way."
It's important to note that when David says the car is assembled in Australia, he literally means from a clean chassis and constructed from individual components. Many cars or items that are 'assembled in Australia' can actually come partially built and are merely finished off locally.
"We currently source 40% of the components of the car locally – which is quite a lot for the car manufacturing sector. Our aim is to get that to 80%, but we need to be manufacturing more cars for the cost efficiencies to come into play. There are some elements you just have to accept that you won't be able to do – for example, you cannot get an Australian-made engine as they simply do not exist, however it really is our mission to source as much as we can locally.
"We've been accepted into the Australian-made campaign which is great for us and something we are very proud of."
Going for a ride in one is quite the experience. As we worked our way around the old quarry for the test drive, there appeared to be nothing it could not handle. Mud, water, rocks, steep inclines, steep declines and the most extraordinary grip on sideways angles that I have ever seen. You can understand why the commercial sectors would see the need for one … and you can understand why anyone else would want one.
It takes the off-road performance of motocross bikes and ATVs but, very importantly, has the safety and practicality of a larger sports utility vehicle, and given the frighteningly-high number of injuries associated with quad bikes, this should not be underestimated. This is due to the fact that is has the most amazing geometric balance – or, in other words, it has the ground clearance of a Humvee, with the stability of a Porsche … now, that's a combination you won't hear very often.
When you then add in that it has the ease of maintenance more closely related to vehicles from a by-gone era, it's no surprise there are various sectors interested.
"Overseas, Tomcar is predominantly a military-grade vehicle and it can be here too," David says. "What we've done in Australia, is to work on that car dramatically in order to make it applicable to commercial and residential uses as well. The basis is still identical to the military version; we are merely increasing its capabilities so that it can be used by more people.
"As such, we expect the majority of our sales to be in the agricultural, search and rescue, and mining sectors but we will be approaching the Australian Defence Force as we believe it still has many uses for them," says David.
Take it from me though – one drive and you'll be thinking of how you could make use of it in your own way.
"It is an all-terrain utility vehicle and we are marketing it as that, but they are also amazing to drive and very rewarding to own.
"Furthermore, they are very affordable to maintain and run, and while those are all traits that are attractive to the commercial sector, it can also provide a lifetime of fun for someone who simply uses it on a recreational level."
At the time I went to visit David, the first units were rolling off the production line. A deal struck in early 2011 means that MTM Auto (an automotive parts manufacturer) essentially produces the vehicles in a sub-contracting arrangement.
"It's been a long journey, but coming to work and seeing all the pieces on the shelves ready to go is very rewarding. I'm trying not to get too far ahead, but it's the most excited that I've been through the whole process.
"Something as simple as a large tub of bolts, complete with its official part number and reordering number, is very exciting – its tangible proof of seven year's hard work for me, my brother and our dad.
"There have been a few times where the workload seemed insurmountable, and my brother and I would look at each other and question if it was what we wanted to do, but all we had to do was jump in the car and go for a 20 minute drive and it all seemed worth it again.
"This has been our life and our passion for seven years and it's finally here!"
If you'd like to experience the Tomcar for yourself – and I can truly say, you won't understand how good it is until you do get behind the wheel – call 1800 866 227 or go to www.tomcar.com.au and look for the list of local dealers. There is also a form online to register your details for a demo drive.