Tradespeople have traditionally formed the backbone of Australian football – as professional or amateur players, supporters, regional club members and sponsors. In recognition of this long-standing association, one of our sister publications Plumbing Connection, put together a team of great Australian Rules players – past and present – who have also enjoyed the spoils of being a tradie. While the list was compiled some years ago, it still goes to show that many great players started their careers in a trade.
It's a proud list with some real greats of the game in the squad. We hope you will enjoy it.
Comments from the Super-Coach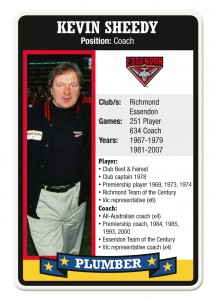 After an extensive search for the best the competition had to offer, the Onsite All-Stars Australian Rules team has been finalised. The selection committee sat down with Master-Coach Kevin Sheedy for his thoughts on the team.
Let's be very clear – this is a good Aussie Rules team. We've got ourselves one hell of a centre square, a number of key-position stars and some brilliant football talent around the ground. Put it this way, there are 22 players on the park and within that you've got 14 premiership players, six Brownlow medallists,
14 club best and fairest winners, and 12 made it into their club's 'team of the century'. Even Glenn James umpired two Grand Finals while he was working as a builder. They're  all tradesmen; now there has to be something in that.
FORWARDS
HALF FORWARDS
MORE FROM SHEEDY
I got my first job in plumbing through my footy coach because that way he knew that I would always be able to get to training on time. It was the perfect job for footballers back then; you started early but you knocked off at four so you always had time to get to the ground.
It's amazing that a trade instructor could get you thinking in a certain way and that you could take that philosophy with you for the rest of your life. It's the same process that got me thinking of ideas like 'The ANZAC Day clash' or 'Dreamtime at the G' or 'The Eureka Match'.
Look at that team again – you've got a guy who won his club and best and fairest nine times, playing alongside the man who played more games than anyone in the history of the competition – and they're being coached by the record-holder for games and coaching combined. That can't be a fluke.
Let's face it; it took 44 years and an electrician coaching for Geelong to get another Premiership.
So now we've got the 'Onsite All-Stars' together, we need to set them against a team of teachers in a fictitious match – that would get some tongues wagging. Although I think the only thing that would hold the tradies team back is that they'd be getting weighed down with all those medals.