As Melbourne temperatures slowly increase and the sun begins to bite, I've found that my attention is gradually shifting from stouts and porters to ales.
There really is nothing better, in my opinion, than pouring a cold ale when it's time to quench a thirst on a warm summer's day. And this little number from Vale is likely to make a regular appearance in my fridge over the next six months.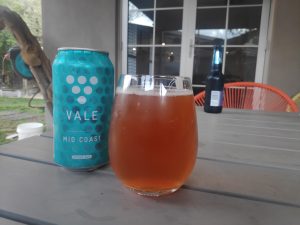 A fresh, crisp bright ale, Vale's Mid-Coast bright ale looks as good as it tastes. A striking amber hue will grab your attention before citrus notes (mandarin and tangerine) captivate the nose.
Australian Cascade and Victoria Secret hops combine to make this bright ale crisp, fresh and fruity, with only a hint of bitterness toward the end.
Coming in at 3.5% on the old alcohol scale makes it extremely sessionable and a six-pack won't tip you over the edge.
Get it for the warm summer days and balmy nights that await. You won't regret it.