PPE is becoming increasingly prevalent as you leave your house for your daily exercise or to visit the supermarket.
Masks previously seen worn on construction sites or when doing some DIY sanding to ones you've eyeballed during a visit to the dentist are now being repurposed for personal use, and it is clear – people are willing to wear anything to protect themselves from virus transmission.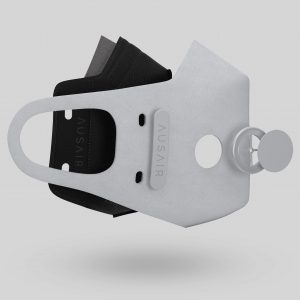 Ausair has created a chic anti-pollution mask that is functional, fashionable and infused with Australian botanicals to boot.
"The market is dominated by products which focus on pure utility, but we want to allow people to express themselves as well as have a mask that is comfortable and breathable," says Ausair co-founder Elias Honor.
"Your face is who you are and where most human emotion is expressed and interaction takes place, and so our goal was to create a mask that people actually wanted to wear," he says.
Ausair was formed in 2017 by two brothers and their childhood friend after a visit to China, where they were horrified reading data on the air pollution levels and the health impact that pollution had. After much research, and a disastrous start to 2020 with bushfire smoke covering much of the country, they saw Australia was headed in a similar direction.
They wanted to create a mask that was effective at preventing the inhalation of particulate matter – and as NSW Health notes, in order for masks to do that they first need to be fitted to the face correctly. They came up with an ergonomically designed prototype in multiple sizes (not one size fits all), with magic ear loops and memory foam to create a seal around facial contours. This is critical to prevent disease and virus transmission.
They have had the mask go through rigorous testing –  initially P2 and KN95, which protect users from fine particulate matter, with their filters blocking over 97% of PM2.5, which is the highest grading a mask can have. An added carbon layer also adds additional protection against certain organic vapours and odours.
Former students of Sydney University; the founders won initial grants valued at $15,000 along with multiple design awards. They then took their product to the Kickstarter community to raise further production funds, where their 'anti-viral mask' subsequently went viral. It raised over $1.1 million and now is crowdfunding on Indiegogo where they are at $1.8 million in funding.
Production is well underway for the mask skins which are manufactured in Japan. The masks will be available for shipping in June 2020, and by preorder on Indiegogo now.