Forget rosé, pink beer is the latest trend to hit our shores with beer and wine drinkers opting for a cool can of Raspberry Berliner Weisse, a German style craft wheat beer with a pretty pink hue.
Research shows that rosé or 'brosé' (men drinking rosé) is on the rise with almost as many Australian men now opting to drink pink as women. 1
"Pink is definitely no longer a taboo colour for blokes," Culture House George Stupart senior brand manager says.
He says pink beer such as Raspberry Berliner Weisse is particularly popular with those looking for an easy-drinking alternative to traditional beer and wine.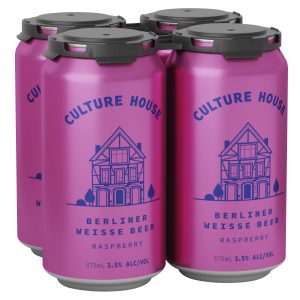 "Berliner Weisse is a lighter style beer with a revitalising spritziness. It is part of the popular 'sour' craft beer family renowned for its tart flavour which is a favourite amongst craft beer lovers and was dubbed 'the Champagne of the North' by Napolean's troops who loved it for its light zestiness," he says.
Brewed at The Mornington Peninsula Brewery in Victoria by Tribe Breweries, one of Australia's largest independent craft brewers, Culture House Raspberry Berliner Weisse is set to get tastebuds tingling for beer fans old and new.
"We have harnessed a mix of house cultures to brew our interpretation of the resurging German classic style Berliner Weisse to give it a mouth-wateringly moorish taste. The addition of raspberries blends perfectly with the bright, clean acidity of the base beer to give a deliciously crisp, clean flavour," says head brewer Kristian Martin.
Culture House Raspberry Berliner Weisse pours pink with a foamy white head and a light haze. It tastes great with cheese and complements fried or grilled meats such as sausages and steaks and goes well with hot chips as the cleansing acidity cuts through the oiliness to make a great palate cleanser.
With a moderate 3.5 per cent alcohol level, this easy-going beer makes a refreshing alternative to cider and sparkling wine – perfect for enjoying at barbecues and picnics on a hot summers' day.