It's been pretty damn cold in Melbourne. Obviously. It is winter after all, I hear you say. But the past week has been next level, sleep in trackies and a hoodie 'type of cold'. In previous years I'd look to red wine to warm the cockles during such a time, but this year, due to my insatiable obsession with beer, I've yearned for the likes of a delicious stout. Enter Little Creatures.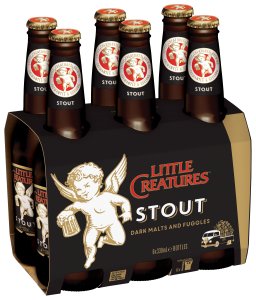 Little Creatures' seasonal stout  is not trying to be something completely out of the ordinary, which is what makes it so good. Making the struggle of winter a little easier to manage makes it all the more attractive to the palate too.
Chocolatey vibes. Coffee tones. Dark fruits. They all shine through thanks to US Loral in combination with Fuggle hops. Coming in at 5.8% ABV and 58 IBUs make it a stout you can comfortably tackle without the fear of tipping over into the dark side too soon.
Russ Gosling, Head Brewer at Little Creatures Fremantle says they are always experimenting to perfect brews as well as create new beers.
"We want people to take a sip and feel like they're in a cosy London pub by a roaring fire. So, we've gone hoppier and amped up our signature Fuggle hops along with US Loral to get that noble, earthy, dark fruit quality with chocolate and roast to create a balanced, smooth stout," Gosling says.
With plenty of dark, stormy days ahead, reconsider that drop of red and crack into a stout from the good folk at Little Creatures. It's a leap worth taking. Over and over again.
Style: stout
ABV: 5.8%
Bitterness: 58 IBU
Malt: pale malt, Munich, Crystal, Chocolate Malt, Carafa T3, Roasted Golden Naked Oats
Hops: EKG, Fuggles, Loral, Southern Cross