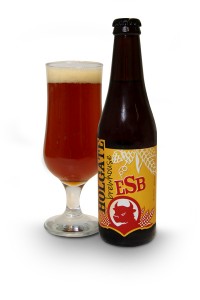 Since start-up in 1999 in Paul and Natasha Holgate's back-yard, Holgate Brewhouse brewing company has been producing genuine craft beer from the village of Woodend in Victoria. Brewed, bottled and kegged right here, our beers come straight to you from our family-owned brewery, which we're stoked to have installed in the awesome 19th century red-brick Hotel in Woodend.
We make our beers entirely ourselves, bold and brimming with character – carefully constructed with authentic, natural ingredients. We reckon there's more than enough industrially-brewed beerish-flavoured bunk in the world. If that makes us beer snobs, it's a badge we wear with pride. No preservatives. No chemicals. No pasteurisation. Just years of brewing lore and an uncompromising approach.
Style: ESB       ABV: 5.0%
Tasting notes from the brewer: One of the two recipes that launched the Brewhouse in 1999, it includes English crystal and roast malts, an abundance of East Kent Goldings hops and is enhanced through dry
hopping with a touch of Aussie Galaxy. Oh so moreish!