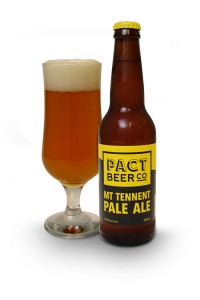 In 2015, three mates made a pact to brew great beer and never compromise on flavour, quality and creativity.
Pact was born in a tiny Canberra kitchen. Every Pact Beer starts as a handmade and homebrewed prototype. From the kitchen, we test it out, tweak it around, and then scale it up to brew 'gypsy style' at some of the finest breweries in the country with an embrace only Pact can provide. Once the yeast has done its job, we ship countless kegs and bottles of tasty beer across Canberra and around Australia.
Inspired by the flavours and aromas of malt, hops, and the special touch that only 50 billion yeast cells can provide, our beer recipes extend upon the classic style foundations wrought through thousands of years of beer making. Always brewed with food pairing in mind, our beers are inventive and interesting but never overbearing.
Style: Pale Ale           ABV: 5.2%
Tasting notes from the brewer: Inspired by the picturesque mountain and the legend of its bushranger namesake, the Mount Tennent Pale Ale walks the tightrope of accessible, sessionable and mindblowing all at once. It's a tantalisingly hoppy and sessionable American Pale Ale with touches of tropical and citrus fruits.