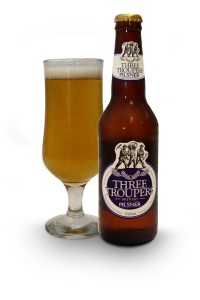 Over 150 years later the legacy of The Three Troupers, William, Macgregor and George, cousins from Balmoral in Scotland, continues in Victoria, bottling and improving the legendary brews for all to appreciate in the modern day styles of a Pale Ale, Amber Ale and Pilsner. Each of their premium handcrafted beers is made from the finest natural ingredients sourced locally and internationally.
All are preservative free and 100 per cent natural. The truth of the matter is, only Mother Nature could make beers this good.
Style: Pilsner     ABV: 4.5%
Tasting notes from the brewer: It's rumoured that the original recipe for our Pilsner ('the world's first golden beer') was passed to one of the three Troup cousins by a Bohemian Fraulein from Pilsen during the days of the Australian gold rush. Lovingly recreated today from the original Troup family recipe using the finest malted barley and sazz hops, it bears a remarkable resemblance to Czech pilsners, being crisp and spicy with a light, clear colour, distinctive herbaceous aroma and a fruity, hoppy finish.