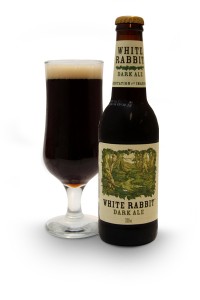 Beginning life in the leafy surrounds of Healesville, Victoria – White Rabbit Brewery was born to be different. Occupying an imaginative space in the Yarra Valley, the brewery made use of the original brew kit from its friends at Little Creatures plus two large, open top fermenters. As imagination swelled, so too did its production. White Rabbit required more space to play and grow, so the crew packed up its kit and set off for a new adventure in Geelong.
Style: Dark ale     ABV: 4.9%
Tasting notes from the brewer: Expect the unexpected with this dark ale. Rich and flavoursome, yet ever refreshing, this malt driven ale is beautifully balanced by an aromatic lift of hops. Subtle fruit derived from open fermentation compliments a strong backbone of toffee and chocolate, all bound together by a reassuring bitterness.