There is no such thing as a quintessential man cave these days, but having a pub in the backyard filled with all of your favourite things is pretty much right up there. Justin Felix visits a man cave that sees the outdoors brought inside.
Man caves are typically born out of a desire for space, solitude and room to house a collection of things acquired over a number of years. Once the idea has sprung and there is a good chance of it actually coming to fruition, planning typically follows. Blokes usually find an appropriate space in the house or build a shed in the backyard if no space is available inside. But there are exceptions to every rule of course.
Terry Shepherd's man cave in the leafy eastern suburbs of Melbourne, in my opinion, truly epitomises what a man cave is all about. It started as an extension of a carport, and turned into a full blown backyard space that rivals the size of most inner city units or apartments. But there was never a grand plan in place to make it this way.
"We started all of this at the carport where a roof already existed. The plan was to put a spa bath in to enjoy during winter. We thought it would be nice to extend the space a little so we poured some concrete past where the spa would sit, and started to extend the roofline. Then my wife and I said, 'bugger it, let's go a little bit this way, and a little bit that way'. Turns out we got a little bit carried away as it ended up extending all the way into the backyard and in line with our swimming pool," Terry laughs.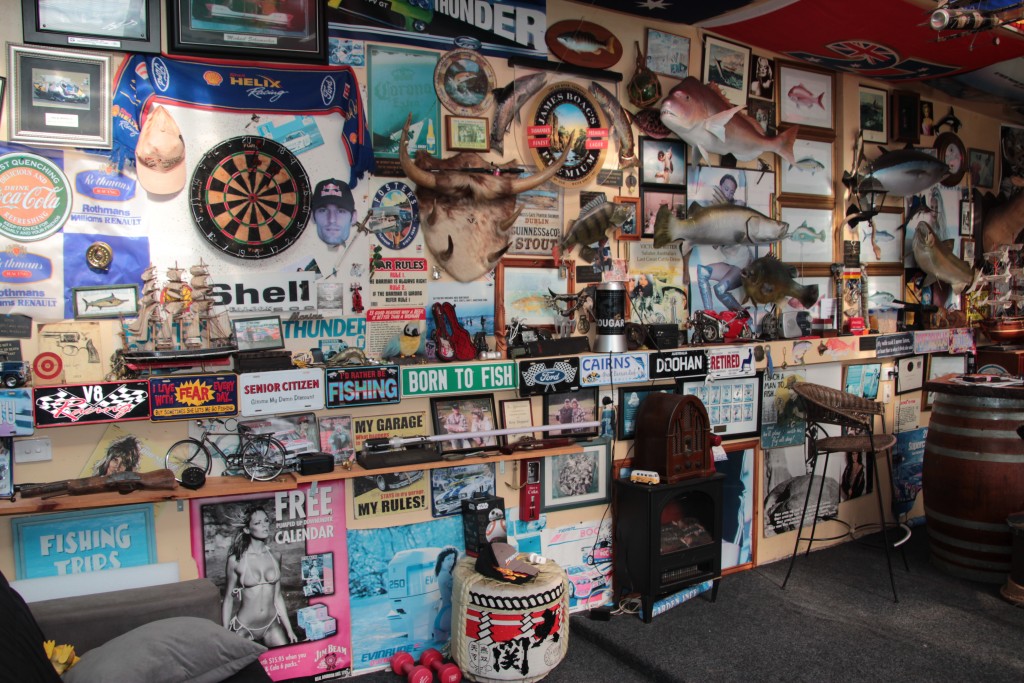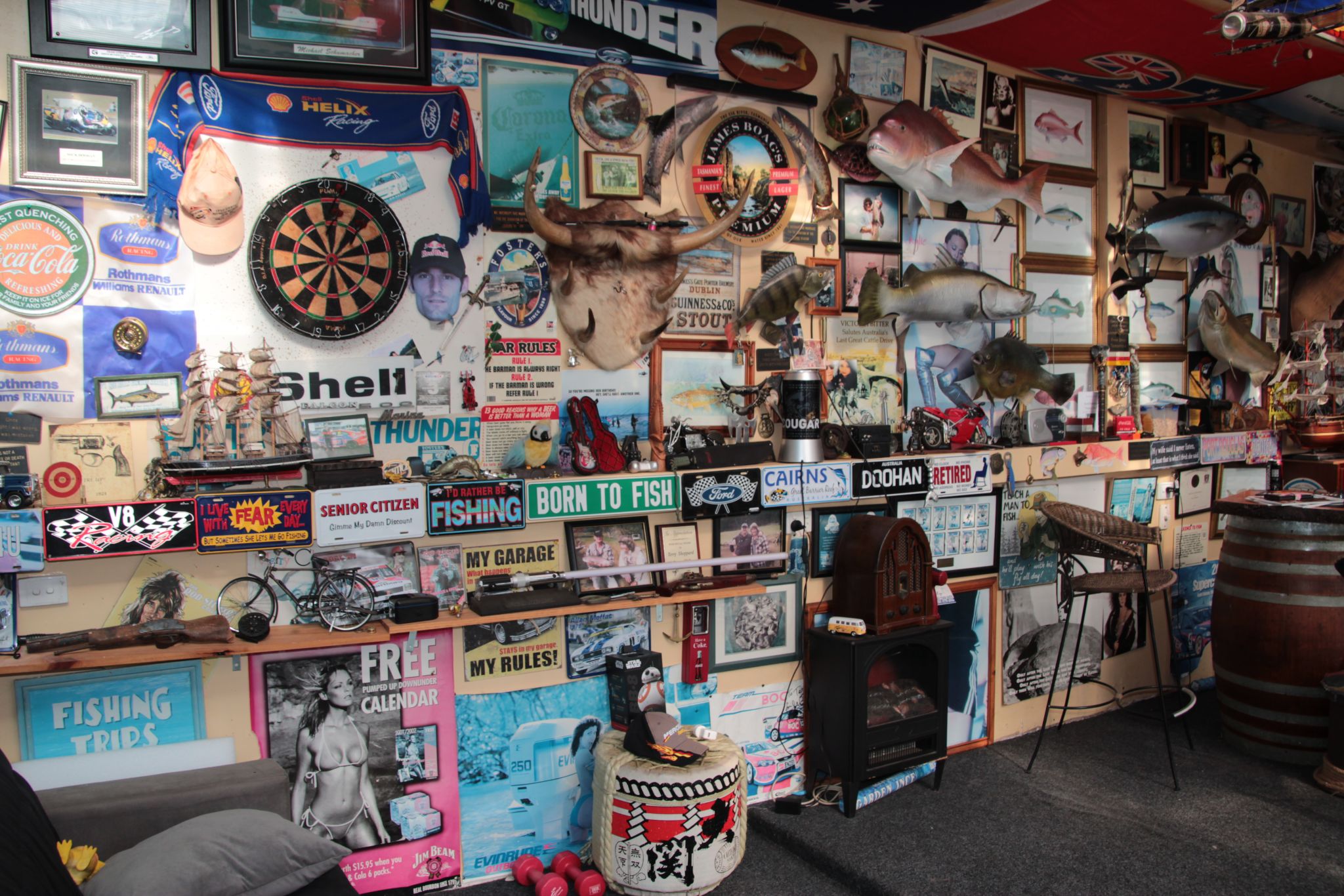 Terry and his wife built it with some friends of theirs so it was fairly easy to just play it by ear and pick up more materials as they went along. Neighbours, as they do, had some complaints about the wall on the adjoining fence being too long and invasive and after going to and fro with the local council, and sourcing fireproof materials for the wall, eventually gained a permit for the full extension.
"We never had this in mind when we started but as we were building it and watching it grow, we decided to turn it into our own pub. You can't drink and drive anymore so we brought the pub home."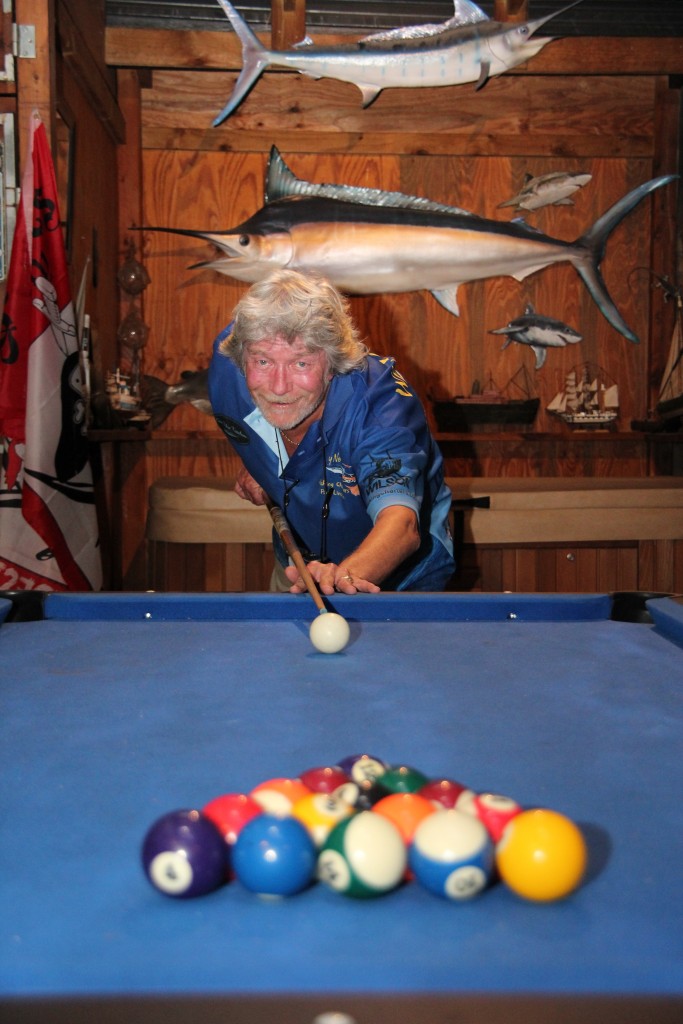 And what a drinking hole it's become. For anyone who loves the outdoors, namely fishing and hunting, this place is the bee's knee.
If it isn't obvious from the photos, Terry is a die-hard fishing, boating and outdoor enthusiast. He lives and breathes fishing and has made a career out of it since moving from England to Australia many moons ago.
Some of his most-prized catches sit proudly on the wall including a magnificent rainbow trout from New Zealand, a monster kingfish from New South Wales and his personal best barramundi from up north. There's even a great white shark mounted in the space the joins the family home to the man cave, which for anyone who has an idea of fishing regulations in this country, will understand that getting a great white shark mold is no easy task. They're illegal to target and catch these days, and have been for many years, thus it's a rare possession and one to be admired.
"Back in the old days you'd chill the fish and give it to the taxidermist to stuff. These days all you have to do is take a photo and measurements and they make a fibreglass mould from it. They last a lot longer than the old stuffed fish method."
Fish are not the only things that call the walls home here though. There are posters, signs, flags, photos, all manner of nautical objects, old wooden ships, exotic knives, a Simworx racing simulator, a wooden Japanese lamp post… the list goes on. And will continue to as the space constantly evolves.
"It's a work in progress. There's always something going on or getting moved. People come around and say, 'I've never seen that before. And I say, it's only been here five years," he laughs. "That's the nature of the place though. There's stuff everywhere.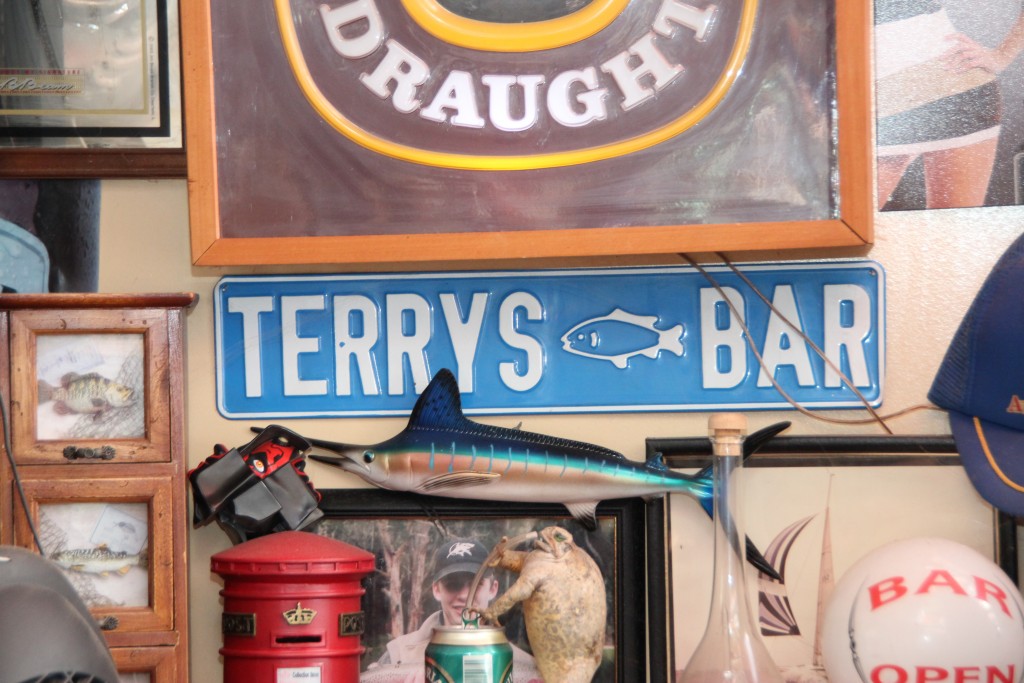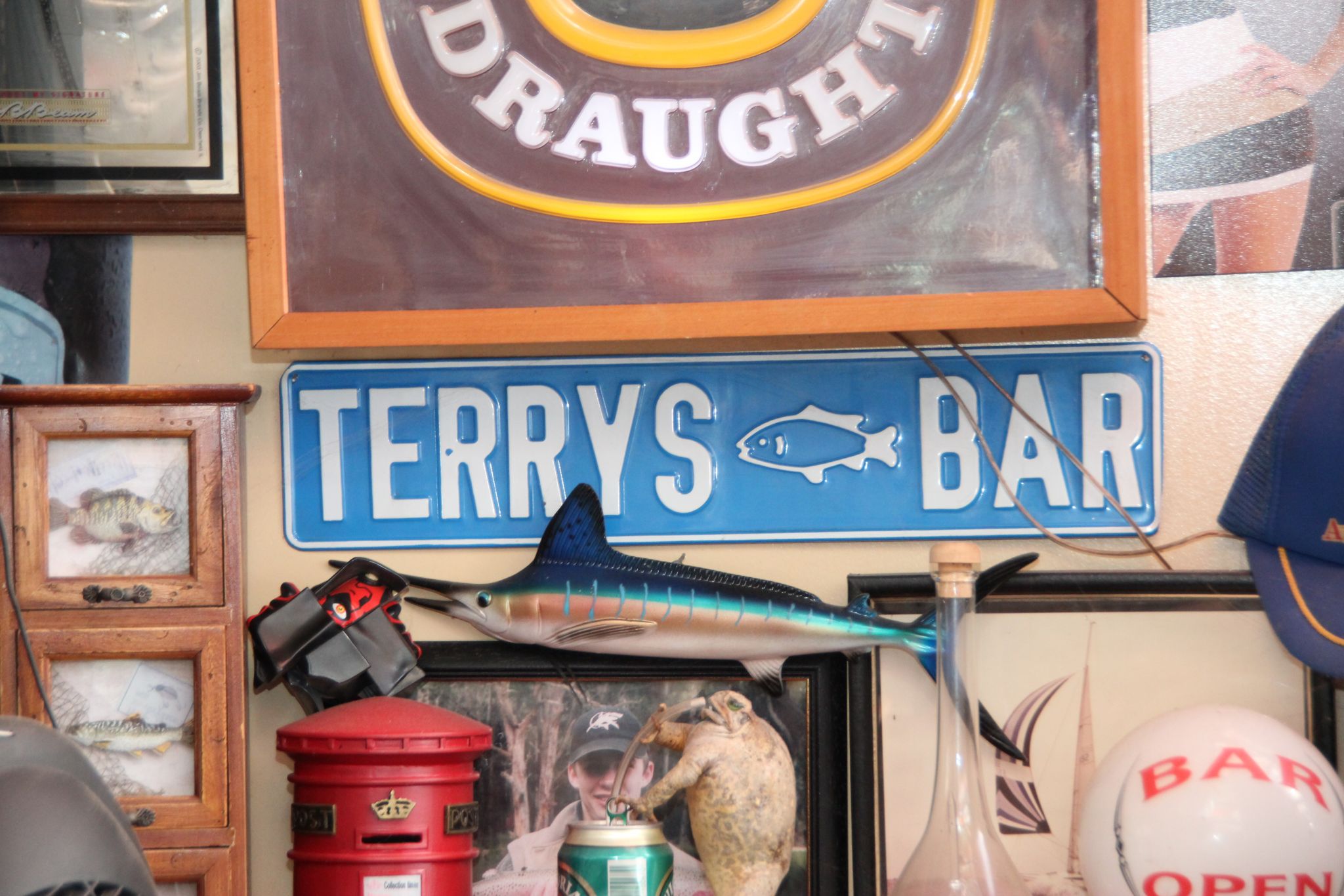 "My whole life is in here, memorabilia wise. People offer me things to put in here sometimes and I say, 'I'd love to, but I've got nowhere to put it'. I've just collected things here and there over the years. Once it got to this size I started collecting a bit more, but there was heaps of stuff in the shed already."
The homemade bar is perfectly suited to its surroundings and wouldn't look out of place in an old country pub that's survived the harsh elements of the Aussie outback. It's raw, rustic and most of all, at the perfect height to sit a beer on.
"I bought these bar barrels from a place in Bayswater, nearby. They're French oak. When we were originally looking all those years ago, I wanted red gum, but the red gum we found was far too expensive. It was like $900 for half the size of this which just wasn't in the budget."
Terry recalls the day he chose the timber quite well.
The redgum was all stacked up and as I looked right at the top a much lighter timber caught my eye.
'What's that stuff at the top?'
'Silver ash, mate; it's virtually white', the owner replied.
'Can you get it down for me?'
"He wasn't too happy as he needed a forklift but did it anyway and he was right, it was almost pure white and still had the bark on it."
'How much?' I asked.
'Mate you can have this stuff for $50.'
'Sold!'
Terry and some mates cut it in half to make the corner and slapped "a million and one coats of marine varnish on it" and was really pleased with the way it turned out.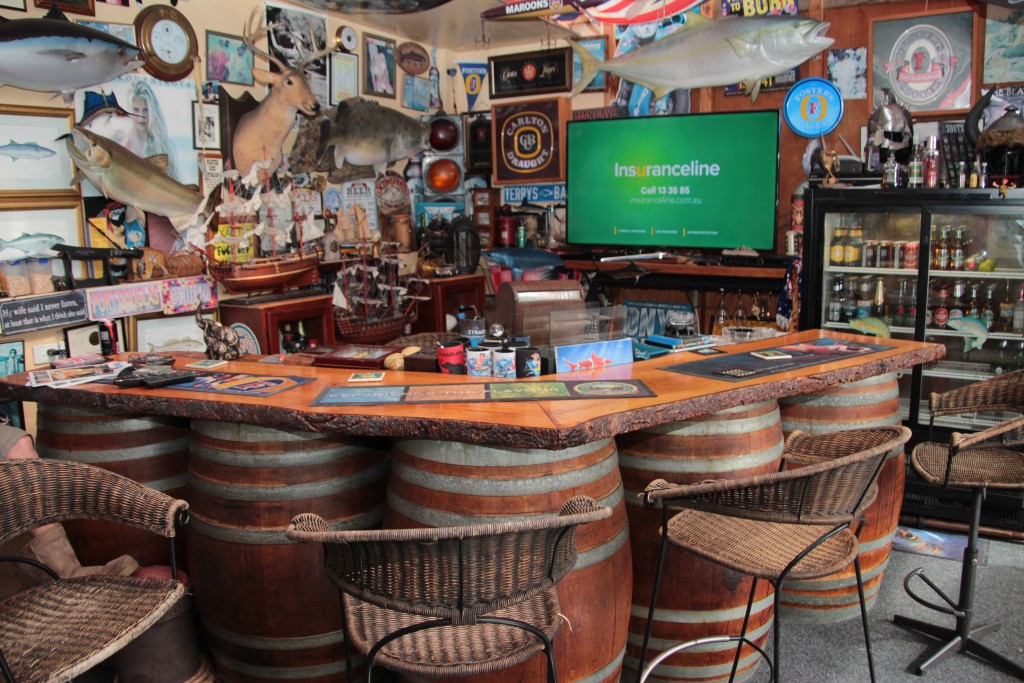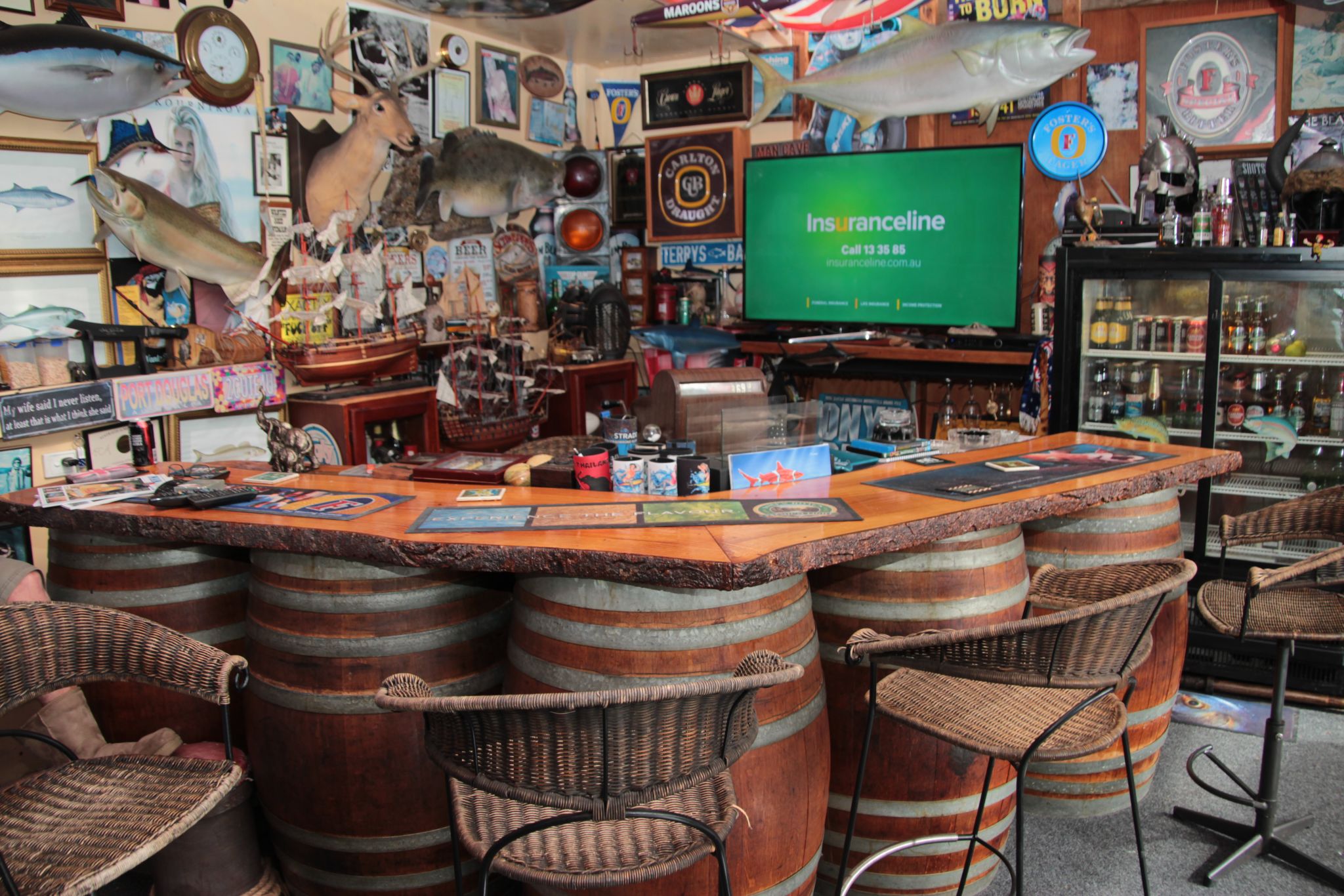 "I like it because it has heaps of character, especially with the contouring colours and the bark that runs along its entire length."
There's a bar fridge behind the bar, a flat screen TV and a collection of bottle tops that serve as proof of plenty of good nights having taken place in Terry's man cave over the years.
"It's great for parties in here, especially during summer when we can roll all the blinds and open the bar up to the pool area. My daughter usually uses it for parties when my wife and I are away… but she's been banned for a while now," Terry smirks.
Speaking of family, Terry and his wife don't live together, so needless to say, he spends a lot of time out here in his space.
"My wife has a business down in Phillip Island so she lives down there. We catch up every so often. It's the perfect marriage," he laughs.
"I live out here. Why would I go in the house when I have this? I come and chill out after work every day. It's nice and comfortable. I watch TV, have a drink, play a game of pool with a mate, whatever I want."
With such an enviable drinking hole sitting right beside his home, it could be easy to get carried away and have mates over on a regular basis but Terry is fairly selective with who he opens his pub up to.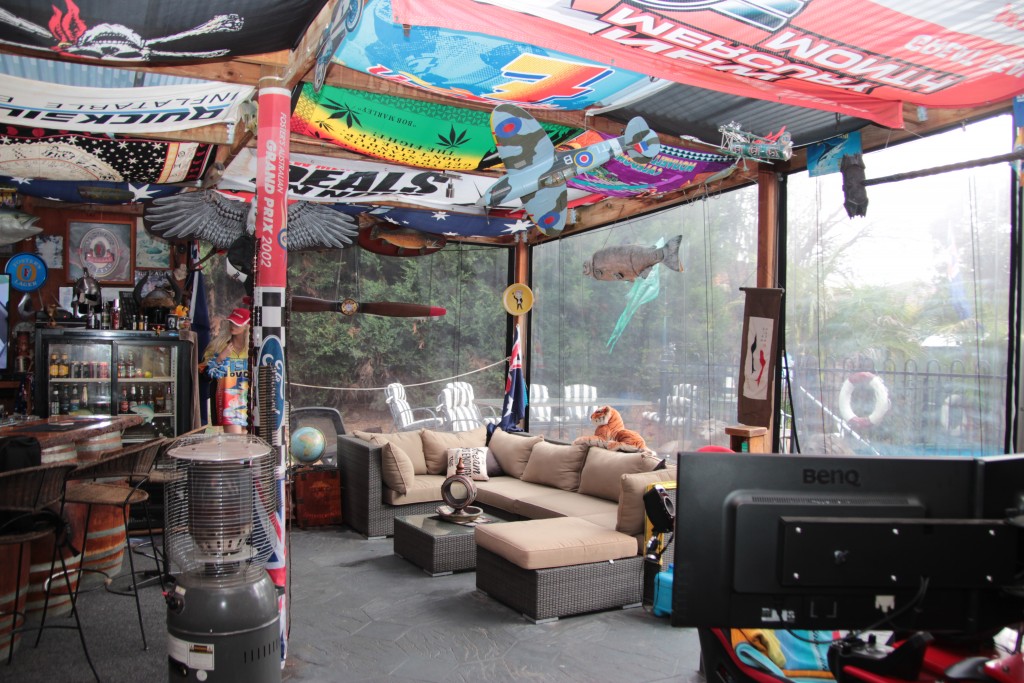 "I have selected mates who come over often but it's not an open house policy or anything like that. I think you need to be responsible about it. Plus, there are a lot of prized possessions in here, so I do have to be selective with whom I tell about the man cave. Security is good though. I have black light cameras all over the place."
Interestingly enough, Terry doesn't see this place as his forever home and has no qualms about selling it on… finding a buyer could be interesting though.
"I just got this place valued. It is easy for real estate agents to put a value on the house but once they walk out here they have no idea what to say. You can imagine quite a few ladies might be turned off by it all.
"You only need two tradies looking for a place and you'd have a war going on though."
With retirement looming on the horizon and an insatiable thirst for catching some of the country's most sought after fish species, Terry has hopes to move toward warmer climates.
"I'm looking to go up north. Victoria really is the worst state to live in if you love fishing and that's how I want to spend my retirement – fishing and travelling."
Doesn't sound half bad, does it?