Sailing in for some festive fun, Captain Morgan has arrived just in time to spice up summer drinks with the Captain Morgan Gingerbread Spiced.
The limited-edition bottle boasts flavours of cinnamon, nutmeg, and clove – all delivering the festive feels!
Enjoy both chilled or warm as a flavourful base for cocktails with your crew or to add some seasonal spice to your rum and cola. Get creative with dollops of ice-cream, unexpected mixers and playful garnishes and don't worry about it looking perfect, embrace the ugly and get into the spirit!
I followed the Captain's tip and knocked up an apple pie cocktail over the Melbourne Cup weekend and was blown away by just how much it tasted like an apple pie. The best part is, its seriously easy to make. I reckon it's a top notch drink for the silly season, as the spice is reminiscent of Chrissie fruit pies.
I also threw some into an espresso martini as a replacement of vodka and it definitely spiced things up. It's smooth, spicy and delicious, so no doubt I'll come up with a few other tasty cocktails before the bottle is done.
Signature serving suggestion, the Captain's Apple Pie:
1. In a tumbler, add ice and combine Captain Morgan Gingerbread Spiced and apple juice.
2. Stir and garnish with a slice of apple.
For an added touch grate some fresh nutmeg over the top.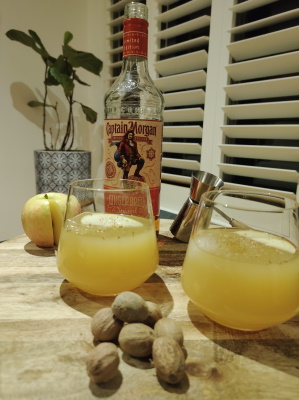 Ingredients:
• 30ml Captain Morgan Gingerbread Spiced
• 100ml Cloudy Apple Juice (juice green apples for an extra fresh taste)
• Apple slices
• Nutmeg
Captain Morgan Gingerbread Spiced is available in 700ml bottles and is on shelves across Australia in all leading liquor stores for a limited time while stocks last, priced at RRP $45, 30% ABV.