In the last issue of ManSpace Magazine, we took you through the incredible underground garage of Ralph Plarre (Part showroom, part garage, part gallery page 14).
Well, it appears that one of our readers has a very keen eye – for Cadillacs specifically. Because nestled within the iconic yellow and pink convertibles is a hidden gem: the Eldorado Brougham.
Designed by Robert Scheelk, the Brougham was the realisation of the life-long ambition of Cadillac's styling chief, Harley Earl. It was released in 1957 with Cadillac management describing it as, "The most advanced automobile ever built and a mirror of things to come".
Very true words indeed.
By Cadillac standards, the design of the Brougham was very subdued. Though undeniably a Cadillac in look, the styling and extravagant lines seen in other models was not there. Classic and grand, they were distinguishable by 'suicide doors' and stainless steel roof panels. Yes … a stainless steel roof. Ralph even jokes that when it comes to cleaning his pride and joy he needs to remember to get the kitchen appliance cleaning spray so he can do the roof.
It is, without question, one of the most complex cars ever offered to the American public with features not yet found on today's cars.
The price for this car, in 1957, was a staggering $13,074 – making it the most expensive production car in the world. To give you some idea, this was a time when you could buy a top of the line Biarritz convertible for $6,500 or a Rolls Royce Saloon for roughly $9,000. It was also a time when you could buy a gallon of petrol in the US for 24 cents.
So why would a car be that expensive? The answer is simple: a list of 'standard features' that would be the envy of nearly any car built today.
The Brougham marked industry firsts with a wide range of technical advances and luxury. Consider these features – and remember they were standard on the model:
Air suspension;
Electric memory seats;
Electric door locks;
Full opening and closing power trunk;
Power automatic antenna;
An automatic starter (which allowed the owner to turn the key and sit back while the Brougham 'started itself');
Cast chrome plated aluminium wheels; and
Cast chrome plated aluminium front and rear bumpers.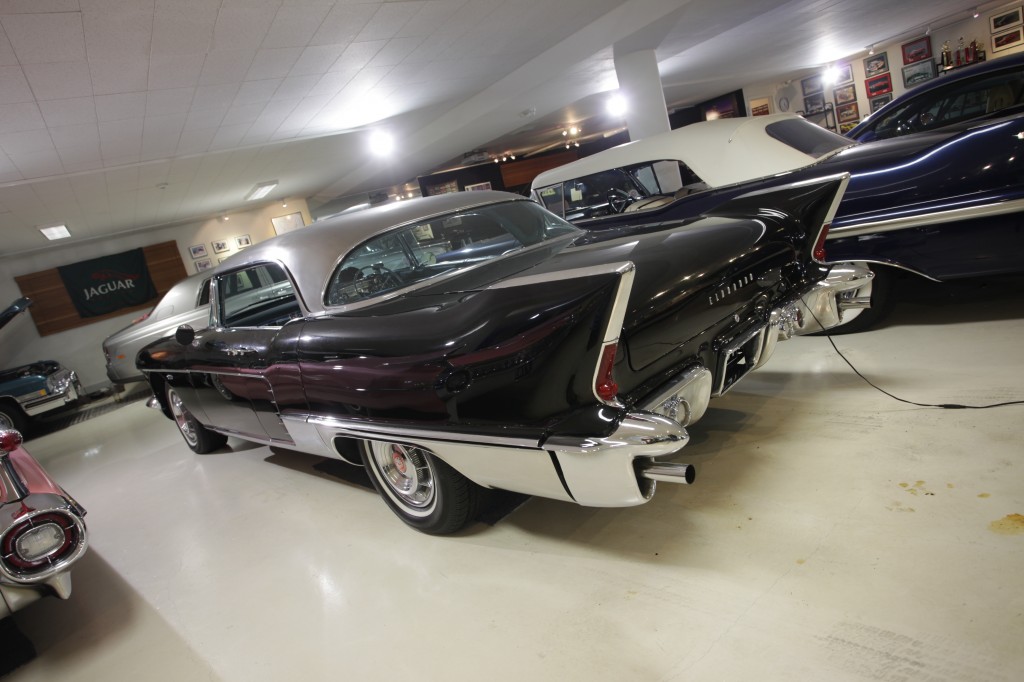 This was powered by a special multiple carburetted engine that put out 335hp and all mechanical components were 'select fit' and run in before installation.
The Brougham didn't forget the good lady of the car either. Highlighting the extravagance and luxury of the model were some additional interior appointments, including a lady's compact, magnetised drinking cups, cigarette case, lipstick holder, bevelled mirror, note pad and pencil, mouton carpeting and even a perfume atomiser filled with Arpege extrait de lanvin parfume from Paris.
Not surprisingly, these chariots were typically owned by movie stars, wealthy industrialists and a gangster or two. Bob Hope, John Wayne, Frank Sinatra and Aristotle Onassis are but a few of the original owners.
Only 704 Broughams were produced during 1957 and 1958, while a fully re-styled Pininfarina bodied Brougham in 1959 produced another 99. An additional 101 Broughams were completed in 1960 before the model was discontinued when Cadillac decided the cost of manufacturing them was more than what they wanted to absorb (every Brougham was actually produced at a considerable loss).
There is no doubt however, that the Eldorado Brougham was the height of elegance, the ultimate personal luxury car and the best example of the post-war love for American automobiles.