Each and every one of us probably harbours a vague memory or two of attending the circus. It's one of the coolest things you can experience as a child. The magicians, animals, fire breathers, gymnasts… it's all pretty magical. I can recall going with my older brother and mum. I don't remember too much of the performance but I do recall the awe I was in once I caught a glimpse of the big tent. Sitting under that was enough to ignite all of my senses.
Fast forward 25 years and it seems a small part of me remains intrigued by the circus. When presented with the opportunity to interview the producer of Cirque Africa, Winston Ruddle, I quickly jumped at the opportunity. I wanted to know more about where the vision for this spectacular show came from and the type of training the performers had to endure to be part of the show.
For those unfamiliar with the show, Cirque Africa is a world-renowned acrobatic circus performance bursting with energy and excitement. Produced and directed by 'Papa Africa' aka Winston Ruddle, the show is a combination of acrobatics, theatre, song and dance.

Cirque Africa has travelled to the USA, Germany, Costa Rica, Italy, France, Romania, Russia, the Netherlands, Belgium and Spain, performing sold out shows, before coming to Australian shores in the coming weeks. Ruddle and his team have taken on the impossible and are bringing to Australia 70 tonnes of circus and stage equipment, professional sound lighting, elevated seating for 1100 people and a 12m high big top all the way from Africa. The highly-skilled cast is made up of 38 of Africa's finest aerial artists, jugglers, stilt dancers, contortionists, clowns and more.
The idea for a show like this isn't just born over night though. And the brains behind the whole production needs adequate experience in the game which is exactly what Winston displays in leaps and bounds.
"I've been in the business since 1983 and as an acrobat and street performer until 2003. In 2003 I retired and decided to build my own productions. My first breakthrough was in 2005 and since then I've been producing and directing African circus shows (such as the successful Mother Africa show) – the latest of which is, of course, Cirque Africa which will tour Australia this month for the first time."
Why Africa then?
"The concept for a full African circus came to me while I was working in Australia in 2001. At that time I worked in a stage production called Hidden Palace which was an Egyptian themed show. What was interesting was the fact that 95% of the artists had never actually been to Egypt. However, the show was very successful and performed in one venue for close to 18 months."
With that in mind, Winston formulated an idea to build his own African circus but this time he wanted a total cast from Africa. He envisioned an authentic show including African themes and elements. Turns out, he didn't have to search too far for talent as he soon discovered that Africa played home to myriad undiscovered, talented artists.

In terms of nurturing and advancing those individual talents to a point whereby they perform in the show, it really comes down to a case by case scenario, as Winston explains.
"It is different for each individual artist. For some, it can take only a few months to perfect but for others it might take longer. It all depends on their talent level and their ability. The most important aspect for someone to excel, in anything, is love. They have to love what they do. Once you can do that, the rest is simple. None of the acrobats that have trained in my school come from sporting or gymnastic backgrounds – in fact, in Africa gymnastics is non-existent. Basically, what it boils down to natural talent and lots of hard work and practice.
When it comes to training programs, they differ from act to act but before anything can really be refined, the performers must learn how to fall…
"The first and most important training in acrobatics is to learn to protect yourself. In other words, learn how to fall without getting hurt. Then the next part of training is to become physically fit for your act. For example, if you are practicing a balancing act, you have to do it thousands and thousands of times over, just to be able to perfect the balance. Contortionists need to stretch their muscles thousands of times and at least 5 days a week for at least 6 hours a day to be to get to a level that is respectable," Winston says.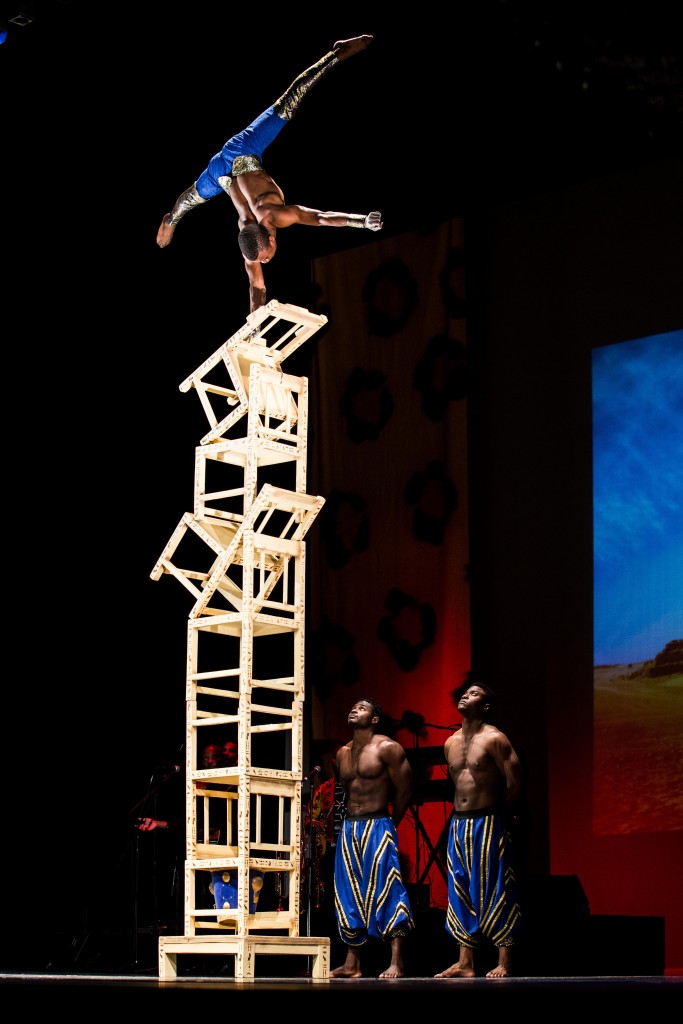 With show tours, such as the one in Australia, lasting up to three years, it can get tough for the performers to be away from their families; however, it's all part of the job of being a circus artist.
"It can be hard for the artists to be away from their families but being away from home is just part of the job and I think the artists truly enjoy the travelling aspect of the work. They are able to see the world, meet new people and share their joy with the audience through performance."
For Winston though. There's more to it than just travelling the world and wooing audiences. For him it's about the love for his work and knowing that he has helped to change the lives of so many African artists.
"That's a huge driving factor for me."
A message from Winston
We, the management and the artists of Cirque Africa, would like to invite all Australian audiences to come and discover Africa at home. The show will expose them to a side of Africa they have never seen before and would never otherwise have the opportunity to see. We know that images Africa portrayed in the media mainly paint it as a continent riddles with poverty, disease and famine but Cirque Africa will show the audience that there is another side to Africa. That is the joy and excitement of African culture!
The 90 minute show begins in Melbourne on the 24th of June and tours around VIC for the remainder of the year. In early 2016, the show will move from VIC to WA before continuing its two year trek across Australia.