There's something alluring about a place or object that brings about nostalgia and even more so when it can do so time and time again. Justin Felix caught up with a Sydneysider who's helping people re-live the past one game at a time.
Whether you're a fan or not, retro and vintage pieces are making a comeback and antique stores which were once frequented by pensioners trying to rediscover pieces of their youth, are now being flocked to by younger generations. While this pushes prices up, it demonstrates that the good old days were exactly that and when it comes to manufacturing, the mass production of goods simply doesn't stack up to the one-off quality pieces from bygone eras.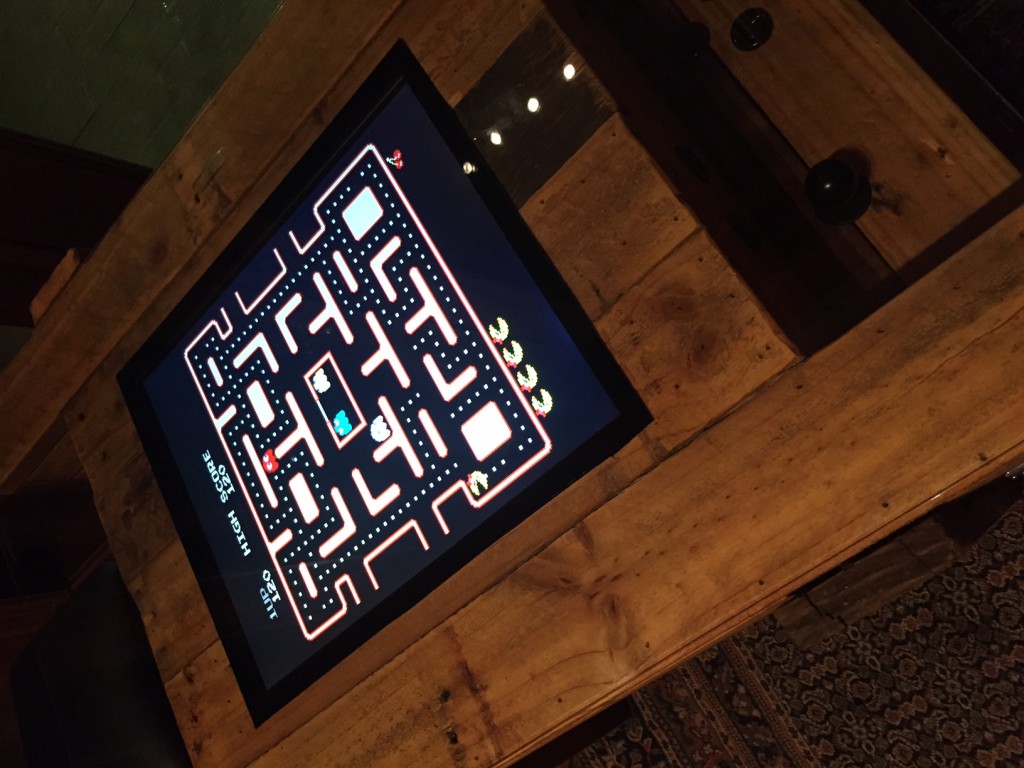 Arcade games have come a long way since the early 1900s when skee ball was first invented by J.D Estes in Philadelphia. Interestingly enough, while most games come and go, skee ball can still be found in arcade alleys and amusements parks around the world. It just goes to show, sometimes the original really is the best and that's the mantra behind Glenn Brown's part-time hobby.
"I grew up in the 80s when pinball machines were most prolific," Glenn says. "There were always dark rooms in the back of corner shops with a pinball machine standing there. For one reason or another I became enthralled by them."
As the years rolled by and the evolution of games continued, stand up arcades were born.
"I vividly remember the stand up Space Invader arcade game. If pinball wasn't enough, this was truly something else. So I suppose my interest for these arcades stems from my childhood. I don't know about most blokes but as I grew older I seemed to reflect back on my past a lot more and it was always my dream to have a nice pool room with a pinball machine or arcade table adorning the floor."
As it turned out, Glenn has managed to acquire both. "I live in a century old home and once I started to look for arcade tables I was disappointed by the generic black boxes they were encased in. The look just wasn't going to suit my house," Glenn explains.
While not being a qualified tradesman, Glenn has always had a knack for pulling things apart, seeing how they work and then putting them back together again.
"I was good at tech drawing and wood work at school and my dad was a tool maker so there was always a shed full of tools at home when I was a kid. I was always building billy carts and painting stuff. My dad showed me how to weld by the age of nine. I was brought up with this, 'I know what to do with these tools' mentality.
"My parents got to a point where they refused to buy me toys because I just pulled them apart," he laughs.
In his pursuit of an ideal table top arcade, he stumbled across a company called D.I.Y Arcades in Melbourne. It sold kits which encompass everything he needed apart from the cabinet itself. The kits came fully stocked with motherboards, wiring looms, speakers, buttons and knobs. The only thing left to buy was a monitor which Glenn sourced from eBay.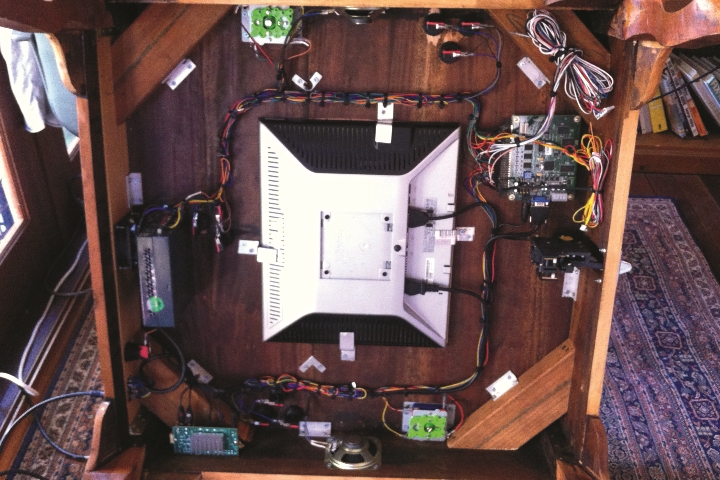 "Once the kit arrived, I set it up on the dining room table to see what it could do. I was quite surprised by the authenticity and what it offered as far as the old style games go. I didn't expect the performance of a classic game kit to be so impressive.
"I fiddled around with the wires – I'm not too bad with electronics so it didn't really worry me to play with wires and plug them into things – I'm good with installing car stereos and things like that."
Glenn picked up an antique table from Vinnies for $25 and got to work on putting his first table top arcade together. After installing all of the electronic components and glass top, he gave the table a varnish before it took pride of place in his gaming room.
"No matter who walked into my house, they all asked the same question, 'Where did you get that from?' At first people thought it was a normal coffee table but after getting closer and realising what I'd made, they all wanted one.
"So I started to think, if I've made one and impressed all these people, maybe I should build another and put it up for sale."
It was sold within a week. That was 15 months ago.
Glenn has made 16 since and most have gone to homes around Sydney and the outer suburbs of the harbour city. One has gone to Central Coast, and another to Far NSW. A guy in Queensland has bought a couple and one has gone to the Northern Territory. One has even made its way to England while Glenn has had to reject orders from America because of the associated shipping costs.
While Glenn will never make the tables full-time, he does admit they provide him with more satisfaction than his job ever will.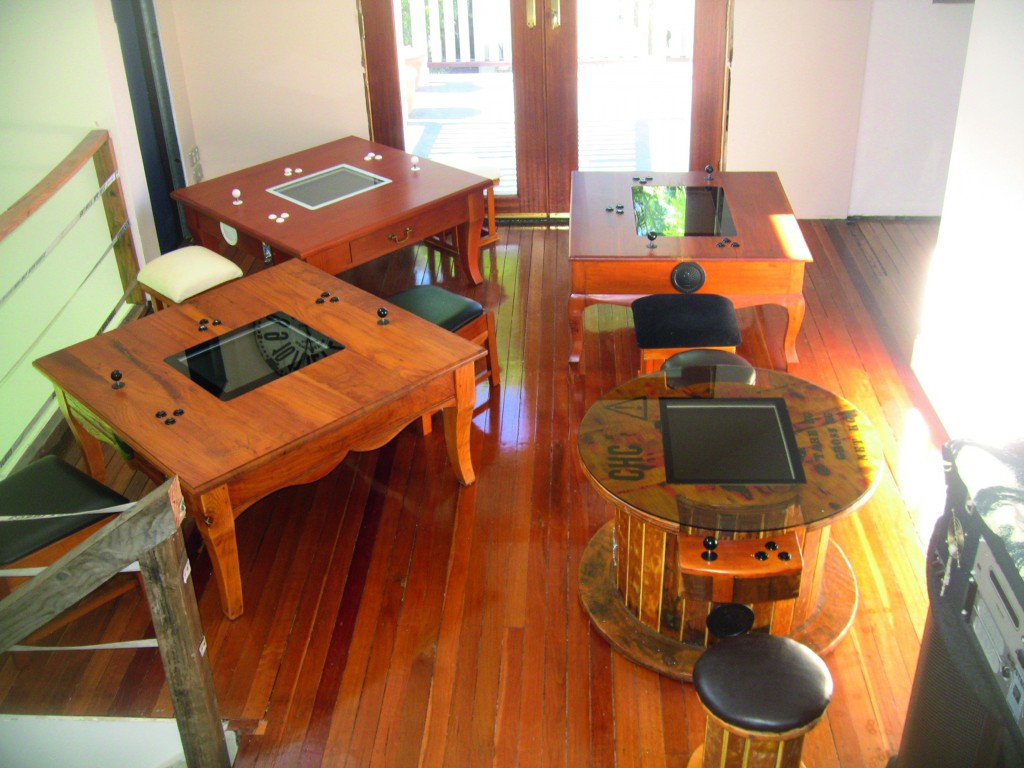 "If I keep it small and personal the way it is, I'll be able to keep up the same level of quality. I don't plan on opening up a factory and doing this full-time. I have a stable job at a container terminal where I operate forklifts and cranes. I work a 38-hour week and it's the sort of job I'll probably retire at. It's hard to walk away from a job like that and take a risk at this stage of my life."
He isn't keeping his craft a secret either; he simply enjoys building the tables and is more than happy to show others the ropes.
"I'm quite happy to get others involved and take them through the step-by-step process of making their own. A few guys have bought the kits and have asked me for help when the time has come for them to wire it all up.
"This is purely a hobby for me and the more people I can get involved, the happier I'll be."
Of the 16 he has made, only one has been commissioned. The rest have been made at his own leisure and advertised for sale on his website and Facebook page once he has tested the performance for a couple of weeks. He crafts one at a time so it isn't like there's a factory full of these suckers lying around. Nothing is rushed and that's the way he likes it.
"There's no rushing because it's not a job. It's just something I find great pleasure in doing. I build each table as though I'm going to keep it. Unfortunately I have to part with them but if I could, I'd keep them all," he smirks.
After making a few coffee tables and getting into a relaxed rhythm, Glenn started to broaden his horizons and think of other ideas. He was asked to get rid of a couple of old cable reels from his work… which ended up in his shed and turned into some sweet looking arcade tables.
"They're not just reconstructed cable reels. I can't just cut some holes and slap a paint of lacquer on them. The centre of the barrel isn't wide enough to fit the diameter of the monitor. I have to strip them down and widen the barrels. I put a good 70-80 hours into each one. They're all  unique too. If I put a nail in the wrong place I won't just pull it out. I'll hammer it in and sand it flat.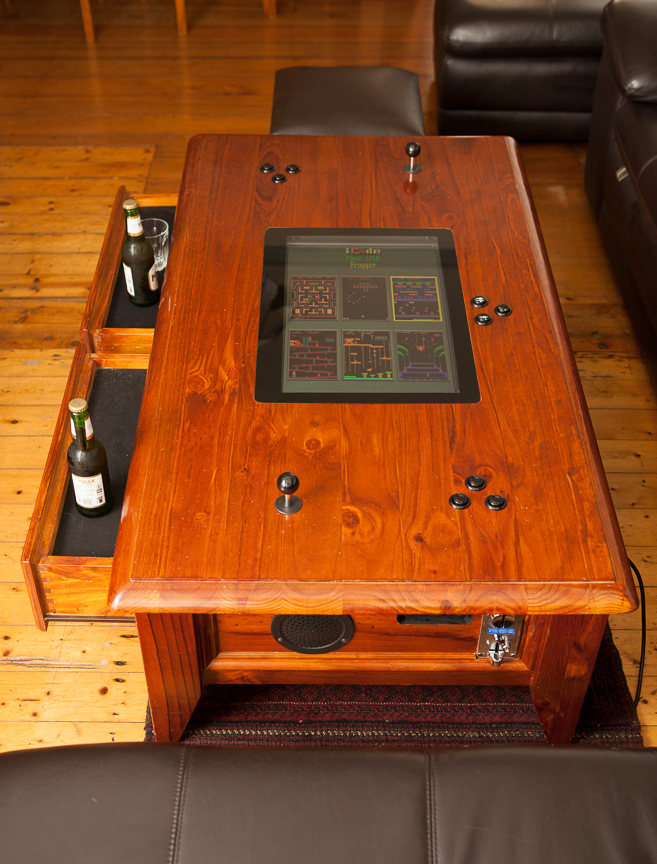 "In the future it'd be cool for someone to say, 'I've got one of Glenn's pieces… number 15'. I like to think of them as rustic pieces of art I suppose. People are getting part of my soul, not just a machine."
Glenn's own games room plays home to a pool table, 1980s Flash Gordon pinball machine, a PA system, lighting and of course, the first arcade table he ever built.
While the room is often used for parties and entertaining, Glenn does admit to retreating to it during his downtime.
"I go up to my games room at least once or twice a week. I work afternoon shifts and sometimes I'll go up there to unwind with a few games and a beer at 3am."
The tables come pre-loaded with 60 classic games and while a lot of the popular titles like Pacman and Donkey Kong appeal to Glenn, he simply can't go past the good old Space Invaders.
"It was the first game out when I was a kid and no matter how many times I play it; it always reminds me of my childhood."
That's one o fthe biggest reasons Glenn does it too… for the associated nostalgia and to see kids of today enjoying games that he enjoyed when he was their age.
"It's a big thing in life to make something that others can sit down and have fun with. It really is nice to watch… seeing two kids sitting up on my table, laughing and having a good old time makes me think, 'This is what it's all about'.
"I make them for the enjoyment of other people… it's really good for the soul"