Reflecting the core philosophies of passion, artistry and technology, Denon's new wireless over-ear headphones are finely crafted to ensure total premium audio quality for the listener to enjoy without the unnecessary background noise.
Denon AH-GC25W 
Built with advanced performance-tuned drivers, the Denon AH-GC25W delivers exceptional hi-res audio performance with crisp highs and a deep bass for an unsurpassed audio experience. Crafted with AptX HD Bluetooth and Denon's noise reduction system, hear every detail of your favourite tunes or TV shows through premium wireless listening.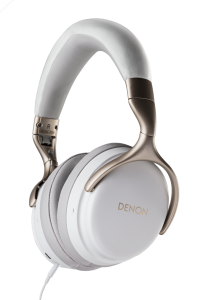 With the dual microphones, conversations will be heard with total clarity when making calls. Boasting a 30 hour battery life, the Denon makes the perfect travel companion for those long commutes or extended listening sessions.
Denon AH-GC30
As the 2nd generation of Denon's noise cancellation headphones, the AH-GC30 is built on the award-winning comfort and sound of its predecessors. Crafted with the new Denon premium FreeEdge driver and AptX HD Bluetooth, the AH-GC30 will deliver uncompromised audio reproduction of the highest quality so you can listen to your music or answer calls with the utmost clarity. With three modes of noise cancellation, the Denon AH-GC30 is made to be used anywhere and everywhere, whether that be while you're commuting, in the office or on a flight.
The ambient monitor will cut out unnecessary noise while never letting you miss important announcements or conversations. With a 20 hour battery life, you'll never be bored on those long haul flights or office days.
Perfect for the jetsetter, the Denon wireless headphones are ultra-lightweight and folds neatly into the included carry pouch, which can be easily tucked away into a carry-on case or bag for easy travel. With a soft, adjustable headband fitted with dual-movement memory foam earcups for the perfect fit, listen to your favourite tunes or podcasts comfortably for extended periods of time with minimal fatigue.
Denon AH-GC25W RRP: $599
Denon AH-GC30 RRP: $699
Available in black or white