The Nanoleaf screen mirror lets users create an immersive theatre-like experience for media and gaming with its light panels and canvas. An array of light panels can be arranged to how the user prefers by reacting in real-time to what's on the main screen.
Screen mirroring can switch between 'match', 'palette, 'fade' and 'melt' modes which offer different viewing experiences.
The 'match' mode amplifies what's on the screen by grabbing the key colours and displaying them on the screen. The 'palette' mode is similar to 'match' in that it displays colours on the screen but fades in and out periodically, enhancing still film graphics.
The 'fade' mode finds dominant colours in the image and turns all panels into that colour, great for colourful films that make use of contrasting, bright colours. And the 'melt' mode gradually blends dominant colours together throughout the viewing experience.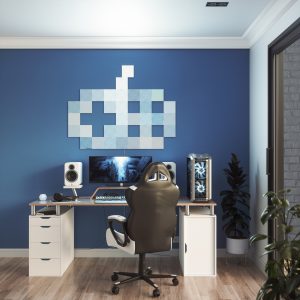 On top of the film experiences, gaming is enhanced as battles and scrimmages are taken to the next level, surrounding the player in colours of their environment.
Nanoleaf designs are completely customisable, meaning if you want your panels to blend with the screen like one of the aforementioned modes, you can. However, if you're looking to contrast the screen or simply add colour to the room, that's also available.
Screen mirroring is controllable through a Mac or Windows computer with the Nanoleaf Desktop App.