As I approached my 30s, people started telling me, "It's all downhill from here."
I laughed the first couple of times but it became pretty old, pretty quick. Turns out, in many ways though, they weren't far from the truth.
Random back and knee pain, three day hangovers and the first glimpses of grey hairs all proceeded.
I'm not the only one though, and friendship groups in the same age bracket have all pledged to look after themselves a little more. In doing so, I've looked at ways to make sure the old skin doesn't age too poorly. I spend a lot of time fishing, which means plenty of exposure to the sun, so no doubt the damage has been done.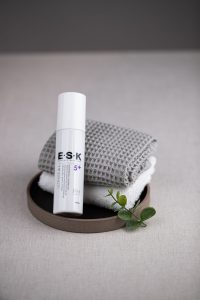 Through some research and advice from friends, I've looked for product rich in vitamin A, for its skin repairing benefits. I stumbled upon ESK Evidence Skincare.
Formulated for evening use, Ultimate A and Ultimate A+ is tailored to young and mature skin alike, including those prone to sensitivity, and should be used in conjunction with an SPF during daylight hours to protect skin cells from UV-induced trauma.
It was that description that got me, given my earlier admission to spending plenty of time out in the sun, on the water.
With its evidence-based approach to skincare formulations, ESK Evidence Skincare, introduced two varying strengths of retinal-based evening face serums, Ultimate A (0.06%) and Ultimate A+ (0.1%), as an effective, tolerable and scientifically-proven method of promoting new collagen production, combating acne and rosacea, and reducing the visual appearance of pigmentation, skin discolouration and unwanted skin texture.
Combining glycolic acid, an alpha-hydroxy acid, to enhance the bioavailability of the retinal and improve skin exfoliation for increased cell turnover, Ultimate A and Ultimate A+ also contains vitamin B3 (niacinamide) to help visibly improve the appearance of enlarged pores, even skin tone, remedy skin dullness, and improve skin barrier function by strengthening the epidermal surface from future environmental assault.
"We developed Ultimate A and Ultimate A+ using the strongest peer-reviewed evidence available," says co-founder of ESK Evidence Skincare, Dr. Ginni Mansberg.
"With many consumers uncertain of the retinoic acid conversion process and subject to an endless flood of marketing hype, we wanted to cut through all the beauty babble and create two cosmeceutical-grade serums that not only deliver on results, but are universally suited to a range of skin types and conditions."
Since using the products, there have been two very clear indications of its effectiveness: less dryness and a general feeling of freshness (less tight). I know that's probably a fairly unscientific way of explaining it, but hey, I'm not an expert in the field. I do know when I see or feel improvements though.
Ultimate A ($105rrp) and Ultimate A+ ($115rrp) is available globally at www.eskcare.com