Running is tough. I feel ya. I hate it too. But being active is important and having a good tune playing in the background can make a world of difference.
But those pesky headphone cords are always getting in the way.
Many times when I've been running my headphones have got caught, sending them spiralling down to the ground; leaving me hop, skipping and jumping out of the way. Followed by me looking around to see how many people saw my moment of smoothness.
So when the opportunity came to try the wireless Plantronics BackBeat FIT headphones, I jumped at it.
The day I got my hands on the headphones I took them through the rigours of a cardio and leg workout.
What do I want in a pair of headphones? Good sound quality is essential, handy functionality, a sleek aesthetic look and a comfortable fit in my ear of course.
The first thing I noticed is their attractive look and the comfort of wearing them. I thought they might be bulky or heavy since they were wireless but to my pleasant surprise they were sleek and incredibly light. They come in green, red and blue. They also have reflective properties for night running.
Now most importantly, the sound quality; I must say they were quite impressive. Anyone who has gone through half a dozen headphones in their time will know how easily they can let you down. Headphones can often sound tinny or lack a strong low end. Not with these bad boys; the bass came through superbly despite the headphones small, light stature.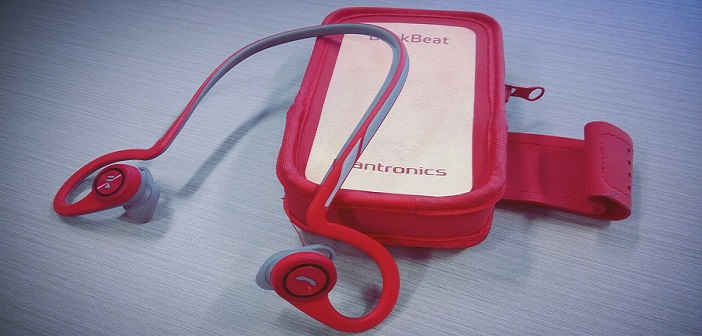 Functionality is important for all headphones, but tenfold when using them during a workout. The BackBeat FIT headphones allowed me to pause, play, skip, adjust volume and even answer a phone call from buttons on the headphones so I didn't have to fiddle around with my phone while exercising. And yes, it has a microphone too.
My phone remained in my armband (which comes with the headphones) my entire workout.
These Bluetooth headphones are IP57 certified, so they can withstand being immersed in up to 1m of fresh water for 20 minutes. So they can handle perspiration… no sweat!
With eight hours listening time and a simple micro USB charge these headphones could not be easier to use.
This super pair of headphones will give you all the motivation you need to get active and get in shape for summer.