At first glance, Gary's garage is the epitome of the Aussie-bloke's setup. Tools decorate the walls and are scattered around the work bench. There's a random assortment of golfing equipment leaning unused in the corner. And a home gym set sits proudly in the middle of the room; possibly waiting for its first workout.
Unfortunately, this neglect of these 'man things' satisfies the common misconception that the garage is a place to relegate unfinished projects and accumulate junk – but as you reach the back of the cave, a separate hideaway comes into view telling an entirely different story of an avid fisherman.
This tiny room, which Gary refers to as his "bloke's office", was constructed to accommodate his lifelong passion: fly fishing. The interior is purposely designed to hold only one person (and so it feels more like a large cupboard), yet it still manages to house over 30 rods, more than 20 reels, a frightening amount of artificial flies (or 'lures') and a mini library of fishing literature. The one vital thing missing is a heater; which is the primary reason he doesn't spend a great deal of time here in the winter months. Put simply: "It gets too bloody cold."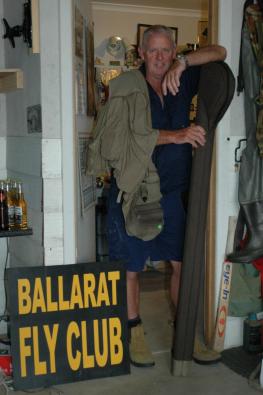 A plumber by trade, Gary spends his free hours crafting his own lures and preparing for the next big catch. Like many fly fishermen, he will occasionally buy a lure from the local shop; however it is the act of catching a fish on one he has made himself that provides the most satisfaction.
And constructing a lure is no easy task: it takes a great deal of dexterity and, most importantly, patience to form a successful one. That is why Gary has an array of tools and gadgets to help him tie his flies. The most important of which is a vice he has mounted to a customised work bench. This holds a hook in place as he sets to work wrapping feathers and thread around the hook using an assortment of needles, pliers, scissors and wax to bind everything together.
Gary credits all of his skills to his father, who was a great enthusiast and ran a fishing shop, as well as a number of angling clubs, before he passed away.
"My dad was an Australian Champion Flycaster and I pretty much had no choice but to follow in his footsteps really. He was the number one in fly fishing and we used to travel everywhere together casting lines."
Like his father, Gary has competed in the past – his best result was fourth place in the Australian Fly Casting Championships – however he does not carry the same thirst for accolades as his dad.
"I am just a fanatic really; I do it because I enjoy it. You've really got to be a single man if you want to get into it as seriously as some of my friends – it just takes up so much time!
"I have had a shot at the competition side of things, but because I have a family and coach my son's footy team every weekend I just don't have the time that it takes. Maybe later on in life I'll be able to get into it a bit more."
It is evident that the physical act of fishing is only half of Gary's passion; it is also a reason to escape the hustle and bustle of everyday life and spend some alone time in the garage.
While Gary spends hours in his office reading angling magazines and creating his lures, he also retreats to his space just because he "loves tinkering around and tidying up". He admits that he will find any excuse to get out there as it is the one place that he can really spend some quality time on his own.
"It's a real man's space: I come out here when I want peace of mind and I want to find my thoughts. It's the one time I can really be on my own. It's my space, my area and people know to keep out.
"I can't stand sitting in the living room watching the TV for too long; I prefer to come out here, have a quiet stubby and take it from there."
Although he is thankful for the benefits his career has given him (such as the free time to go fishing), being a plumber requires a great deal of responsibility as you are forever carrying the burden of dealing with other people's problems. His garage grants him the opportunity to dedicate some time to himself with no interruptions.
Without this office, Gary believes that it would be almost impossible to pursue his pastime in the same way.
"I've always made sure that I have a garage wherever I live and I think it's vital to have a dedicated space to keep everything. My dad always had a shed when we were growing up and because of that, so have I."