Looking to spruce up the man cave? ManSpace Magazine spoke with several flooring specialists to find out what you should be putting underneath your feet.
When you think about sprucing up the manspace, it's easy to get excited about sticking old relics up on the walls, figuring out a novel way of storing the tools, or just finding a new place for that old sofa from the living room.
Flooring might not initially seem like the most inspiring area of a manspace, but it could well be the most important – if your man cave has a workshop aspect to it, tailored flooring can make it resilient to any spillages or knicks, and if your space is particularly boxy, a well thought out tiling scheme can help give the illusion of space.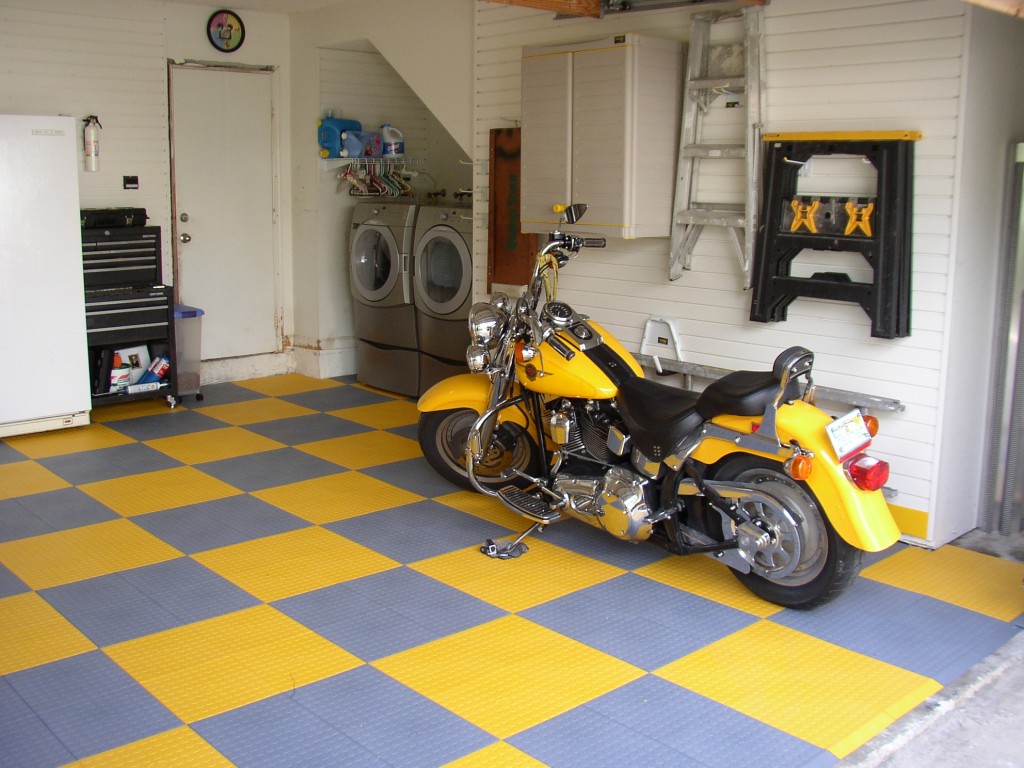 What's more, with the technologies that specialist flooring companies are introducing these days, the space under your feet can be the perfect area to showcase some flair and put a personal stamp on your space.
One company that has made this their sole mission is Sexy Floors. By using an epoxy resin, the team transforms your tired old floor into an exceptionally durable surface. All floors are handcrafted, non-slip, seamless and environmentally friendly.
Epoxy coating is strong and has been chemically tested to withstand oil and acids, and most importantly, red wine and beer. It can be laid over tiles, concrete surfaces, timber, cement sheeting and even heated floors.
The resin is applied on top of the surface, which means that almost anything can be buried and displayed underneath the coating. And Sexy Floors has seen it all – from underwater themes, to company logos, vinyl records and car memorabilia.
"Not only is this a practical solution, it's very versatile. Architects and designers around Australia have been specifying what they want and we have carried out some crazy designs for them," Sexy Floors co-founder Robyn says.
"From metallic designs, to themed showpieces and basic, neutral tones, there's really no limit – you just have to use your imagination. We often carry out simple patterns and clean lines as well as more elaborate themes like the beach, sky, desert or the forest. We also use the floor to display memorabilia, holographics, glow in the dark effects, newspaper articles or coin collections."
So how does it work? Well, the epoxy resin is poured on a prepared surface, rolled out, and left to cure. Depending on your chosen finish, and the condition of your existing floor, up to 13 separate processes are applied to each floor to achieve the desired end result.
"Our floors are seamless – which means no bacteria and dirt-harbouring grout lines. They're available in a gloss, matte or satin finish." Robyn says.
"Your floor will easily withstand busy foot traffic and will always look awesome after a quick clean or polish. A Sexy Floor also has something that makes it stand out – it has the added advantage of being at the forefront of design.
"Unlike other flooring solutions, the Sexy Floors application forms part of the concrete surface, rather than sitting on top, making the finish durable, long lasting and hard wearing."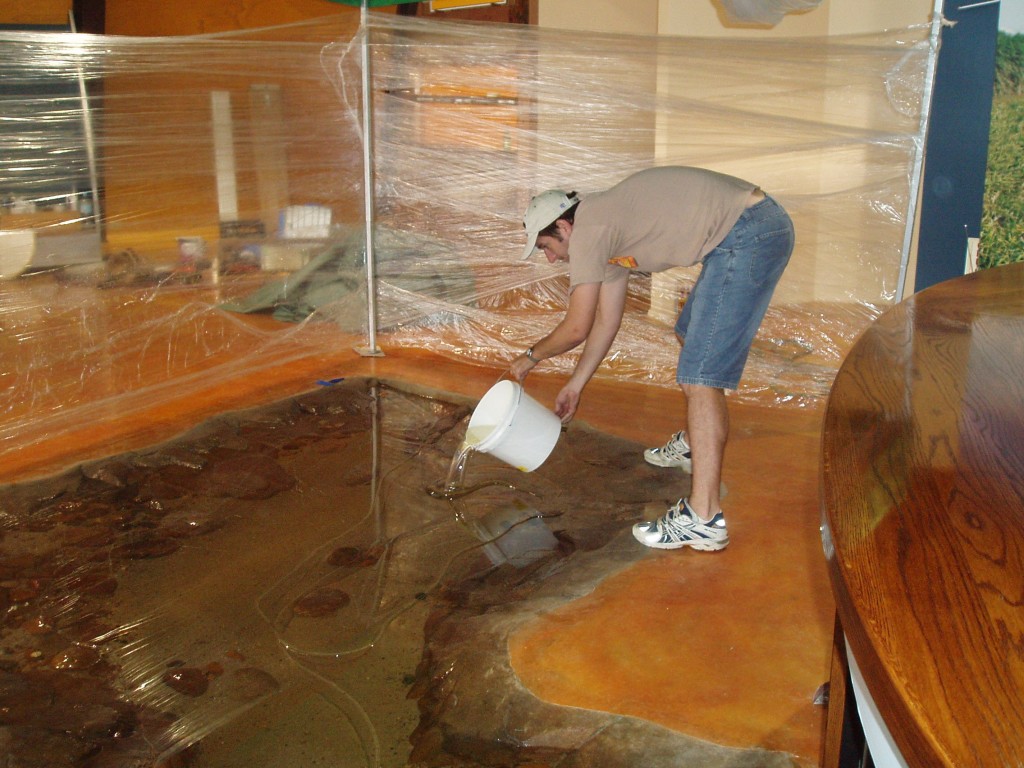 Another company you may have seen on your travels is GarageTek – the garage organisation system specialist. GarageTek's patented locking-tile flooring solution is made from durable polypropylene, making the tiles strong, stain-resistant and easy to clean. The system is custom designed and versatile, with many colours and patterns to choose from.
GarageTek sales and product manager Mike Jefferies says that if a bloke wants to be serious about his manspace, his existing flooring probably isn't going to cut it.
"Most garage floors are made from a simple concrete and let's face it, they usually sport various oil stains and spills and are riddled with cracks," he says.
"Even if concrete cracks are coated with paint or resins, they will likely penetrate those coatings eventually. Concrete also absorbs spills, making them near impossible to get rid of."
That's why Mike says a tailor-made solution for your space is definitely worth it in the long run.
"You really need a hard wearing surface that's easy to clean and safe. GarageTek's interlocking polypropylene floor tiles can be fitted as a wall to wall option in a number of patterns and colours or as a stand-alone mat option," he says.
The polypropylene tile is non-stick, so oil spills simply wipe off. They can be hosed down (they're non-slip), and raised feet allow for air flow underneath the tiles, drying the floor underneath. The material also doesn't support mould.
The system is easy to self-install, can be used immediately, and can even be taken with you if you move house. Plus, with six different colours available, there's plenty of scope for customisation, so you can make sure the colours are in keeping with the rest of your garage.
Another group intent on giving your floor a facelift is Omnifloor. The company has over 35 years experience in commercial flooring, but it also focuses on residential solutions. The company's best garage product is manufactured by Armstrong and distributed by MJS Floorcoverings.
Leanne Sturgess, from MJS Floorcoverings says that some floor coverings aren't as DIY as most people think, so it pays to consult with a professional installer like Omnifloor.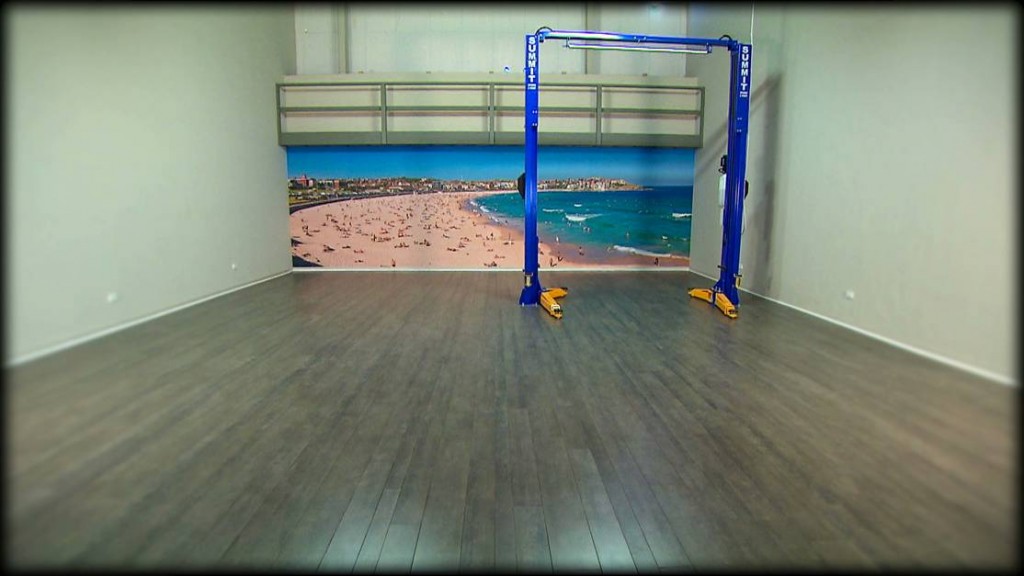 "Most people will simply apply coverings to their existing concrete floor. That's fine if it's a brand new concrete slab, but if it's not, you have to make sure your moisture levels are suitable," Leanne says.
"If you consult with a professional installer, they will prepare the surface correctly. If you still have moisture coming out of the slab, you don't want to put down a covering that's going to block moisture because it will blow the covering up off the floor or reject the adhesive."
Leanne adds that in general, the properties of untreated concrete make it particularly unsuitable for your garage.
"Concrete is an open and porous surface, so dust will be generated for years to come. It also means that liquids are easily absorbed and you can't prevent stains. This can also cause issues if you decide to cover it down the track, as you have to remove those products from the concrete before you install new flooring."
So if you're looking at renovating the garage, a vinyl product could be your best bet.
"Armstrong Infinity vinyl flooring is a commercial product that would most definitely stand up to garage applications," Leanne says.
"It's extremely rugged, but if you happen to drop something on it and damage it, you can simply replace the plank – you don't have to completely reinstall a new floor. It can also be cut up into tile dimensions and you can choose from different looks, such as timber, ceramic, and stone."
More than anything, Leanne says your flooring needs to be fit for purpose.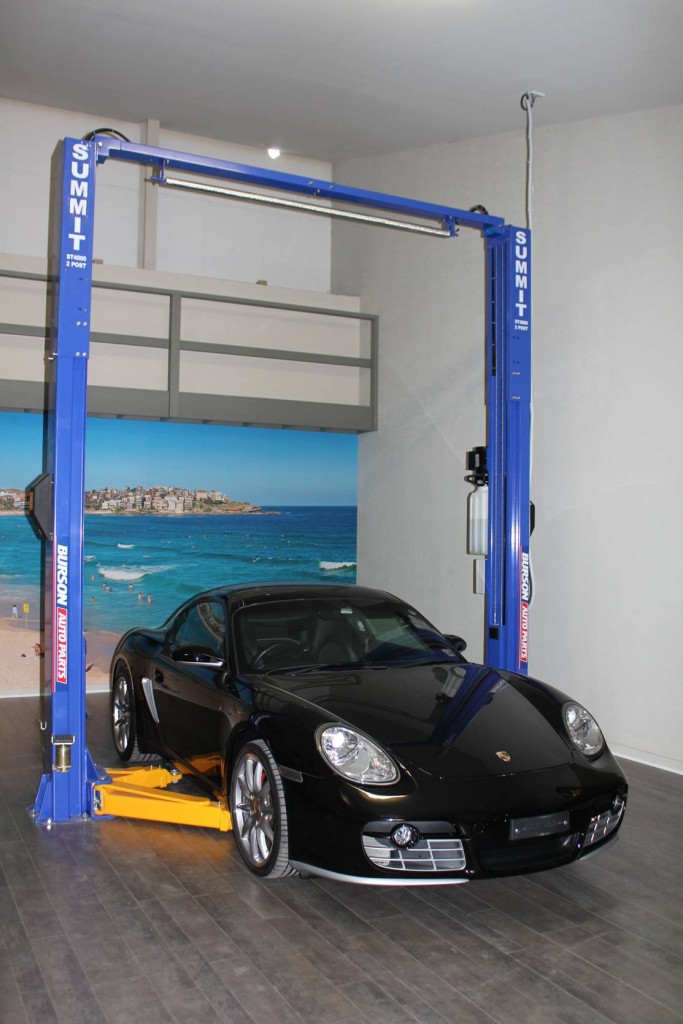 "If you're going to be driving a car on your floor, it obviously has to be sturdy, but if you're not, a commercial-grade laminate would be fine. However, there are a lot of cheap laminates that aren't fit for this purpose. Unlike other parts of the house, garages don't usually have controlled temperature and humidity, so you want to make sure that the product you're putting down is stable.
"When you know it's fit for purpose, you can go crazy with your design and customise it into any theme that you want. The sky really is the limit. An installer can help with that too – they'll know what complementary colours will work and help you differentiate different areas and how you can help 'open up' your room and use the lighting to reflect up off the floor.
"It might not seem like it at first, but the flooring is probably the most fun part of a refurbishment."