For Wayne Saunders, blacksmithing and knife making is more than just an excuse to smash metals together – it has changed his entire outlook on life. Now he's passing on this knowledge to others to make sure the ancient skills don't get lost with time, writes Callum Fitzpatrick.
For many of us, blacksmithing conjures up images of bearded, burly men shaping pieces of steel by bashing hot metal with, well…more metal. It's an activity that seems particularly primal in these technology-saturated modern times.
Back in the day, blacksmiths were called upon to craft almost everything made from metal – fencing, gates, nails, furniture, you name it. Nowadays, the model of a blacksmith is a much more professional, refined one, with the vocation revolving around producing artwork or custom-order pieces for clients.
This is also true of a blacksmithing close cousin: knife making. Here, metal is forged and shaped into a chosen profile, and often adorned with elaborate patterns – think a Celtic design or a dragon scaling up the handle.
A man who knows the intimate detail behind both these arts is Wayne Saunders. Through his business Ironlord Forge, he creates custom-order handmade knives, axes, decorative ironwork, jewellery, tools…practically anything that can be forged out of metal. What's more, he also gives lessons in both knife making and blacksmithing.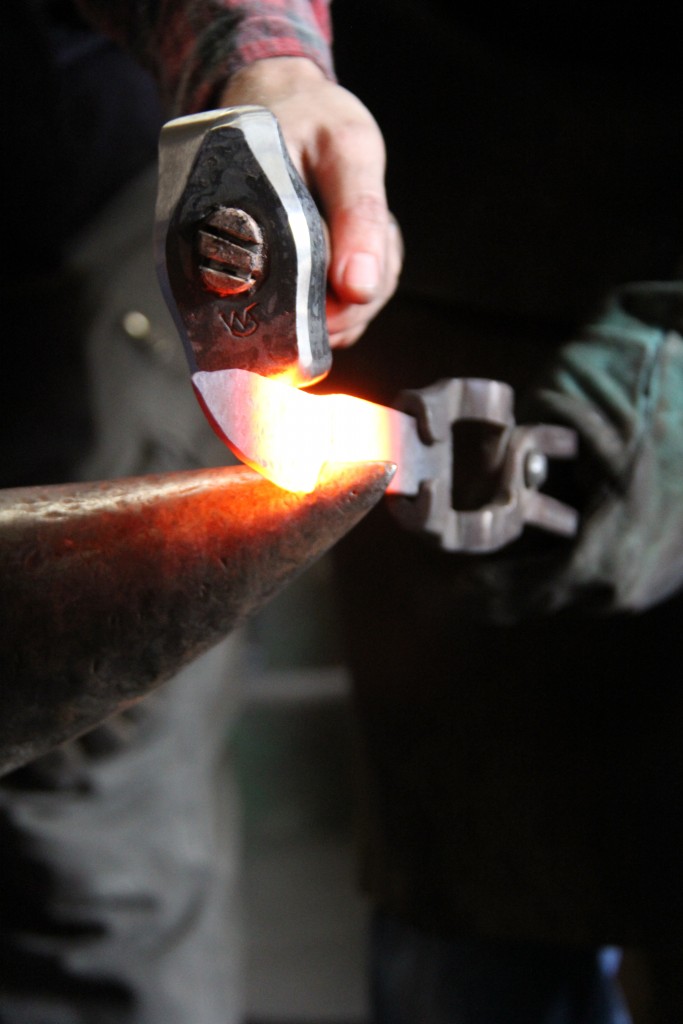 His profession started out in the way that most of the interesting and enviable jobs in ManSpace Magazine seem to – he was merely pursuing a hobby.
"Blacksmithing was something that had always fascinated me," Wayne recalls. "I remember seeing a blacksmith in action when I was a little kid – I couldn't stop watching him. My parents had to drag me away!"
Wayne got into the hobby in 2000 and in just three years he had transformed it into a profession.
Prior to this, he had travelled around Australia for 10 years, taking any work that came his way; not fully knowing what he wanted to do with his life.
"I was passing through Port Macquarie and came across a blacksmithing club. At first, I thought it would be another fleeting interest, like a lot of the things I had tried on my travels. That was 13 years ago, and here I am still loving it," Wayne says.
Although the transition from hobby to career was a relatively natural one, Wayne says he initially found the prospect daunting.
"After I had some knowledge under my belt, I leased a building at a local heritage theme park and gave demonstrations to the public," he says.
"That was very scary to me at first – I wasn't used to talking to a crowd. Even worse, I had to make it look like I actually knew what I was talking about. But then I realised that most people didn't understand much about blacksmithing anyway, so I could say just about anything!"
These days, when he's not teaching, Wayne is working on creating the next masterpiece for his clients. No two projects are ever the same.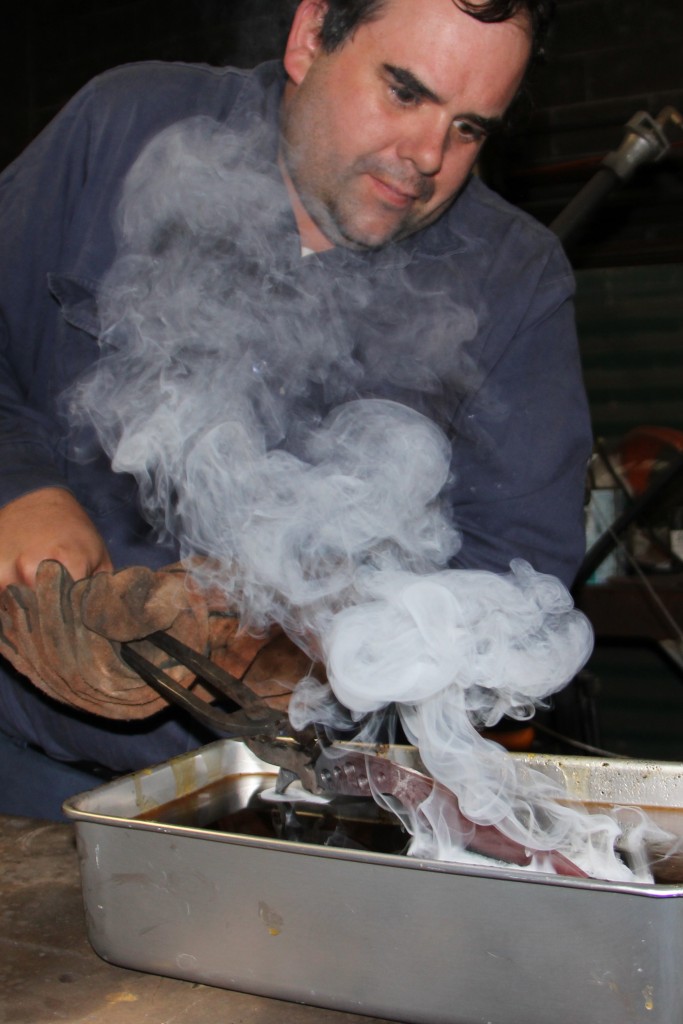 "Sometimes people come to me with a drawing of an item they want me to make, whereas at other times they just have a concept and I have to figure out a way to make it work. That can often be very challenging," he says.
"I'm also always trying to change and develop my own personal style. Even when I'm in the middle of one job, I'm looking forward and thinking of ways I can improve."
It becomes clear that for Wayne, it's the creative side of the art that keeps him motivated.
"I think that having an imagination is one of the major attributes you need to carry in blacksmithing and knife making," he says.
"Each blacksmith's style is different too. I like nice, simple flowing lines, and if somebody wants a piece that is elaborate and intricate, I can do that too."
Wayne says that when he looks back at his childhood, it was inevitable that he would pursue a creative passion.
"I've always been artistic and I've always loved drawing. Even in school, I was into screen-printing and I used to make t-shirts for my mates. I've always had some little business or avenue on the go. I suppose it all makes sense now."
Blacksmithing is now more than just a job and a hobby for Wayne – it has shaped his entire approach to life.
"It's strange the way I started to think about everything after I'd been doing this for a few years," he says.
"I don't take things at face value anymore and I'm always curious to see how something is done. It's been really good for the grey matter."
This comes as no surprise when you hear of some of the challenges that have been thrown his way.
"I'm about to work on a dagger that is made from meteorite shavings, mammoth tooth and powdered high carbon steel.
"It's definitely a challenge, and it will be awesome when it comes together, but then I'll be thinking about how I can take this to the next level."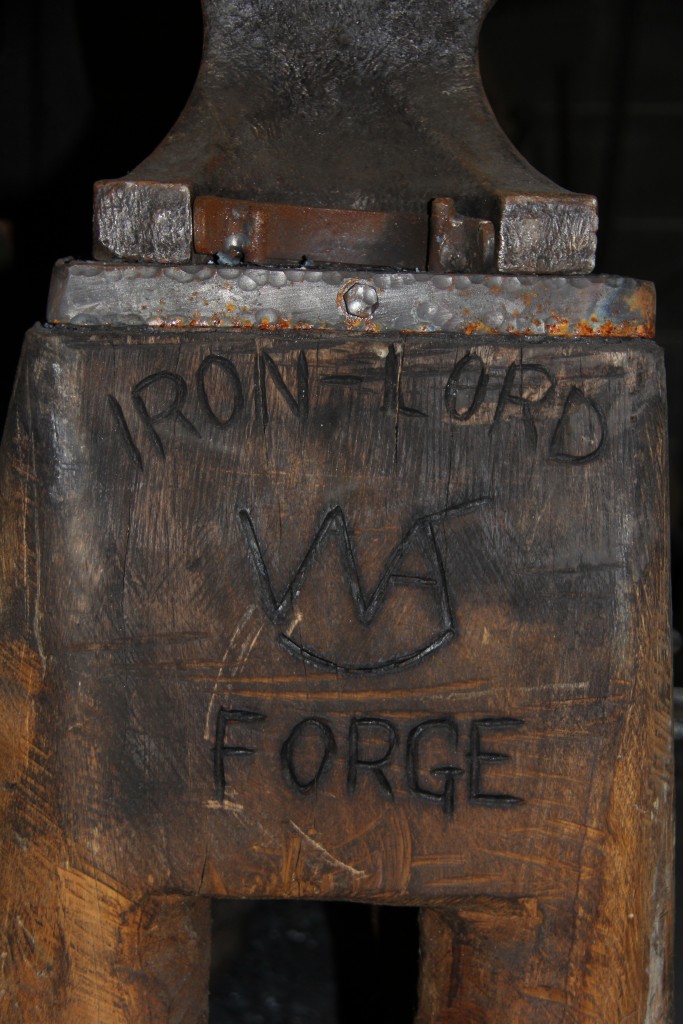 Now he's endeavouring to instil this passion into others, through a range of training courses he runs.
His beginner blacksmithing course runs over one or two days, and students are educated on the forge and the tools and techniques needed to create metal works.
In the two day knife making course, students get clued up on forging, grinding, heat-treating and fitting a handle. If time permits, there is also the opportunity to make a simple all-steel knife or a chisel.
Wayne says that ever since he started teaching, he found joy in a totally different side of his crafts.
"I'm aware of how much I enjoy this, so to be able to pass that on to somebody else is great. It's amazing to see the smile on people's faces when they create something," he says.
"In a strange way, it's also satisfying to see my students get frustrated when they can't quite get something right. All it takes is a little correction and everything falls back into place.
"With knife making, we usually start with a rough idea for a pattern, but we don't follow it religiously – we let the metal develop its own flow. After forging the blade, we grind, heat-treat and handle it. Then we finish the blade off and sharpen it up.
"Blacksmithing, on the other hand, is a little more varied – we start with a couple of basic projects, like making a chisel. The next stage usually depends on what the person wants. Some people like to make tools, like a tong or hammer, whereas others like to craft decorative items, such as a sculpture piece."
A couple of students who recently visited the forge were mates Michael and Gerard.
Gerard is getting married in February and since he didn't fancy a traditional buck's night, the boys opted to do something a bit different.
"We did a two day knife making course and it was great. Wayne basically aimed it at our level of knowledge and filled us in on things that we didn't know. Then he gave demos and pointers as we went along," Michael says.
"Gerard does a lot of tinkering around and has worked in a few trades, so he already had some applicable skills. I was a complete beginner – I'd just watched a few things on YouTube."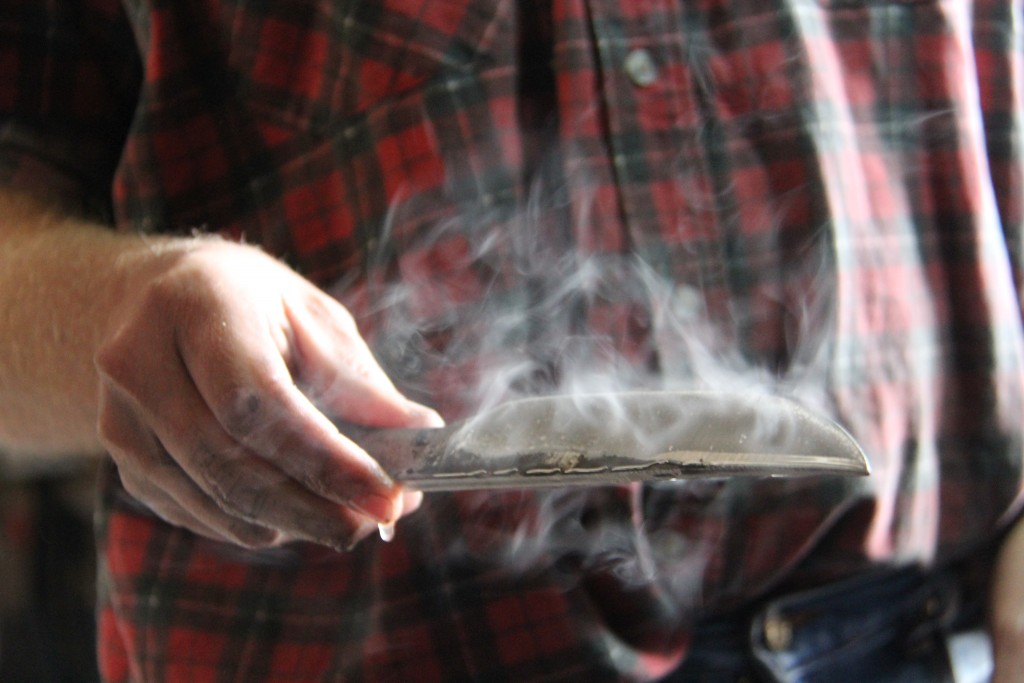 Michael explains that he had a concept for his knife even before the course started.
"Wayne and I had been emailing for a while and we discussed they type of design I was looking for. I sent him an idea of the shapes I liked.
"Our end results were surprisingly different to what we thought we'd make. That's partly because we were beginners, but it's also because knife making is a strangely organic process. As the knife develops, a shape comes naturally, which you can choose to take further and enhance."
With such an involved process, it's no surprise that Michael is precious about his finished product.
"It's on display on my shelf at the moment – I'm too worried to actually use it," he says.
"I joked with Gerard and said that we have to do a leather making course next so we can make a sheath."
With Wayne now inundated with requests for his courses, one thing is certain – the forge doesn't look like it will die out any time soon.
"In these days of mass production, when you have a something in your head you want, you go to a shop and buy the closest thing. It might not be perfect, but it's close," Wayne says.
"In the old days you could go to a blacksmith, tell them exactly what you want and that's what you'd get. A lot more people are beginning to realise that again.
"What's more, in the blacksmithing community, everybody shares their techniques – it's not like the old days when guys would hold onto their trade secrets. They're realising that if this knowledge isn't passed on, these skills get lost over time."
Wayne says that even now, 10 years down the track, he's still as fascinated by blacksmithing as he was that day his parents had to drag him away.
"I just love the variety of the work – you can never learn it all. I've had other jobs in the past, but they seem to get old very fast," he says.
"To be able to take such a hard and immovable material like steel and reshape it into whatever you want still amazes me.
"Plus, I get to play with fire and beat the hell out of stuff all day. What more could a bloke want?"
Contact:
Ironlord Forge
www.ironlordforge.com.au