It's not uncommon for men heading towards middle-age to reward themselves with an expensive car when they feel they have earned it. It's less common; however, for them to then take that very expensive car down to a track and throw it around corners, just centimetres from other cars. Zach Broadhurst explains.
The Victorian State Sports Sedan Series offers no prize money to the champion, yet every year men plunge massive amounts of money into very quick cars, all in an effort to win a glass trophy.
"It's not an industry where people make money. On race day you look around and you see hundreds of thousands of dollars in the pits and the one person making the most money is the one running the canteen," Stuart Eustice explains.
So why do it? Why spend so much time, money and effort on a hobby where a slight mistake from yourself, or another driver, can break your big toy for good?
For Stuart it's all about the challenge he can't find anywhere else.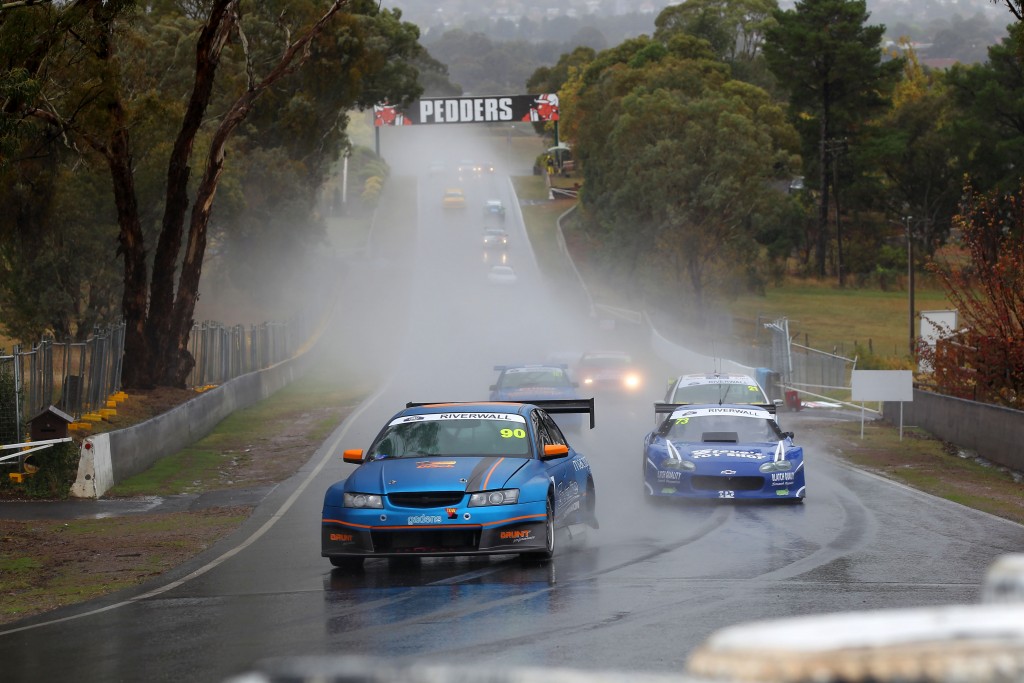 "I'm an office worker and a lawyer. In years gone by I dabbled in Go-karts, because I liked getting away from the office. I always liked coming to work with skin missing and grease under my fingernails. I no longer found law a challenge and I was looking for something more practical that would push me.
"I'm at a time in my life where I can actually enjoy something. I have invested and saved, the family is set up and I now immerse myself into something I'm passionate about.
"It will be a once in a lifetime thing, to spend this amount of money on a car."
The car in question is a Holden SS Commodore, but it has a little more going for it, inside and out, than any Commodore you'll see driving down the street.
"The engine has gone from a garden variety chev, into a real custom one-off aluminium race engine, based on a NASCAR type performance set-up," Stuart says.
"We've also chopped the front and rear off of it. The middle section is still a Commodore; however the front and rears are both tube chassis with components wrapped around them."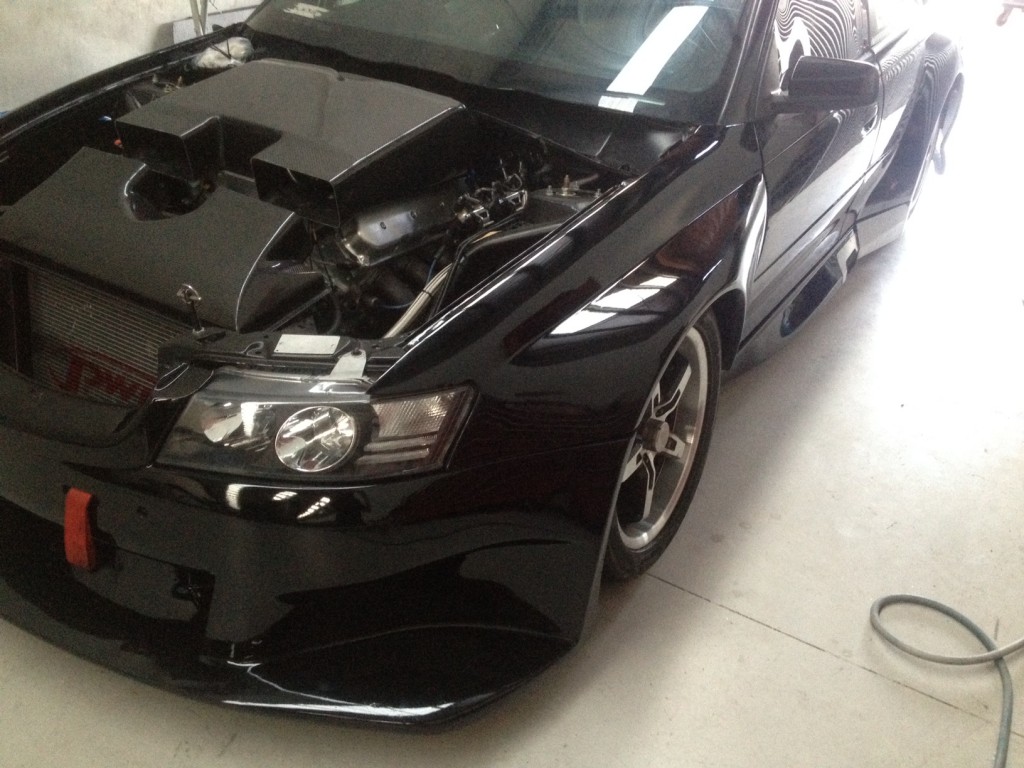 What started as a little step up from his Go-karting days has quickly gotten much bigger for Stuart, because once he got a taste for real cars, there was no turning back.
"About three years ago I had the SS Commodore, which I'd slightly hotted up. For one reason or another I took the plunge and installed a roll cage. I never looked back from there. After the first recreational track day things spiralled into something far greater than I ever anticipated," Stuart says.
"I wanted some break and suspension upgrades, with some tyres, so I went to Centreline Suspension. Chris and Glenn are both wonderful guys who have helped me a lot. They initially took me out to the track and we started to build the car from there."
Eighteen months of playing around and modifying the car later saw Stuart line up for his first race in February of 2013 – taking out the victory while fuelling his desire to go further.
The car was entered into the Victorian State Sports Sedan Series at the begging of 2014, but was seriously under horse-powered and under-modified to be competitive, so Liam Dunn and Grunt Performance became involved.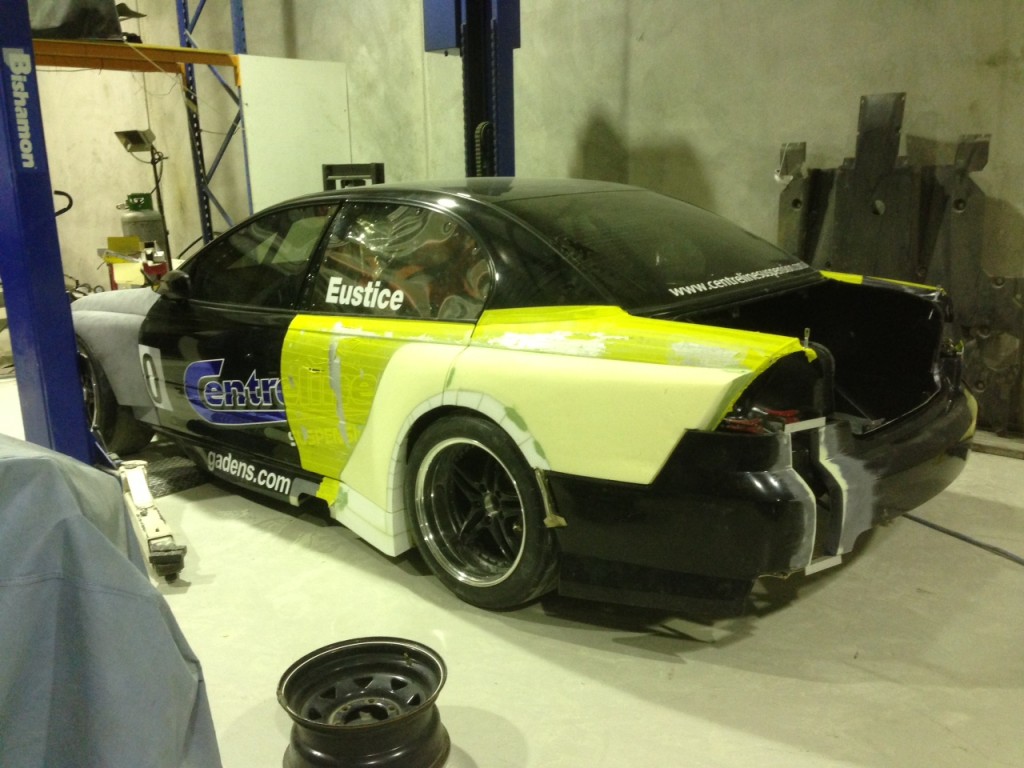 "We went to Liam because he was this young enthusiastic hotshot who enjoyed a challenge. We gave him what we thought was an impossible deadline to meet and he rose to the occasion," Stuart explains. "We handed the car over on a Friday afternoon and said, 'We need it back Monday morning.' He ripped the roof off and re-fitted the roll cage all without looking like it had been touched."
Fortunately Liam works well under pressure and was unfazed by the tight deadline, enjoying the challenge that working on these cars can bring.
"That's one of the reasons I love it so much – it is ever changing and evolving – which means you have to think on your feet. I really enjoy the constant challenge,"
Liam explains.
"Seeing customers happy is incredibly satisfying, especially when they hop out of the car after they've given themselves a massive adrenaline rush. The look on their face is always pretty special."
Stuart didn't often leave the car with a smile on his face in 2014 though. With constant engine problems forcing him to miss most of the year, he struggled to find the cause of his problems.
"2014 proved to be a bit of a disaster and in the end we had an engine which we had to shelf and eventually sold," Stuart explains.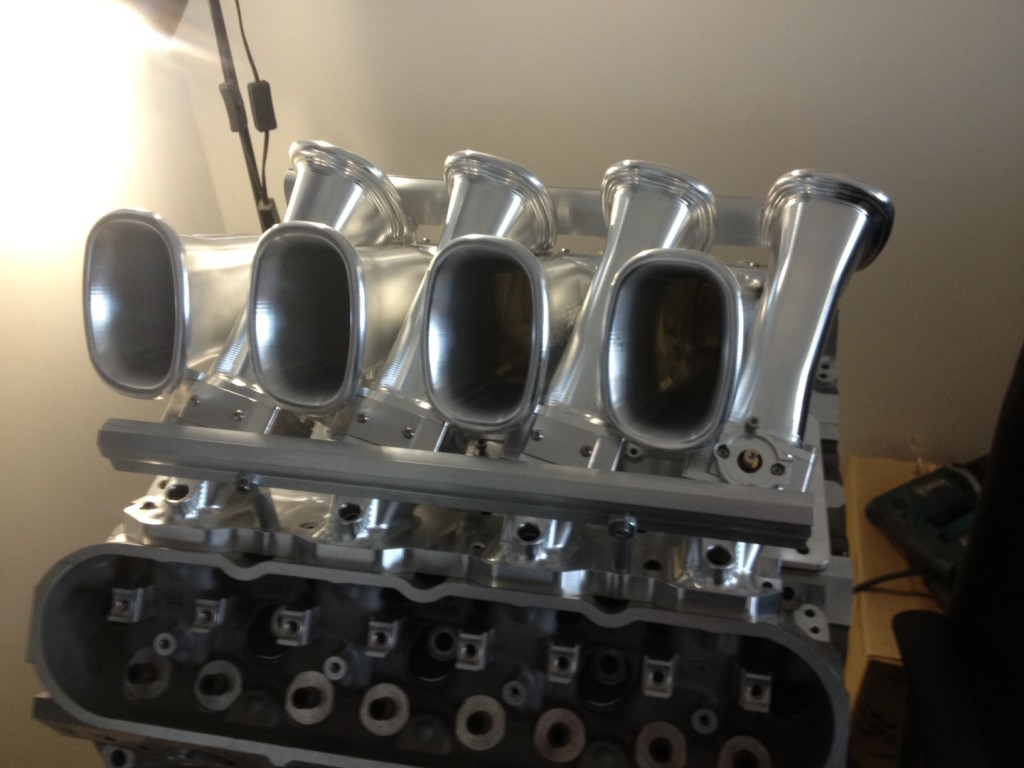 "When you race, you have a practice day on Friday, qualify Saturday, race Saturday afternoon and again on Sunday. During the first two races on Friday I blew an engine both times – that's not a cheap exercise. What the issue was we don't know and that was my third engine in two years."
While blowing engines is far from ideal on race days, Chris Muscat, who manages the whole program, reveals Stuart is usually pretty positive when faced with setbacks.
"He told me straight up that he had no aspirations to be a world champion. There is no pressure, its 'c'est la vie' if the engine blows up. I just get really upset because I feel like I haven't fulfilled my end to him," Chris says.
"I get awfully frustrated, because to me, putting an engine together is an easy task and people get it wrong. The guy has paid for it, so why is it not out there doing laps? But Stu says, 'Oh well that happens'. I guess he hasn't been in the game long enough to be upset by it."
Besides the frustration of not being able to race, Stuart and the team must also be mindful of the cost associated with fixing all the issues, especially when that money is coming directly from Stuart's pocket and those of some very understanding sponsors.
"My wife affectionately refers to it as the Maserati, because it would have been cheaper for me to buy one," Stuart laughs.
"I've got four important sponsors in Centreline, Grunt, Macquarie Telecom and Diseb Foods Group and they were very understanding when it came to sinking funds into a car that hadn't hit the track yet."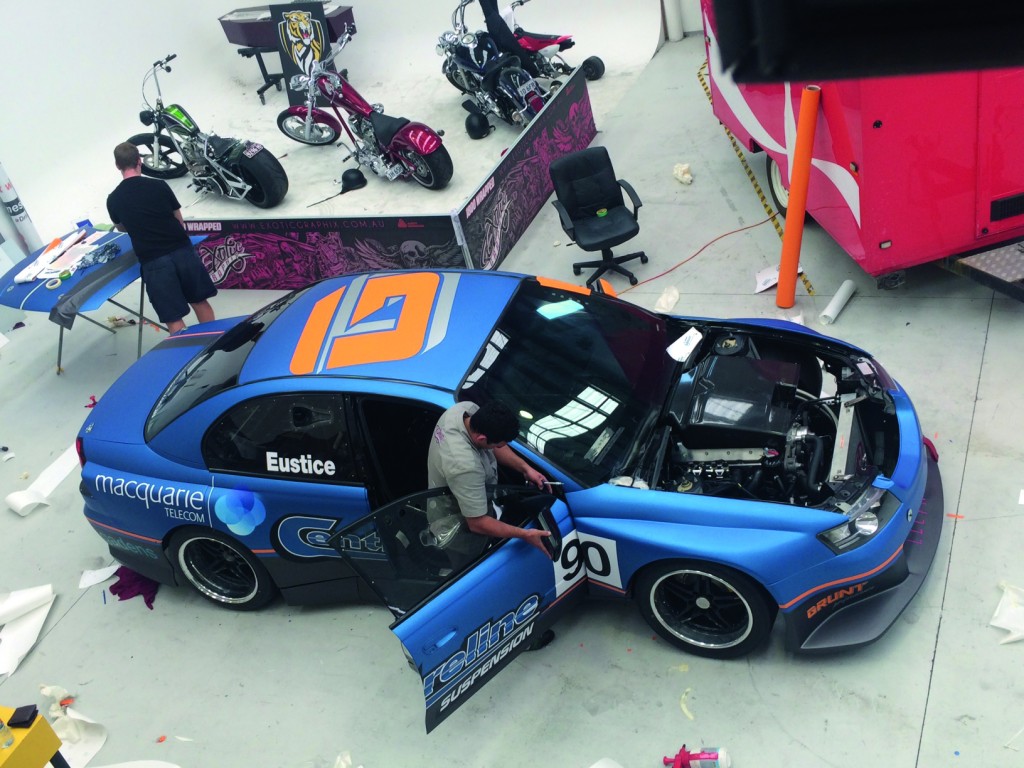 There is an added bit of pressure for Liam as well. He must keep an eye on the cost of the car, while also sparing no expense when it comes to safety. In case Stuart is unlucky enough to come off the track at high speeds.
"The cars are going at such a speed that you have to be accountable. The pressure behind that is quite high,because this car is going to be doing 300km/h and if something goes wrong at that speed – it goes very wrong," Liam says.
"It's my job to keep him safe while driving a car built using quality components."
This year is shaping up to be a big year for Stuart and his team, and while he insists that racing cars is just a hobby, there are others in the team who could see Stuart's competitive nature taking over.
"People underestimate Stuart because they don't know a lot about him," says Chris.
"He's been on the Australian squad as an ironman, he's in a very competitive environment in his business and he's raced Go-karts before. Under that skin, he's a baby faced assassin."
It's this attitude coupled with a quality car that makes Chris believe in the team and the major impact they will have if they can stay on the track next year.
"With this car he'll be Victorian champion; that's an absolute given," says Chris.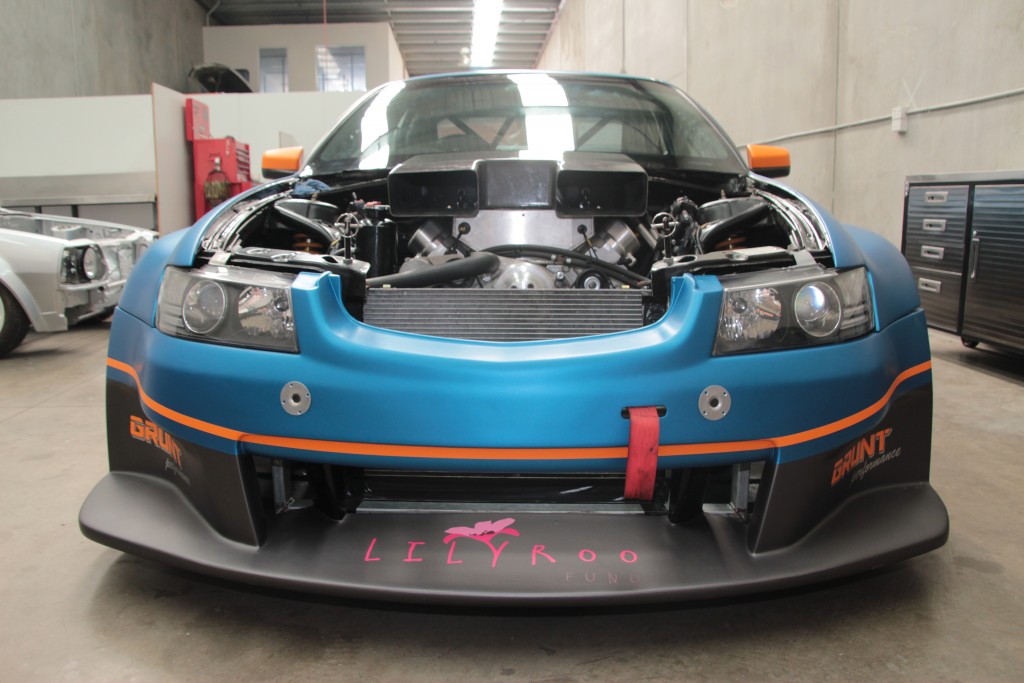 "That car and what we've done to it is capabale of winning the state championship. At a national level the car has the capacity to be a V8 Supercar in all respects. In a lot of respect its better; lighter, wider and nibbler. Then there's the bigger engine. It's built along the lines of a V8 Supercar on steroids.
"From a national championship point of view, it would probably lack the outright speed of the elite cars. But over the year, when you get wet races, dry races, competitors blowing up, crashes etc., I think it could win the national title if Stuart was on his game."
Winning championships would be nice, but for Stuart the main goal for his racing team is to turn it into a family affair and pass the thrill of racing onto his three young sons.
"I have a 14-year-old boy, a four-year-old and a six-month-old – hopefully all of them will get involved. If they don't like the driving aspect of it all then I want them involved in the business side," Stuart says.
"The 14-year-old already has a Go-kart, the four-year-old got one for Christmas and I'd like to see the 14-year-old graduate into Aussie racing cars around his 16th birthday.
"The ambition is that the boys will take over this car, but we have to get them into it slowly because it's such a high performance vehicle."
With such an appetite and determination to succeed, we have no doubt that the future looks bright for Stuart, the car and future ambitions.