In the face of adversity, Australians can take solace in the fact that our soldiers are in safe hands. ManSpace takes a closer look at the Thales Bushmaster – a highly mobile, ballistics, mine and blast resistant Protected Mobility Vehicle built right here on Aussie shores.
We've all been stuck in peak hour traffic before. There's nothing worse when you've got somewhere to be. Throw road rage into the mix and it goes from bad to worse. It's enough to ruin your day and I'm sure most of us have dreamt of being in a bigger or more imposing car in that situation.
Perhaps an oversized 4WD or a monster truck could do the trick. Or, if you like to think outside the square, there's the Bushmaster.
If you haven't heard of it, don't worry, it's not a commercial vehicle so don't go searching for it on Car Sales – you won't find one for sale. They aren't built for the roads but can withstand mine blasts, tyre punctures and venture off-road like it's nobody's business. You'll be glad to know they look as tough as they sound too. Sure you'd receive a few strange looks but nobody would mess with you in one of these bad boys. I think you would be hard pressed to find many blokes who wouldn't want one of these sitting in the garage.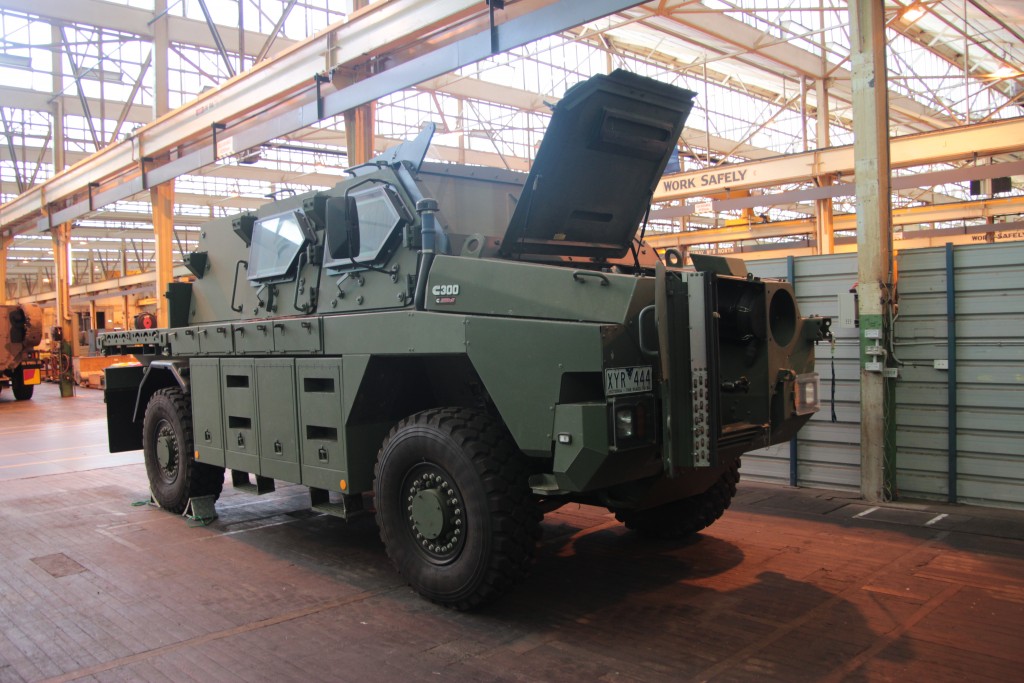 The Bushmaster is a highly successful, Australian-built armoured vehicle. It has been designed to safely deploy battle ready troops in extreme environments and not only serves its purpose but does so admirably. The Bushmaster has saved hundreds of lives since its introduction and for that it should be commended.
The role of the Bushmaster is to provide armoured transport, with infantry dismounting from the vehicle before entering the strike zone. As the Bushmaster is only lightly armoured it falls into the category of Infantry Mobility Vehicle (IMV). This distinguishes it from a heavier wheeled or tracked armoured personnel carrier, such as the ASLAV and M113 – also in Australian service. The design is innovative and has replaced some troop carrier variants of the Land Rover Perentie. The Bushmaster family of vehicles is available in a range of variants including: troop carrier, ambulance, fire fighting, support weapons, pioneer and command for application in combat and combat support roles. Bushmaster's modular design ensures it is versatile enough to tackle any challenge it comes across.
It can carry a section of soldiers in high comfort and protection over terrain ranging from the rugged outback to open highways. Its innovative cabin design also makes it very versatile in its internal fit-out, allowing many different roles to be served. The Bushmaster is built to carry and sustain an infantry section, with room for more passengers if required. In its original form it is designed to transport up to 10 troops. The cabin is fitted with eight face-to-face ergonomically designed seats with full four-point harness seat belts. There is a personal weapons storage area, mission equipment storage and a radio suite intercom.
I was fortunate enough to be shown around the Thales facility in Bendigo and felt quite fortunate to be invited into such a classified establishment. It isn't everyday that you get up close and personal with military vehicles. After entering I immediately wondered how many local residents actually knew what was being developed behind the doors of the Thales facility. The exterior didn't give much away as you can probably imagine.
The manufacturing facilities were spotless and I was assured that they hadn't cleaned the place up just for our visit. My local mechanic could learn a thing or two from these guys. They aim for perfection here and if they don't feel like they've achieved it yet, I can assure you they're close.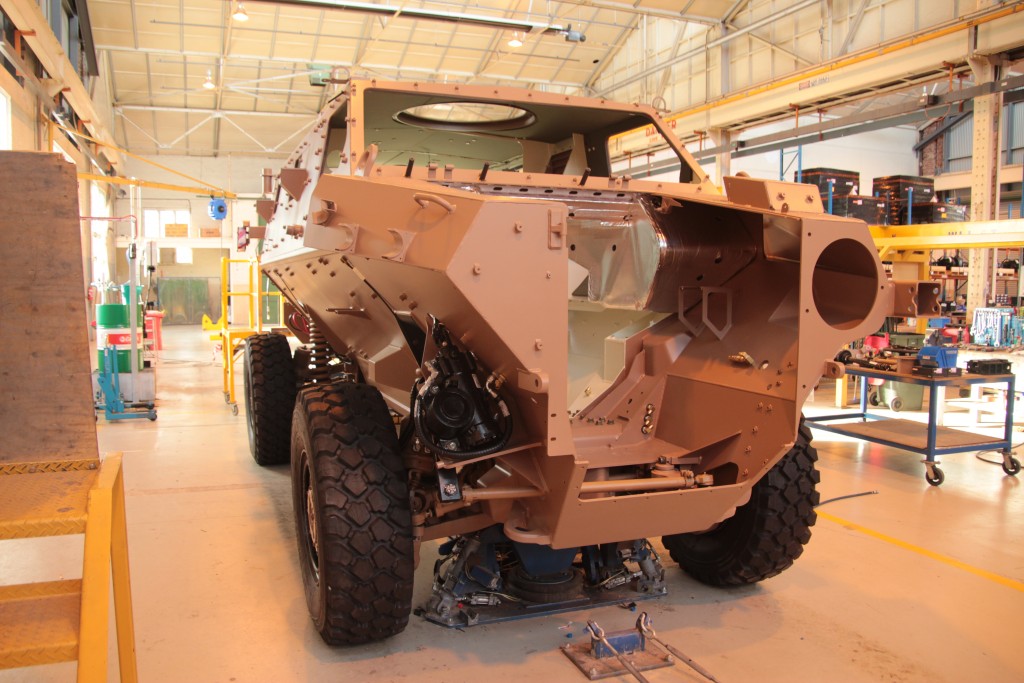 While photos give an indication of the size, it really is something to behold. I thought my mate's Nissan Patrol, fitted with a lift kit was big – it had nothing on the Bushmaster. My testosterone levels hit an all-time high once I stepped inside the passenger cabin. It was like an injection of manliness entered my veins… it just felt 'tough' in there. The Bushmaster accommodates its passengers in every sense of the word. It can get exceptionally hot in the desert or outback. Add to that the countless layers of clothing, body armour and weaponry and the thought of it is enough to make you feel dehydrated. Thankfully the Bushmaster is fitted out with high performing air-conditioning and 250 litres of drinking water under the floor. It has the ability to sustain a full crew for three days in the field.
During my visit to Thales it becomes immediately obvious that research and development is at a premium. Every miniscule detail has been combed over and they only employ the best people to do it.
The driver and crew cabin areas have been designed with comfort in mind as the vehicle can be forced to enter some rugged and harsh terrain. Tyre pressure can be easily adjusted via the push of the button (while in motion) which ensures the vehicle is always adjusting to the type of terrain it's tracking through. This also minimises punctures. The engine noise level is significantly low for its size and visibility is kept to a maximum thanks to a large windscreen and side windows that provide all-round visibility. The dashboard is suitably arranged, with easily legible and night-vision-goggle-compatible cockpit instrumentation.
There aren't many vehicles around that can boast those types of features. Now you know why you wouldn't find one on Carsales! The only chance you'll get to drive one is if you join the Australian Defence Force.
Such a commanding vehicle requires plenty of grunt to get it underway and it's fair to say the Caterpillar 3126E ATAAC turbocharged six-cylinder does just that. It produces up to 224kW (300hp) at 2,400rpm. It provides a power to weight ratio of 16kW/t, governed maximum cruise speed of 100km/h. The vehicle has a range of more than 800km. I was dumbfounded when told that the complete powerpack, (engine, automatic transmission, cooling system) can be replaced in less than three hours in the field without expensive machinery.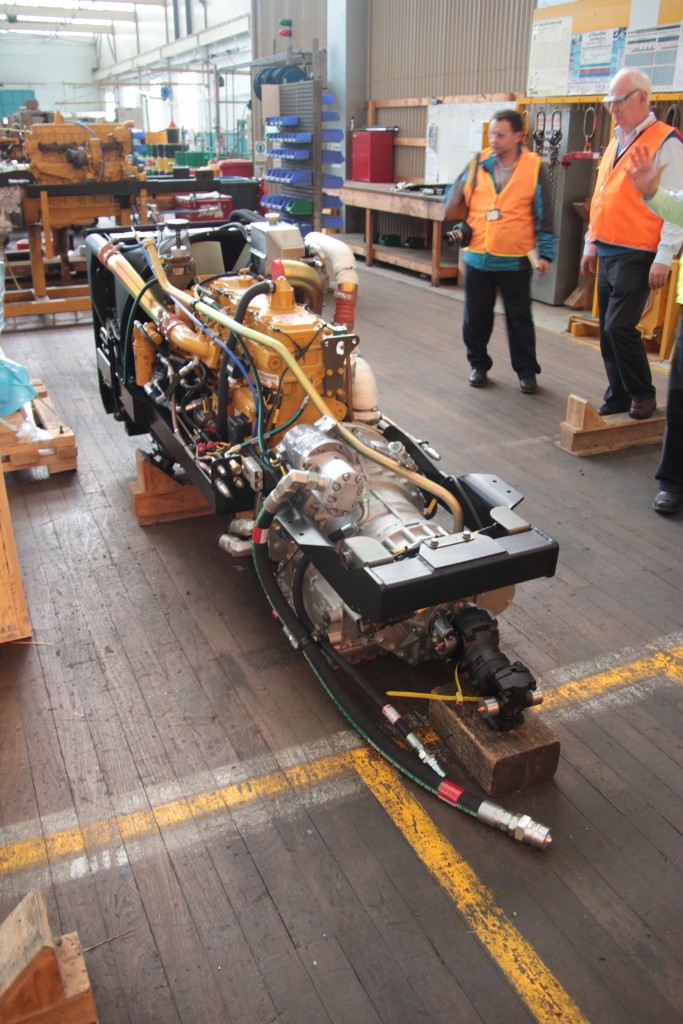 The Bushmaster family of vehicles provides high-level protection against anti-tank mines, improvised explosive devices, mortar fragments and small arms fire. The Bushmaster utilises an armoured v-shaped hull to protect its passengers from landmines. The sloped sides on the bottom of the hull act to deflect an upward blast away from the vehicle. Similarly to a v-shaped boating hull that deflects any spray away from those onboard. Many a test vehicle and crash test dummy has been sacrificed on the testing fields but for good reason too – to this day, no one has died in a Bushmaster while engaged in combat.
The vehicle's welded one-piece hull is designed to protect against all small arms fire of up to 7.62mm calibre. The welding process is second to none and plays a significant role in the success of the Bushmaster as a protective vehicle. Professional welders are employed but are required to undertake weeks of training to ensure they are up to scratch. They cannot touch a vehicle until they reach Bushmaster standards. A bad weld is the weakest point in the vehicle and opens the body up to failure.
The forward central roof hatch can be equipped with a weapon mount for a 5.56mm or 12.7mm machine gun. A light cannon can also be mounted if desired. The protected windows can be fitted with optional shooting ports. Lockers can be replaced with additional ammunition and arms or fuel and water tanks to extend the operational radius.
The 1000th Bushmaster vehicle was successfully unveiled at Thales on Friday the 14th of June and it's testament to the hard work and ability of the 200-strong team in Bendigo. The Bushmaster is an Australian success story, delivering for the Australian Defence Force, the local defence industry and Australia's domestic manufacturing capability. For those that dream of owning one… it's a nice thought isn't it?
BUSHMASTER SPECIFICATIONS
Weight: 12.4 tonnes
Length: 7.18m
Width: 2.48m
Height: 2.65m
Engine: Caterpillar 3126E engine
Range: 800km
Speed: Over 100km/h
Armament: Gun ring for 5.56mm and 7.62mm machine guns
Crew: 1 Driver
Passengers: 9 fully equipped troops
ABOUT THALES
Thales employs around 3200 people in over 35 sites across Australia and approximately 65,000 around the world. Technology is a key driver in their performance and as such 20 per cent of revenues are invested in research and development. Thales partners with its customers to deliver innovation time and time again.
Thales has significant expertise in military and specialist vehicles, including combat-proven wheeled armoured vehicles, land mine protection technology, high mobility engineering vehicles and all terrain fire fighting vehicles. The Bendigo facility based in Victoria, is Thales's worldwide centre of excellence for the design, manufacture and support of highly protected off-road vehicles.
Thales is a global technology leader for the Aerospace, Transport, Defence and Security markets. With its 25,000 engineers and researchers, Thales has a unique capability to design, develop and deploy equipment, systems and services that meet the most complex security requirements. Thales has an exceptional international footprint, with operations around the world working with customers and local partners.
In recent years the team has been designing and building the next generation of Protected Mobility Vehicles and as a result the Hawkei has come to fruition. Thales Australia has called upon a wide variety of local manufacturers to aid in the construction of the light protected vehicle should they successfully secure a manufacturing contract with the Department of Defence. Thales is segmenting the Hawkei supply chain work into around 30 major work packages, and is looking for suppliers who can work in unison with the company in order to meet very specific quality, cost and technical requirements.