Twenty Third Street Distillery has released a limited-edition violet gin is its first release under 'The Prospects' range, an expression of its creativity and curiosity.
The range is inspired by the distillery's lucky number 23, with the word's freedom, creativity and teamwork used to describe the number.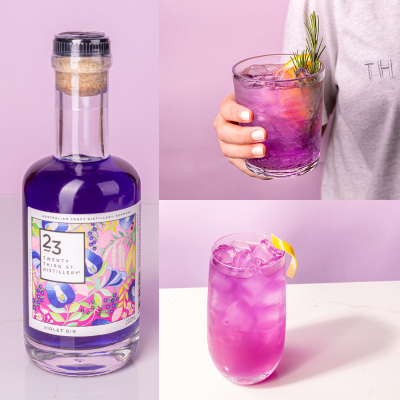 Violet Gin is a pure, smooth Australian sugarcane spirit and is distilled with traditional juniper, and Australian native botanicals, lemon myrtle, cinnamon myrtle, pepper berry, finger lime and wattle seed.
Butterfly Pea flowers are steeped in the liquid for 18 hours to bestow their natural blue tint. This is sensitive to pH and transforms to ultraviolet with added acidity such as tonic or lemon.
Distinctively Australian, artfully balanced. Fresh juniper, pine and lively citrus aromas precede a spicy warmth. On the palate, layers of intriguing flavour unfold, from familiar juniper to juicy finger lime, mellow wattle seed and lingering zest and peppery spice.
Express your spirit by adding 30ml violet gin to a glass with ice and top with tonic water. Watch as the colour transforms and garnish with dehydrated orange and rosemary.
Violet Gin will officially launch this week and can be ordered online via Sippify.