As a child, I remember learning how to skate on outdoor rinks in my neighbourhood in the suburbs of Montreal, Quebec. We were fortunate enough to have a rink installed at my school, but our outdoor skating went well beyond the playground.
From frozen ponds and creeks, to outdoor artificial ice surfaces, getting outside and jumping on the blades is quite normal in a country that has a reputation for snow and ice. Learning how to skate on an outdoor rink is essentially a rite of passage for Canadian kids. In fact, a well-worn story in our part of the country is how Wayne Gretzky, the greatest player in National Hockey League (NHL) history, got his start on a rink put together every winter by his father, Walter, in Brantford, Ontario.
Gretzky would go on from those humble beginnings to mature into the most prolific scorer the sport of ice hockey has ever seen – and he had such an impact on the game that his number 99 was officially retired by all teams in the NHL upon his retirement.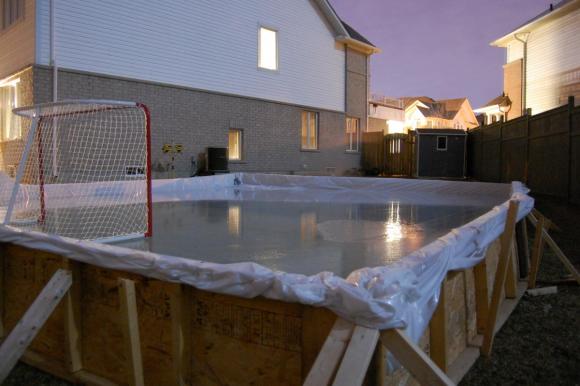 I never had a rink of my own as a kid, so when I finally landed a backyard big enough to house boards and a giant tarp, I knew exactly what would be in my future. I actually admit to using my then two-year-old son as an excuse to get out there and try my own hand at ice making. He was a little on the young side to be out there, but it was easier to claim that I wanted to teach him to skate than it was to admit that the real source of inspiration for the rink was a deep-lying love of being out there on the ice.
For me, hockey is part of my DNA. Watching the Zamboni (the iconic ice resurfacing machine) make its final pass, especially when being one of the first to hit the ice in the morning, was (and still is) a special moment for me. Making those first cuts on a fresh sheet of ice is the beginning of a new story yet to be told. There are few feelings like it.
And as my rink plans started to go from loose thoughts to measurements, parts lists and research, I soon discovered that I was not alone in my desire to have a rink that I could call my own. A quick internet search landed me at mybackyardicerink.com, where others with a similar addiction share their know-how.
"The idea of putting together a website on backyard ice rinks came from a dear friend of mine whom I actually met through the rinks," explains John Vlahos, owner and operator of mybackyardicerink.com.
"I had spent so much personal time researching, reading about and building backyard rinks, that I realised that spending more of my time sharing my information with other people interested in making home ice and backyard rinks, is something I would enjoy doing."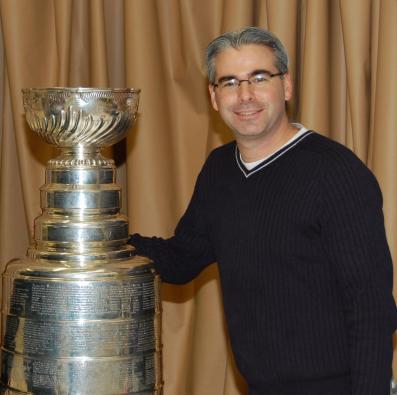 A few afternoons on the website and pretty soon I had enough advice on everything from how to build boards, to building a rink liner, how to secure said liner, and when and how to fill it up to make ice – and making ice for skating is a bit more involved than creating cubes for your drink… or so I learned.
Of course, theories and practice are two very different things, and even with all the research done, it was not my finest moment that first year when I filled the rink with water only to watch it almost overflow at one end of my yard while the top end of the rink was still a tad on the dry side. Apparently I failed to account for the slope in my yard. Thankfully water is self-levelling, so there was no skating 'up-hill', but you do need to have enough depth in the low end to allow the full rink to have a few inches of water covering the liner. Lesson learned, and with the top end marked as a 'no-skate zone'we managed a few great father-son moments that year.
Year two of my quest for ice had higher boards in the one end, but a leaky liner threatened to put a quick halt to the prospect of a backyard skate. A few questions to a gent in Newfoundland, via mybackyardicerink.com, resulted in a 3.3m wide, 30m long roll of 6mm plastic being cut into three parts and seamed together in the hallway of our house to make a 10m by 8.5m liner. It was already too cold to do the seaming outside, so with our house being around 12m from front door to back door, it meant plastic running from the master bedroom, through the hall, and into my son's room. I pulled off the construction project while my wife was at work – rather than risking 'the look'…
The seams lasted long enough, and the weather was cold enough, that we enjoyed a few months of ice and a good season of skating.
Although it might sound like a rink is a tough sell for the lady in the life, most are supportive of their males, and my wife is no different. Maybe it's knowing where we are that makes it acceptable, or that we'll be out of their hair for a few hours every few days through the winter, or perhaps it's knowing that the project will lead to family time with the kids – regardless of the permissions received, there are some motivations that will only by understood by those who have stood outside in freezing temperatures, garden hose in hand, at 4am, sometimes under the curious gaze of a neighbour who is hoping for an invite to skate. We all have our Zen moments.
"My wife supported the idea of building a rink for our son. She was excited about it and actually helped me build the rink during the summer," says Vlahos. "What she didn't, and still can't, understand is how after a long tiring day, after kids have gotten off the ice and are in bed, when it's time for us to go to sleep, I go outside at 1am or 2am with my ice scraper, shovel, broom and hose and I prepare the ice for the next skate."
Of course, not all backyard rinks are natural surfaces. Former NHLer Dave Gagner's company, Custom Ice, offers permanent and portable refrigerated ice rinks to home and commercial customers. The company has installed rinks for a number of professional hockey players, including former Toronto Maple Leaf player Tom Fergus.
Fergus grew up on natural rinks in Montreal, and wanted his kids to have a similar experience. Unfortunately, the weather conditions in the Toronto area are not the same as can be found in Montreal, so the quest for natural ice was a challenge. "It wouldn't have been bad if it would stay for a couple of months, but it doesn't. I put one up and it melted a week after I had it nice," he explained. "The way to go now is a little bit of artificial help, and I can have ice in half a day."
His 15m by 10m rink can be used in temperatures up to 10°C, and when the weather gets too warm, the concrete base can be used for ball hockey, basketball or soccer – so it is a year-round well-used fixture in his backyard.
Backyard rinks can be a great conversation starter when guys get together. Anyone who grew up playing hockey, or at least skating, wants to know all about it, and many actually go on to build their own rinks.
Even in my own neighbourhood you could see the infectious nature of rink building. Only one year after I had the only rink in the block, a pair of others appeared – including one that spanned a pair of backyards as neighbours pooled resources and space.
These rinks are not only for the kids though. Lance Popke of St. Albert, Alberta, has a regular game of shinny hockey every Monday night in the winter, with 10 of his buddies showing up on a regular basis.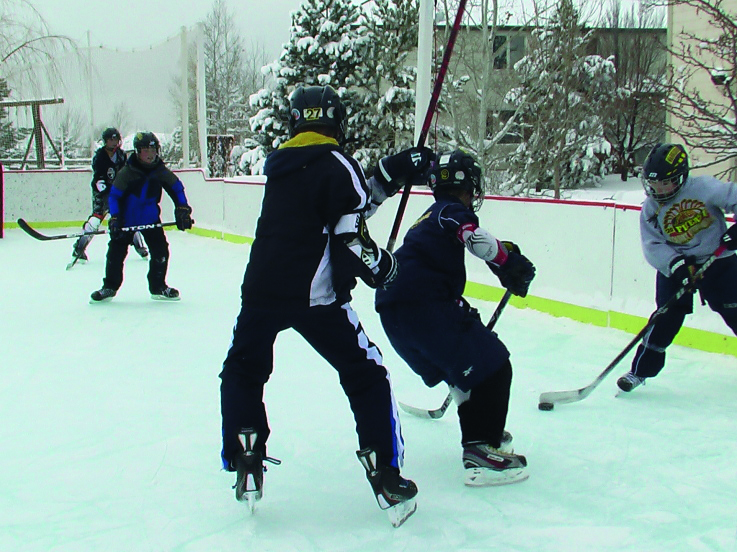 "He has a pretty elaborate backyard rink just seven steps from his backdoor," says John.
Lance's rink measures about 10m by 20m and includes boards and industrial floodlights … that's a nice setup.
This past year, my rink planning brought the discovery of a source for a single-piece liner, and even taller boards. We'd be going bigger and better. I did forget to invite Mother Nature for a skate, however, and the best setup could not overcome the weather. When the ice was in, it was great. Unfortunately, there were only three weeks of ice. Even with that limited season, the time spent in solitude, challenged by, and yet one with nature, have me looking forward to next year's rink.
Adam Freill is a magazine editor and aspiring ice maker in Burlington, Ontario, Canada.