Tasmania is renowned for its natural beauty and history – and rightly so. Even in the middle of Hobart you can turn a corner and be unexpectedly greeted by a beautiful grand building or a sweeping coastal shore. These little pockets are part of the beauty that is the 'Apple Isle'; managing to preserve history with elegance and honesty.
As a tourist it is charming, perhaps even quietly inspiring, to be surrounded by such natural beauty. As a local … well, it would appear it is much the same, and thankfully it is not taken for granted.
The Cornelian Bay boathouses are one of the lesser lights of Tasmanian heritage. Tucked away in the shadows of the Tasman Bridge, they don't attract the tourist footsteps like other historical sites but they are well-respected and admired by the locals.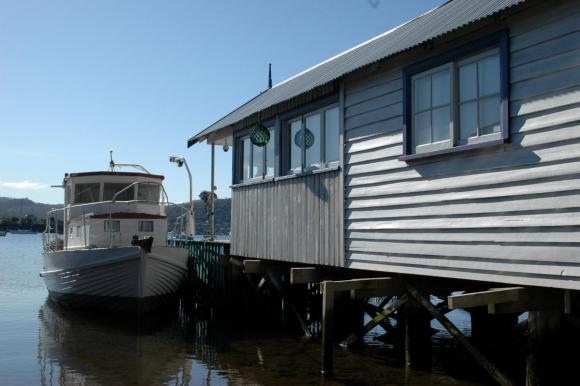 Listed on the Tasmania Heritage Register as a collective, there are 33 boathouses on the southern foreshore of Cornelian Bay. They were built from the late 1890s until the mid 20th century, with the majority built between 1920 and 1930. They sit over the water with small gang-planks providing access from the shore and open up to provide a magnificent view over the bay. Although they are called boathouses, occupants are not meant to live there on a permanent basis; however records suggest that many people have over time.
Around 1936 there was a building described as a 'pavilion' or 'dance hall' constructed at the western end, perhaps indicating plans to utilise the area more, however records show it was seldom used and it was relocated to Lenah Valley in 1948.
In their present form, they are quite magnificent. From a distance they dot the shoreline like a miss-match of classic cars at an auto show, and up close … well… they have the charisma of a miss-match of classic cars at an auto show… Each one is different and in various states of repair, yet even the most inglorious in appearance still has a magnetic charm and could clearly tell a story or two.
Back in 1913, plans for a 'Regulation Type of Boat Shed' were drawn up by the Marine Board of Hobart. It shows that the dimensions for the original boathouse model were around 10x12ft (3.05mx3.66m) and that the structure was to be made of timber, with a shallow pitched gable roof clad in corrugated galvanised iron, exposed rafter ends, a timber finial and bargeboard, and a half-timbered treatment to the gable.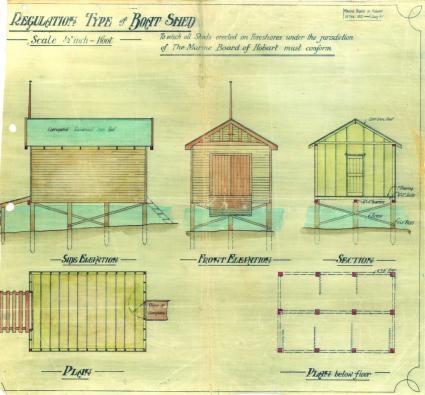 As is fairly obvious to even the non-trained eye, none were built exactly to the regulation form, and owners personalised their boathouse how they saw fit. While that would frustrate the modern-day building surveyor, it undoubtedly adds to the attraction today. The variety and idiosyncrasies of the individual boathouses reflect the nature of the buildings as recreational structures, demonstrating influences of the owner's creative flair and style, as well as their personal tastes and preferences.
Throughout much of the last 30 years or so, the future of the boathouses was clouded. There was constant talk of them being pulled down, and with most occupants only being offered short-term leases, many of the boathouses began to fall into disrepair. This unfortunately-common scenario results in a vicious circle: occupants were reluctant to spend money on something that may be pulled down at any time, while the failing condition of the boathouses gave weight to the argument that they should be pulled down.
Thankfully, recent efforts from Heritage Tasmania have secured the iconic boathouses. An offer for longer leases and greater support with restorations has occupants more confident and initiated a greater interest from the broader community.
One of the more impressive boathouses belongs to Paul Oakley. The way in which it was restored and how it is enjoyed now optimise everything that is great about them.
"My connection with these boathouses actually goes back to about 1981," says Paul.
"I came for a walk one day with the family dog and I was just hooked on the idea. A few of the doors were open as I wandered along so I could see them for exactly what they are; basically something that's more like a shack than a glamorous beach house! But the character was amazing and that really appealed to me.
"I started chatting to an old guy called Mick Nicholson – who has long passed now – and I asked him how you could get into one. He said to me, 'Son, you don't want to waste your money, they're only going to make us rip them down in a little while anyway', but I still kept looking into it."
The best scenario at the time was to rent a boathouse, something Paul did with the help of a mate.
"We were basically just kids," he says. "We loved every bit of it. I was still living with the old folks and it was like a grown-up cubby house.
"It's funny; the world changes so much, but it's 30 years on and my son uses this shed in pretty much the same way as I did when I was his age. My mate and I would just come down to get out of the house; maybe have a party or two and just chat.
"We held the No. 5 shed for about eight years and had some great times, but in the end we had to get rid of it as I was travelling a bit and doing other things and I just couldn't service the lease anymore."
Life may go on, but Paul always held a desire to return to a boathouse at some point. He kept an eye on them and maintained contact with some of the owners in the event one might come up. His opportunity came up only a few years ago, even though the one on offer was not in great condition.
"I was trying to get my hands on one for years. I had the money there and was ready to go, so as soon as one came up I was beside myself.
"It was that bad that when I actually got possession and walked through the door, high-tide was running through the middle of it… but I was going to take it no matter what."
Paul's commitment is even more impressive when you consider that the future of the boathouses was still unclear at that point.
"I undertook most of the work without being entirely sure if it was going to be worth it, but I guess I just always believed that common sense would prevail.
"Back when I rented No. 5 was what I call a transition period for them. A number of the occupants were older people who had grown tired of not knowing what the future was so they ended up being very passive about the whole situation – not that I would blame them. But, over time, different people moved in with a more assertive mindset and worked with the likes of the Heritage Council to make sure there would be a future for them. By the time I bought mine I was fairly confident about the future."
The restoration of Paul's boathouse is an article within itself. The condition was so bad that it essentially had to be rebuilt from the ground up – however, when the floor actually sits directly over the water that is not possible.
"To be honest, it was a harder job than we anticipated. As we started to pull bits away we quickly realised that nothing was going to be strong enough. We needed to lift the whole thing up a nearly half a metre, but the structure had to be strong enough to do that – if we'd tried to lift it as it was, it would have just broken in half and fallen in the water.
"All the beams, all the runners, all the flooring… basically everything had to be replaced to make it strong enough to lift."
Aside from a slight extension to the water-facing deck, Paul remained faithful to the original structure, maintaining features like wooden windows and resisting the temptation to put modern fencing around the deck. Most importantly, the restoration was a family affair.
"I did the work with dad, and my son Blair helped out at times as well – and I think that really added to the whole experience.
"It was a funny sort of period. It was about the time mum died, and I had a couple of months off work, so dad and I spent about three months full time working on it to get the big structural stuff done. It was a huge amount of work, but I guess it was almost therapeutic.
"Aside from that big stuff, there was probably at least a year either side of it getting it to what it is now, which… to be honest… is still not properly finished, but then again, I don't think it ever will be. There will always be something to do on it and that's the way I like it. I don't want to be doing structural repairs or anything, but I love being able to just come down here and fix up little bits and pieces, or improve something – it's part of spending time here."
With a secure future for the boathouses, and owners like Paul undertaking major restorations, their value has understandably risen. Conservative estimates suggest you could be looking at well over $100,000 for a boatshed that needs a fair bit of work.
"For me it was an emotional purchase – there was certainly no thought of it being some investment. And now I'd say it was priceless," says Paul. "Dad comes down most days and just spends time here. We lost mum a couple of years ago and dad will drop by the cemetery to say hello and make sure everything is good, and then come down to the boathouse. He says it's a peaceful place to relax when we wants to get out of the house."
Much of the calming nature of Paul's boathouse can be attributed to the interior; perhaps best described as 'perfectly simple'. There is a long bench running alongside a window that overlooks the bay on an angle. The bench is wide enough to hold the paper and a retro-style radio at one end is the only permanent fixture. Little portholes in the wooden flooring remind you that you are indeed perched over the water, but the movement is so gentle that is has a calming influence. A classic 50s look runs throughout with an original cooker and stove forming the starting point for Paul's plans. Wooden double doors with glass insets open out to the deck for when the weather is warm.
In short, it is simply the most perfect place to 'spend time'.
"I had an idea in my head of what the inside should be," explains Paul. "It was based on a shed I had seen years ago, with a simple interior that doesn't detract from the rest of the shed or just the space itself.
"To me, that is what is great about the boathouses: the space is what it is; how you use it is up to you."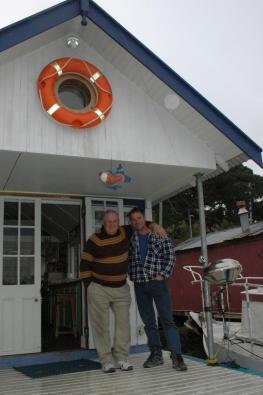 Paul may never aspire to be an interior decorator, but his efforts inside the boathouse should be applauded. As someone who has ventured into many a man space, I have personally seen how most men will 'decorate with all the things not allowed in the house', but aside from some fishing equipment and a few tools there is a very clean look and feel. This is brilliant for two reasons: firstly, there is nothing to distract from the beautiful coastline, water and boats in front of you – and secondly, it makes the space relevant to anyone from any age.
"My son is almost 18 and he loves it here too, so I guess that makes three generations. He comes down with his mates much like I did when I was renting one 30 years ago," Paul says. "He's generally pretty good, but occasionally I have to threaten to take the key off him if I feel like he hasn't looked after the place properly – although that's probably just karma for what I put my old man through when I was his age," he laughs.
Modern inclusions such as a composting toilet and grey water diversion ensure respect for the environment, while a phone and fax allow for work if required.
"I can bring down my laptop and get most things done, but having said that it's not normally my most productive work as I'm always getting side-tracked with things around the boathouse. My business partner comes down and gets quite a lot of work done, because he doesn't have the emotional connection to the place so just sees it a peaceful place to get stuff done with a nice view!"
That view – it must be said – is what seals the deal. It is the combination of the boathouses with their individual look and brilliant history, combined with the location that makes it work.
"If someone told me that it all had to go, even if I could pack up the shed and move it to another location – I don't think I'd want it," says Paul. "No one can ever take away the attachment of it and the sentiment of the work dad and I did to it, but it just wouldn't be the same if it was in a backyard or up on some hill."
The fact is however, that Paul did restore his boathouse and it's not going anywhere. That means that he can continue to enjoy his perfect space to get away, and the rest of us can thank him for preserving a piece of history in the process.