As soon as you turn into the driveway of the Piccoli residence, just outside of Boort in northwest Victoria, you get a feeling that there is something a little bit different about this farm.
Dotted along the gravel driveway are dozens of early farm machinery, standing proudly on display next to signs that outline the machine's function and the year it would have been used.
Eventually this charming little drive leads you to two pillars that stand guard against a luscious green lawn and vibrant flower beds. It's certainly a welcome sight to the surrounding crops that dominate the Mallee district – a kind of private oasis if you will.
These gardens form the perfect backdrop to the heroes of the farm: a collection of towering metal sculptures. To the left, a draft horse pulls an old wagon and a buckjumper grips the reins next to two fighting stallions. To the right, a shearer bends over a silver fleece, while behind him a giant marlin heaves against a fishing line. Further along, a mermaid gracefully guards the entrance to the century-old farmhouse.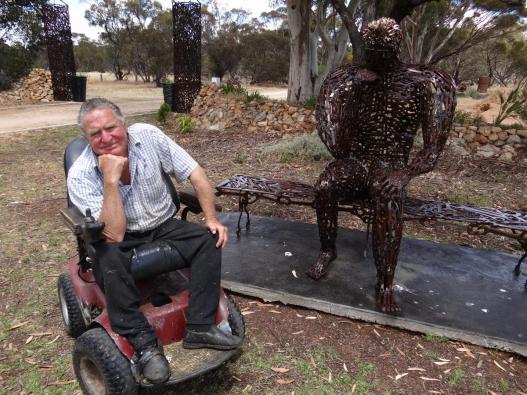 They're certainly not your typical type of garden sculptures – and it's for this reason that they've earned their creator quite a modest measure of fame. In these parts, he's known as the 'Spanner Man'.
The man in question is John Piccoli, a retired farmer and self-taught welder who combines practiced skill with a vivid imagination to produce these stunning sculptures, which are surprisingly made from new and used spanners.
"My wife Sonia and I have been living in so-called retirement, but we've only retired from farming. We still work our full days, seven days a week. We've got two acres of garden which takes a bit of maintaining. We also have a lot of birds and animals around the house because I like animals, plus the spanner sculptures that I've been doing."
What is perhaps the most amazing thing about John is that he does all of this from a rugged motorised wheelchair. It has been his mode of transportation since contracting polio at the age of eight, which left him without the use of his legs.
"When you're very young and you get a disability like I did, I think you learn to cope and live with it. It must be very hard for someone in their adult life to readjust after an accident or injury, but I've grown up with my disability and I don't find it to be a disability at all. I find I can cope quite well," he admits.
Now at the ripe age of 72, John has lived on his family's property for his entire life. His grandfather selected the land in 1876 after migrating from Switzerland, making the 300km journey from Melbourne to Boort on foot. He named the selected 130-hectare block 'Bryngoleu', eventually building it up to 1,200 hectares.
Despite all the setbacks he endured, John was able to run the family farm when his father passed away. This was the norm until, after three bad years of drought in the late 1990s, John and Sonia decided to sell almost all of their livestock and lease the bulk of the property to a neighbouring cropper.
It was the perfect opportunity to do a little bit of spring cleaning to prepare the farm for lease. It was also a decision that would take John on a whole new path to retirement.
"Over the years, whenever my grandfather bought a new machine, the old one was always kept on the place and they all came with their own tool kit. So during our clean-up, we found a lot of spanners in boxes. It amounted to about 600 old spanners and that was the start of the sculpting," John explains.
"I've been welding basically all my life, so it wasn't difficult for me to start sculpting. It was just a matter of having a thought of a particular shape and putting it in the right perspective."
Obviously John started small, making fairly simple objects such as flat top coffee tables and fruit bowls. This was not only due to his restricted mobility, but also because he was yet to appreciate exactly how far his talent could take him. Now, he's managed to refine his technique, converting what once took months of work into a matter of weeks.
"In the early days I didn't understand what my capabilities were but now I have a lot more knowledge of how to go about things. I've started to get into bigger garden sculptures and some of them get up to two or three tonnes, because spanners are very heavy by nature. Then I finish it off with a fish oil coating called RustEnd, which dries rock hard within six hours. Once it's in the garden I never have to do it again because the finish lasts indefinitely."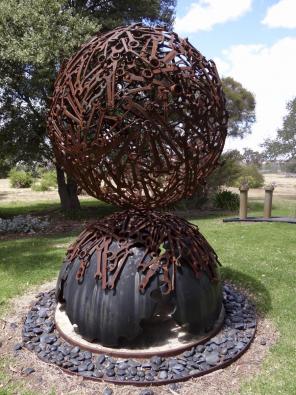 Most of the sculptures on show are life-size; this includes a Mallee bull as well as a family of deer. When you stop to take them in, you can't help but wonder how a man in a wheelchair could achieve such a task.
John, however, solved this problem with the use of a block and tackle in the workshop, which help him to move the sculptures around easily. This means that he never works on a sculpture in its finished, upright position – it is always on its side while in the workshop. I should also add here that everything is done without the aid of a sketch or even a photo; John just works off the visual of the finished sculpture in his head.
"Basically there isn't anything that I can't do, if I want to do it. I can usually work out how to manipulate the sculpture to make it. There aren't any plans to guide me or measurements to follow, it just happens," he says.
"In the early days I didn't bend the spanners, but nowadays I bend, cut and grind them. I try to keep within my guidelines that everything I make is made from spanners. Some things don't look like they're made from spanners, like the faces of people and animals, but in fact they are.
"The only exception is that some of the eyes are made from stones, concrete or ball bearings, but the actual structure of the sculpture is always made from spanners."
A lot of the garden sculptures are fairly unique – dancing cranes, an Art Nouveau nude, even a massive spanner made from spanners – but this is only a reflection of John's creativity and vibrant imagination.
He only ever works on one sculpture at a time, but doesn't consider any part of the process to be a challenge. The hardest part, really, is being on constant alert to keep his spanner supply at a healthy number.
In 13 years John has bought about 98,000 spanners and used around 85,000. There are always a few thousand in stock in the workshop but, even so, a few locals are keen to help out the Spanner Man whenever they can.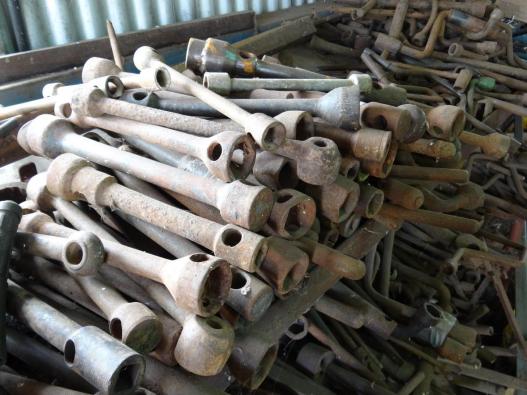 "I go to the three big swap meets in Victoria and I've got quite a few people looking and buying for me because I can't get to the smaller swaps. I find that most stall holders know me now and they keep the spanners from the smaller swaps for me. It makes it a lot easier because I don't have to compete with everyone to buy spanners. I'm also using a lot of new chrome that I buy from the local hardware store," he says.
While the sculptures aren't for sale, you can book a tour for a very reasonable price and John will show you around the perfectly manicured gardens and share the stories behind his work. If you're lucky, you'll also be accompanied by the odd entourage of small dogs, a friendly kangaroo and a proud peacock, while a live soundtrack is supplied by the squawks of Macaw parrots and other birds that John has hand reared himself.
"There are a lot of people coming through and that helps to keep the finances on the right side of the ledger as far as buying spanners is concerned. In the last financial year we had almost 3,000 people come through," he says.
"Most of them really enjoy it and get a good feeling when they walk around the garden. I think the setting and the way I have placed everything in the garden complements each other so it makes the sculptures more appealing."
So far, John has made no less than 117 sculptures, with his latest project being a four-seat structure that will be donated to the people of Boort. Although he doesn't have a favourite piece, his true passion lies in the fact that he gets to spend his days in the great outdoors, perfecting his unique talent and creating something that is literally one of a kind.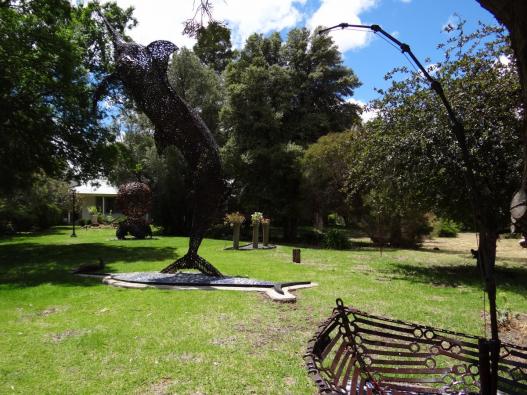 "When I'm making a sculpture I put all of my effort and energy into it. It really excites me and I can't wait to get into the workshop every day to start working. When I've finished and put it in the garden, the next one is what really gets me going," he says.
"The thing I most enjoy is seeing it evolve and develop. It makes me excited to think of what I'm trying to achieve and when I do achieve it, it really gives me a lot of satisfaction.
"I'll keep doing this for as long as I possibly can."