Cartoons and caricatures have a magnificent history throughout the world. Just as paintings and etchings were first created as a means to record history, simple sketches and hand-drawn posters were an important tool before photographs became so easily accessible.
Today, the art of classic hand-drawn sketches and caricatures is as strong as ever, but arguably for far different reasons. In the digital world where any photograph or image can be accessed immediately on a device as common as a mobile phone, there is a wonderful, tactile and distinctive quality with works done by hand.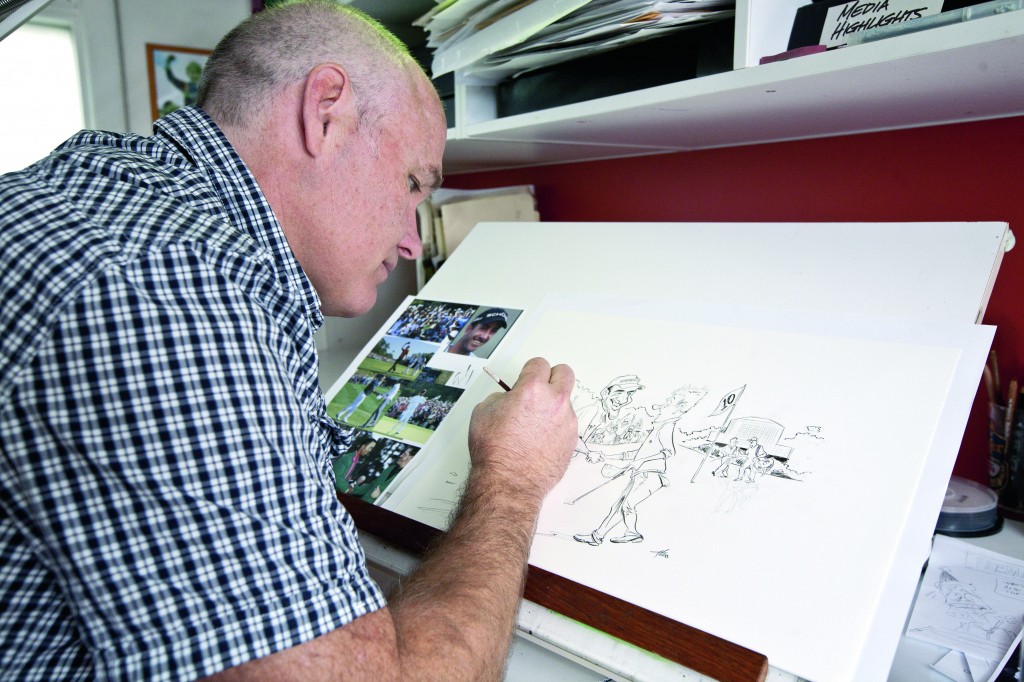 It is a strange circle: what was once valued as a necessity is now valued as a genuine and unique piece of art.
Paul Harvey has been drawing, sketching, painting and immortalising for his whole life (both personally and professionally). You are sure to have seen his work, even though you may not know it. Regular readers of ManSpace should recognise his cartoons in our Men's Health columns with his good friend Dr Bernie Crimmins, while sports fans have undoubtedly come across his work at some time.
It is hard to categorise what Paul does. He seems to refer to himself as a cartoonist quite a lot, but that doesn't seem to properly cover his work in caricatures, water colour posters, illustrations and countless other ink sketches and paint creations. I think I might simply call him an artist.
He has worked on more than 50 books (including a series of children's books he also wrote), has provided cartoons for too many publications to mention, and creates beautiful hand-drawn and painted commemorative certificates and posters on commission.
I, myself, can barely sketch a tree … so I find this ability to cross between styles remarkable.
Like many artists, Paul started sketching at a young age. His stories remind me of those kids at school who would sit in maths class and produce something quite magnificent in the corner of a folder with nothing more than a biro. Invariably, they would end up getting in trouble for wasting time, but once in a while there would be a day when they were caught drawing something they shouldn't…
"I was that kid at school who would sit there drawing pictures of the teachers," Paul says smiling.
"The key to it is making sure you can do it well. If you're good – and a little bit clever – you can get away with it. But if you're nasty or the quality isn't so good then you're always going to get in trouble.
"I did one particular piece back in Form Three that put a number of the teachers in what you might call … compromising positions … so I was pretty worried when my mate, who was showing it around, had it confiscated by one of those teachers. For a few months I was sure I was going to be expelled, but nothing ever seemed to come of it.
"Then about 10 years later, I was watching a game of old-boys football at the school and one of the teachers recognised me. He introduced me to another teacher who said, 'Oh, you're the guy who drew the teacher orgy picture'. Apparently it stayed up in the staff room for almost six months after I'd drawn it… and he still had it. That's why I always say – if you're any good at it, you can get away with a lot."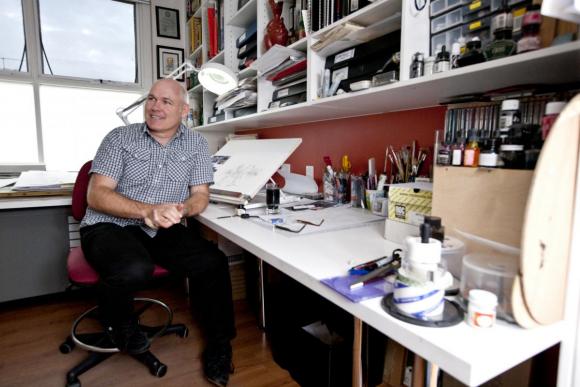 Although it's easy to think that the kid at school who is constantly sketching is really just killing time, there is an element of refining and practicing that takes place while doing it. It's the same philosophy as the kid who always walked around school with a football in his hands. But like anyone with natural talent, it takes more than just practice and flare to make it as a profession and so Paul embarked on qualified training.
"I'd passed my HSC quite well, but didn't have a good enough folio to go straight into further study, so I had a year of doing a TOP Course straight after school," says Paul.
"So they sent me out to Brighton Tech and I will say that it was one of the scariest years I ever did – as it was seriously rough – but in hindsight it was one of the best and most productive years I ever had. I learnt an enormous amount in a practical sense; things like water colour techniques and ink techniques that I still use now.
"From there, I was able to get into the four-year graphic design degree at Swinburne University, and ventured into advertising as a junior art director at J Walter Thompson."
There is no shortage of stories about working in advertising in the late 1980s. So extravagant was that time that even those who lived through it barely remember the exact details of what happened, and while Paul does seem to develop a glint in the eye when talking about it, there came a time when he was happy to move on.
"One day I was on a salary and literally the next I was a freelancer and they were paying me five times as much. As the agency work became less enjoyable the freelance work gained momentum and I started to pick up some freelance work in other areas."
Two decades later and Paul is living his dream – running his own business in his purpose built studio out the back of his house and working largely in the sporting sector.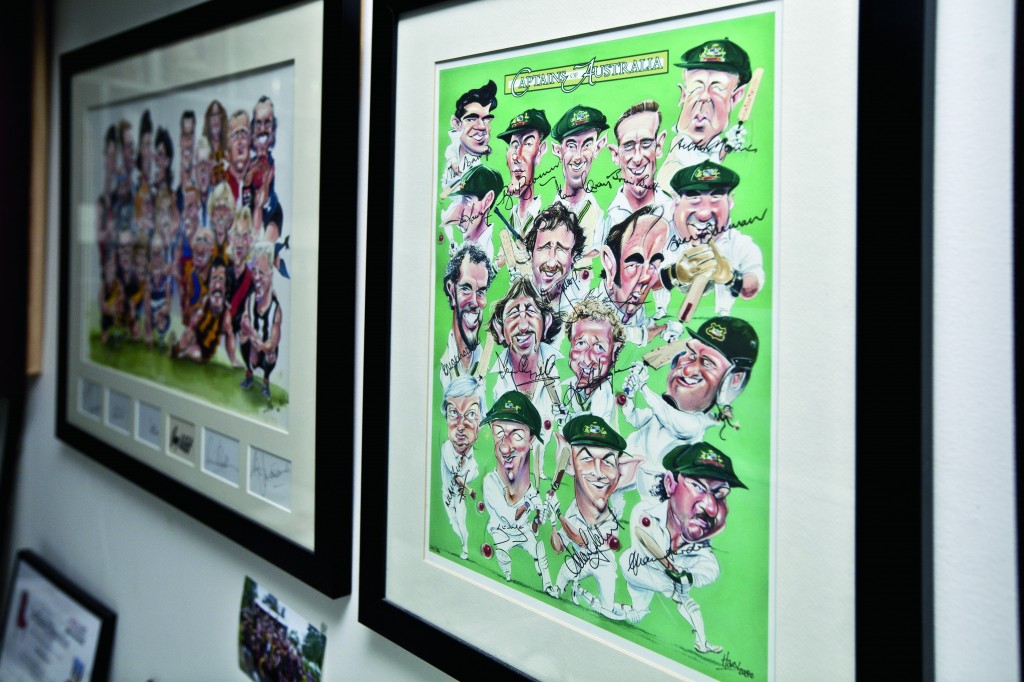 "I managed to make a name for myself doing work around sport. I love footy caricatures. I actually collect footy and cricket caricatures, so it's a dream to work like this now. I used to say – I just want to sit at home and draw heads – And now I do."
The studio reflects this pretty clearly. The walls are covered with prints and the shelves are stacked with folders of caricatures from great artists throughout the ages. They are not just there as decorations, but rather act as a means of education.
"I love to study them intently, learning what they've done in technique so I can be better at what I do."
This level of dedication is undoubtedly required if you want to make it as a professional artist, but standing in Paul's studio as he explains the fine detail is still mind boggling. It is also the reason why he continues to attract work from high-profile clients.
As well as illustrations for major magazines and books, he also does a lot of work through the AFL. At the time I visited he had only recently completed the Melbourne Football Club's Life Membership Certificate – an amazingly detailed hand-drawn piece of art that holds infinitely more meaning to the recipient than something generated through a computer and produced on a printer.
Equally, Paul has been entrusted with the sacred Brownlow Medalist posters for the past 10 years. These fantastic posters are truly a work of art and celebrate the winner of the Brownlow Medal (awarded to the Best and Fairest player in the AFL) in a truly unique way. They line the walls of AFL House as a personalised honour board and have been commissioned since 1924, with an array of different artists working on them until they pass away or no longer can keep up the work.
"I love doing them, but they are painstaking work," explains Paul. "It's incredibly detailed work and requires massive concentration, but it is also wonderful to know that you have created something that will adorn walls for years and years to come.
"I get a bit nervous some times when it comes to the wording. I'm not the greatest speller to start with, and then I have a habit of rushing through the calligraphy part – so I do often have to stop and walk away and make sure I've done it all properly."
It's the perfect coming together of Paul's passions. He still plays Australian Rules Football in the over 35s league, is an avid follower of the AFL (despite his beloved Fitzroy being merged into Brisbane in the mid 1990s) and now gets to work with it in his chosen field.
"There's a long history of footy caricatures in the AFL. If you go right back to the very early days you can find footy illustrated cigarette cards and caricatures in papers – and I think it's a privilege to be able to maintain that."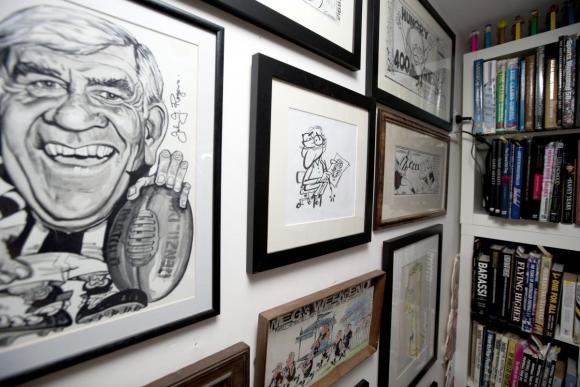 Which takes us back to the studio. It is unquestionably a working space, but also feels a lot like a shrine to sporting cartoons and caricatures throughout the ages.
It was only completed five years ago when the Harveys were undertaking some substantial renovations on the main house.
"My father and my two brothers are all builders so I had the opportunity to work pretty closely with them to get something exactly as I wanted it. I had been working in a little bedroom upstairs in the main part of the house but I basically outgrew it … in other words … I'm a bit of a hoarder and like to have my bits and pieces up and on display to provide inspiration. Given that I had always liked the idea of having something separate to the house; the renovation allowed me the chance to put something together exactly as I wanted it."
Paul's not exaggerating either. He is indeed a hoarder. Not that I'm one to preach – my house barely has a spare spot on the walls and my work desk is adorned with completely unnecessary bits and pieces that I have collected over the years. Perhaps that's why I like Paul's studio so much.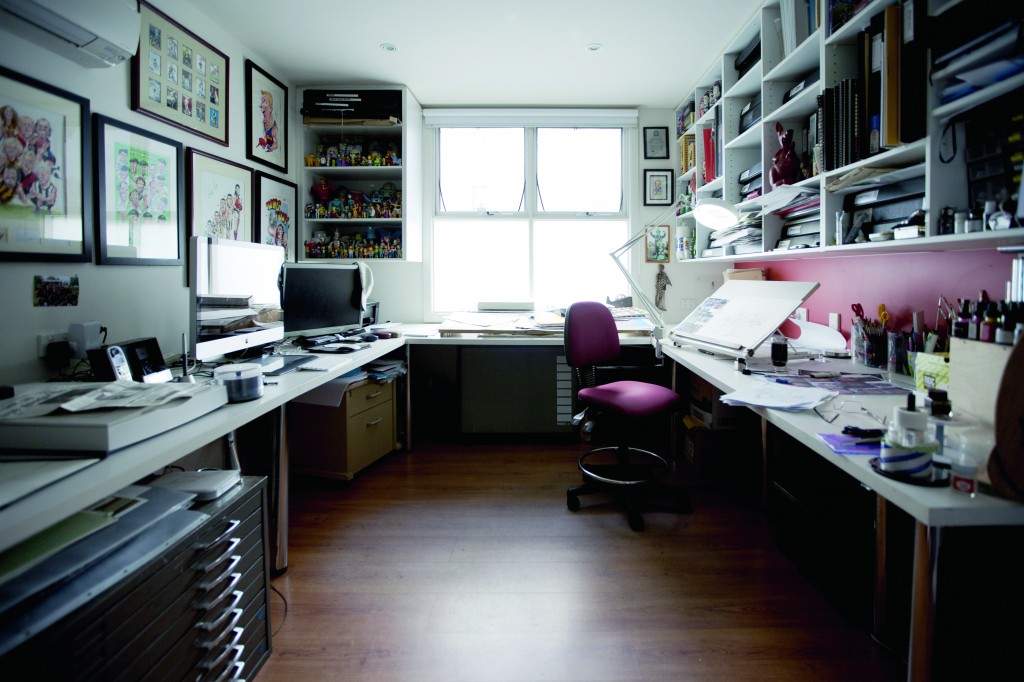 The walls are covered with illustrations and framed pieces. Book shelves are full and any freestanding shelf has some figurine or trinket looking out at you.
To me – it is quite magnificent.
"I do notice how some of the illustrations have faded by being up on the wall in full light, but I don't see the point in keeping these things if you can't put them out to enjoy them. It doesn't make sense to me to leave them locked up."
Importantly, the studio also provides a physical break from the family home, yet remains close enough that he can run back in, regardless of how much work he has on.
"It's nice to know that I have my space and quiet in here, but equally, I am barely 50 metres from the house, so I will always be able to have dinner with the family every night."
Aside from the central drawing desk and a huge selection of inks and pens scattered around, there is also a decent computer and digital set up – prompting the obvious question: how has technology changed the role of an illustrator?
"There's no doubt that it's helped me a lot. Years ago I used to do an illustration for the Footy Record magazine every week, and I would be given video tapes to trawl through, press pause and try and sketch from the grainy, jumping image on the television screen. Now you can internet search at the press of a button to the exact frame you want.
"But I see that as just natural progression. My old mate WEG (William Ellis Green – illustrator of the famous Herald-Sun Grand Final posters) kept filing cabinets of cut-outs and ideas to help inspire him and learn from. The fact that I had so much access to photography and video was a natural progression, and now the digital imagery and use of internet is the next step again."
Then there is the element of computer-generated work. Developments in morphing software in recent years mean that everyone thinks they can caricature.
While you might think that such 'dumbing down' of skill would frustrate someone with Paul's ability, it is actually the lack of originality in the finished product that disappoints him more.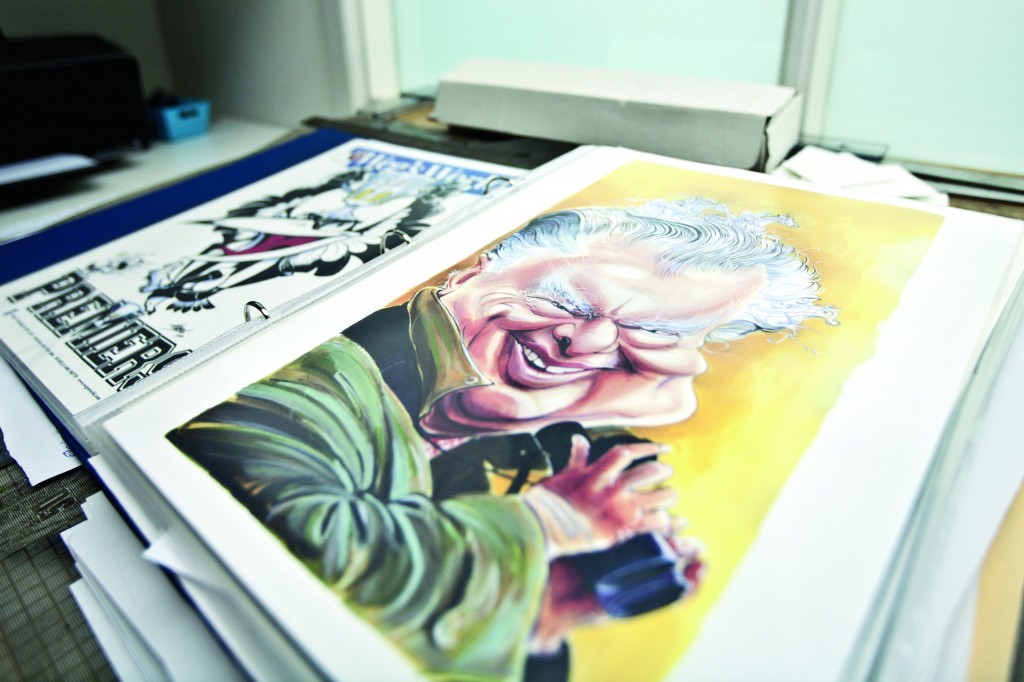 "Caricature, world-wide, is as good as it's ever been as artists are able to experience and be influenced by an internet full of master craftsmen. I have a problem with digital caricature in Photoshop and some other programs though. It's like using the same ink or brushes for every piece of work you do. And because everyone else is using that same program, they are effectively using the same ink and brush. Great drawing is still important but is being diluted by such a sameness of finish.
"With a hands-on technique you develop your own style and express that through different materials. I hope that never dies out."
At a time when newspapers are shutting all around the world and the need for cartoonists and caricatures is diminishing, it is a testament to Paul's skill and approachability that he continues to make a living in this field.
"You've got to love what you do. As much as this is a dream job, I do put in a lot of hours and at all times of the day and night – but because I love doing it I don't think about the time or effort like I would with another job.
"What do they say? Work out what you want to do, then try and find someone who'll pay you to do it."
Contact:
Paul Harvey
www.harv.com.au