Wherever you live across Australia and whatever your interests may be, there's every chance you've come across the work of Warren Brown.
For many people, Warren is the wit, the brains and the talent behind the editorial cartoons in The Daily Telegraph in Sydney. Or you may have even read his motoring columns – he has, after all, plied his trade at the Tele for near on three decades.
Of course, many people would recognise him as one the original hosts of Top Gear Australia, but there have been many other television appearances including Difference of Opinion and Insiders, to name just a few.
Others would have read his books, such as the wonderful story of the Australian adventurer Francis Birtles.
Then there are the motoring and military events he has organised, such as the pilgrimage for World War II veterans where he took 100 vehicles from Alice Springs to Darwin. Which of course leads us to his work as the overnight MC at Gallipoli Cove on Anzac Day for the past eight years.
And speaking of overseas travel, he also takes guided tours through European car facilities for motoring enthusiasts.
Actually… when you start to put that altogether, it's incredible to think Warren would have time for any sort of hobby or interest – let alone find the time to explain it to you.
Yet Warren Brown does indeed have a wonderful collection and he did make time to show me around. In fact, you'd be hard pressed to find a more generous man in time and energy.
In order to see Warren's collection – and the excellent space in which it is stored – you need to set aside a bit of time. As such, I met Warren outside my hotel in the inner suburbs of Sydney at 6:30 in the morning, where we set off for a drive that lasted nearly three hours. See what I mean about generous…?
Warren's collection is a wonderful array of old vehicles and motoring history, military vehicles and memorabilia, and much more. It is housed in a large shed at the back of an old property in Taralga – a small country town in the NSW Southern Tablelands.
For such an early hour of the day, Warren was infectiously upbeat. It may seem a little odd to have your pride and joy so far from your home, but as we ticked off the miles and he explained where we were going, it was very clear that this is actually part of the appeal for Warren.
"I'm a political and editorial cartoonist and have been for a very long time," he says as we drive along.
"While it's hardly the most physical job, it can do your head in, so it's really lovely to have somewhere so physically removed from the office to escape. I love working at the newspaper, but it is constantly talking to people and trying to get your head around complex issues and then making commentary on it – and then I come down here and I can just work out in the shed until the middle of the night with the radio on, tinkering away on something and it's wonderful.
"The fact that it's just so peaceful down there and we're building our own little home away from home… well… I don't think we believed it could work out this well."
Finding this dream space was something of an accident – yet a long time in the making.
"A few years ago I was doing a little mental stock take: I had a couple of old fire engines, two old Jeeps, a 1929 Bean 14 Roadster, a Scout car and a six-wheel Blitz," Warren continues. "We live in inner Sydney so I've only got a single garage – which means I had all sorts of vehicles around the place and I wanted somewhere to put them all together. The plan was to go out as far as three hours from Sydney if it meant we could get exactly what we wanted."
Warren is quick to point out that the idea to find somewhere for the collection was actually from his wife Tanya, and so they set about looking for something suitable together. Like anyone, they had a budget to work with, and so considered all options – and given that it took nearly three years to find their space, there were a lot of options. There was a fleeting thought to get a little factory unit in an industrial estate, however both of them wanted something with a little personal space attached to it.
They got very close to building on a vacant block of land they found on the edge of the Blue Mountains, but there was a last minute change of mind.
"It was a fairly depressing bit of space to be honest," says Warren. "It was just below the railway line and the Great Western Highway so trucks would run by all the time, but we'd been looking for almost two years by that point so it seemed like as good an idea as any.
"Then just as I was feeling really jaded by the whole thing, I was on the internet and stumbled across the town of Taralga. I'd been through the town on a car rally before so had an idea of what it was like and because of that I probably looked a little closer than I might have otherwise. And then I noticed that one of the old shop fronts was for sale – a sort of Devonshire tea type business in a timber cottage. It was in pretty bad shape, but there was a series of photos and I flicked through them without thinking too much about it. And then at the end of the photo collection – which had to be at least a dozen long – was a monstrous shed in perfect condition, barely a few years old."
Warren was so excited that he called the real estate agent on a Sunday night and arranged to go down to see it the next day. When he got there, he was told that the place had been on the market for some time because a lot of people didn't quite know what to do with it. At the front was an old timber cottage which had been used as a shop front, and the back was a derelict stone building, with a strange bridging joining the two. And at the very back of the property was that enormous, almost new, metal shed.
"It appears that the people who were interested in the old cottage had no desire for a large storage shed, and those who were interested in a shed of that size didn't really know what to do with a fairly dilapidated old cottage out the front.
"For us – it was absolutely perfect! The shed was exactly what I was hoping for and my wife was interested in the cottage – and together they created that sense of having something personal that we'd wanted all along."
As it turns out, the stone element at the back of the building was the town's old bakery, complete with original ovens and chimneys. It was however in very bad repair, with little more than rough pieces of timber holding the walls up. As such, one of the first things Warren did was arrange to get the back dismantled – stone by stone. This didn't particularly endear him to the town locals, until they saw it getting built back up again – stone by stone. Now that's an excellent way to win over the locals.
"We had to get a stonemason in to do the job because it was so specialised," says Warren. "It was painstaking work, but we had no intention of wrecking the building or the town. It's a beautiful construction to start with, let alone the historical value of it."
Of course, the initial appeal was really about the shed and so Warren was keen to start filling it; even though it did take longer than he first thought.
"It was a logistical nightmare! I didn't quite realise how much stuff I'd acquired over the years. I had bits and pieces in storage, at mate's places and all round the place. By the time I sorted through everything, put together shelving and storage for the new shed, collected it all and got it across… well, I reckon it took a good six months."
Realistically, the shed is not much more than a storage space, but getting everything together in the one place was clearly important to Warren. However, when you add in the house at the front and the town in which it is located, it becomes something much more.
"The shed was clearly the main driver, but the house has ended up being a wonderful side effect.
We've started planning how we can renovate the house so we can use it more and treat it as a complete place to escape and relax. It's a bit of a weird layout with the bakery at the back and tea rooms shop at the front, but we've already started plans and works to make it all more liveable and renovate the front to restore some of that street-front beauty."
Warren's respect for the town is fast becoming mutual. By chance, the cottage is located next to the town's local fire service and Warren will happily get his old Dennis Fire Engine out for open days and take people for rides around the town.
"It's been lovely. We've made great friends in the town and actually feel part of the community," he says.
When we arrived at Taralga it was barely 9:30am and, despite a lovely warming sun, there was still plenty of frost on the ground. The town is quintessentially Australian with small cottages lining the main street and old faded signs gracing the front. It is very neat and tidy with genuine character. We stopped the car, a kookaburra laughed through the perfect silence and there was no mistaking which country we were in.
As Warren opened the big roller doors to the shed, your eyes are immediately drawn to that 1929 Dennis Fire Engine. Right near it is another one, currently being restored. There are Jeeps, the Blitz Truck and a Scout Car, all pretty tightly packed in. Warren has set up a little corner with an old glass display cabinet to house some small items of memorabilia and books, while the back has shelving like anyone else's shed.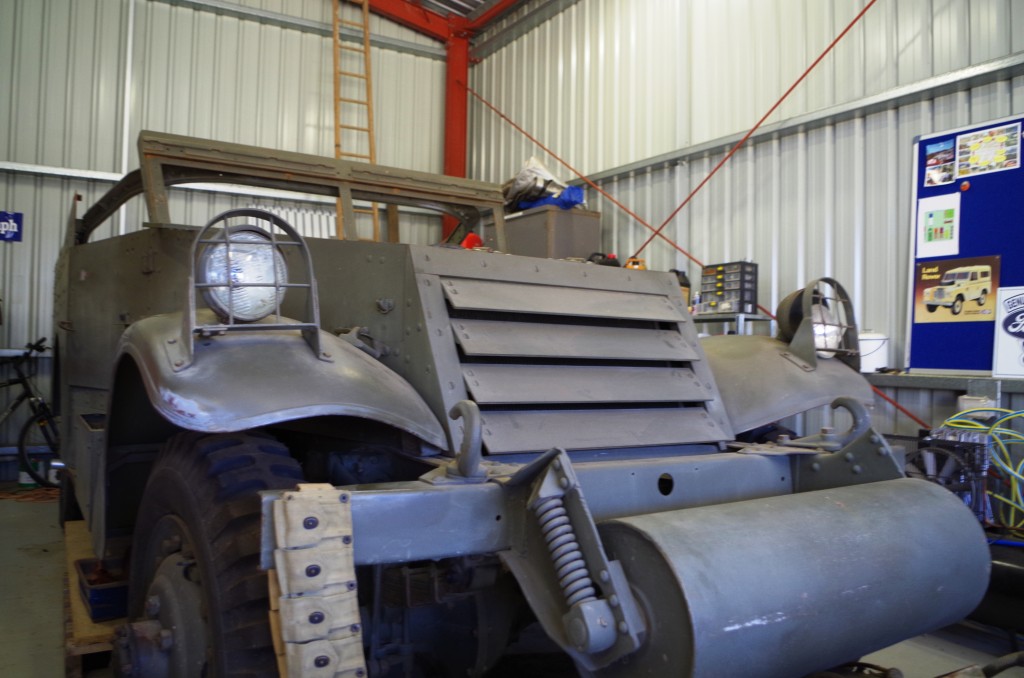 It is by no means a display centre, but rather a practical space that brings together so many interesting elements of a man with a wonderfully varied life.
"They're all different – and that's what I like about them," he says. "To be honest … I think I like them because they're all a bit odd. I figure that if you're going to restore something, restore something strange.
"If I had to choose a favourite, I'd probably go for the six-wheel Blitz truck. It's a beautiful truck to drive for one thing and it's definitely a bit of a head-turner – I mean, there aren't that many six-wheel vehicles out there on the road."
Aside from the collection in Taralga, Warren also has a rather well-known 1929 Bean 14 Roadster car (as made famous by Francis Birtles), though he keeps that in Sydney. Between the military angle, the fire trucks and the Bean, it's hard to find an immediate connection.
"Basically – they are all vehicles that I had a fascination with as a little boy," he explains. "In fact, I have a sketch book from when I was a child where I wrote and drew all of these cars. I now own the Jeep, the Blitz, the Scout Car – and they are all in that book.
"My first memory as a child is standing on the same model Dennis Fire Truck while on holidays up at the Central Coast. That particular truck was for sale and my brother begged my dad to buy it, but he was never going to as he didn't see why he'd want one. But that model always stuck in my head – and now… well, I've got one.
"Equally, when I was nine I went for a drive on a World War II Jeep and that really stuck with me too – and… you can see the theme… I've got one of them as well."
It's an eclectic collection, but Warren clearly has a wonderful connection to each and every element. For that reason, it's hard to imagine him ever selling anything; however, like most people, there are always thoughts about what could be added. The problem is finding somewhere to put it.
"I'm pretty full for the moment, but you never want to say never. I wouldn't mind a Half-Track (a military vehicle that combines regular wheels at the front and continuous tracks at the back) to go with the Scout. As a kid I always wanted an Aston Martin, but … well … part of what I love about the vehicles I have is that I can work on them myself and use them without too much fear, but I know that if I got the Aston Martin that it would need specialist attention, and I don't think that's what I really want."
These are the words of a man who has managed to preserve what is important in his life. I'm sure if Warren wanted a car that required specialist care he could find a contact willing to help, but that is not the point; it would take away the element he enjoys. Equally, he has found a place to store his collection where he can share it with his family – and ultimately the local community, connecting his personal space with his love of family and genuine social nature.
It's a balance of personal interests, from all different elements of life, and sharing it in every way he can.
Energy and generosity; subtly tucked away some three hours out of town.