It's easy to think that when it's cloudy outside, there's no need for sunglasses. But ultraviolet (UV) exposure is still dangerous when the sun's glare doesn't seem harsh, so even if it's a gray day, you need to be as vigilant as you would be when it's bright and sunny.
According to the OPSM Eye Protection Report, on a sunny day at the beach, only 65% of Australians wear sunglasses, and when it's cloudy, this figure alarmingly drops to just 34%.
Although it may seem that an occasional amount of UV exposure isn't going to do you any immediate harm, the accumulative affects over several years can trigger some very serious vision problems. Research conducted by OPSM shows that in the middle of an Australian summer, it takes just 11 minutes for UV to cause potential damage to your eyes.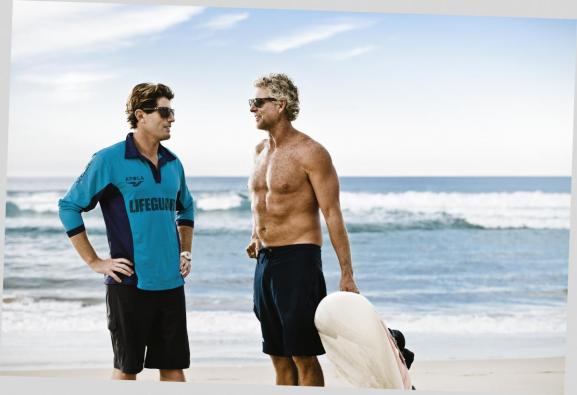 Given that ManSpace Magazine is all about getting out and enjoying life, we thought it would be a good idea to sit down with OPSM optometrist and Victorian eyecare manager Peter Murphy to find out how you can keep your eyes protected, but still fully enjoy the sunshine this summer.
WHAT SHOULD BLOKES BE DOING TO TAKE CARE OF THEIR EYES?
Even if it's cloudy and overcast, the UV is still there, so you need to make sure you wear your sunglasses whenever you're outside. You're most at risk when you're at the beach or on the water, so this is when you should be extra careful.
Also, as a general rule, having your eyes checked by an optometrist every two years is absolutely essential, and we even recommend annual appointments. Eye tests can be bulkbilled with Medicare every two years, so there's no excuse not to really.
A lot of the time, when blokes have an eye injury, they have a tendency to do nothing about it. Getting a pain in your eye is not the same as having a crook elbow – you can't just assume it's going to go away. When it comes to your eyes, you really can't afford to take that risk.
Most men wouldn't dream of going longer than 12 months without getting their car serviced, yet they'll go for years without getting their eyes checked. It's one of those basic things that us guys need to get in the habit of doing.
WHAT ARE THE POTENTIAL HEALTH IMPLICATIONS IF WE DON'T PROTECT OUR EYES PROPERLY?
UV damage is irreversible, and we tend to live in the here and now, so although you might think your eyes are perfectly fine, it is later in life when you can experience some very serious troubles.
Some common conditions include cataracts, pterygia, skin cancer of the eyelids and macular degeneration (which can cause vision loss in extreme cases).
A cataract is a clouding of the eye's crystalline lens, and although it usually comes with age, the condition can be accelerated by long-term exposure to UV light. You see it happen all-too often to farmers, who spend a lot of time outside.
People who are often outdoors, especially in WA or Queensland, are at a high risk of developing pterygia (also known as 'Surfer's Eye'), which is an abnormal growth arising from the conjunctiva of the inner corner of the eye, which can obstruct vision by growing over the cornea.
Macular degeneration is the leading cause of blindness among people over 50, and UV can play a role in its development.
SO WHAT SHOULD WE LOOK FOR IN A PAIR OF DAY-TO-DAY SUNGLASSES?
Make sure you have a good quality pair of sunglasses which fit well, and you like the look of. If they don't feel goodyou don't like the look, you're not going to want to wear them.
Try not to go for the cheap pairs – they won't offer as much protection, and the frames aren't as strong. You'll end up spending more in the long run by re-buying budget pairs that have broken.
However, the most important feature is 100% UV protection. This is essential to make sure you are fully protected from dangerous rays.
Additionally, these days, the majority of sunglasses can be purchased with prescription lenses, so if you wear regular glasses, there's no reason you can't have the same level of vision when the sun's out.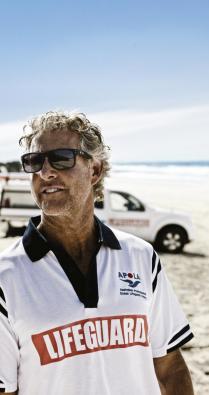 And if you do go down this route, it might be worth taking the opportunity to optimise your lenses.
For example, quality optometrists like OPSM offer a number of extras, such as DriveWear: which features polarisation, and automatically adjusts to suit different light conditions, such as overcast, daylight, bright light and inside and outside of the car.
UV Absorption lenses are also available, which prevent reflected UV rays bouncing off the inside of your sunglasses and into your eye.
You may also find that when you're playing sport, or you're out and about, your regular sunglasses are impeding your performance. If that's the case, chances are, you can probably find a pair that is tailored to your passion.
CYCLING
If you're a keen cyclist, after your bike and helmet, sunglasses are your next most important piece of gear – forget the Lycra.
As with all sunglasses, you need full UV protection, but you also need high clarity so you're always aware of upcoming hazards.
Most styles come with interchangeable lenses and this is ideal for when you're cycling at different times of the day.
"Brown lenses typically give you a better contrast, while mirrored lenses are great in full glare," Peter says.
"Some lenses are even ventilated to prevent sweat from fogging them up."
Cycling sunglasses should also function as an eye protection device, so a wrapped-around style is ideal. This will stop rain, wind and sweat from entering and stinging your eyes, and it will protect you from hazards such as grit and insects from flying into your eye – copping a stone to the eye when you're doing 35km/hr is not only uncomfortable, it poses a very serious danger.
You should also look for the most comfortable fit you can find, as you're likely to be wearing them for hours at a time.
CRICKET
In the modern game, it's rare to scan across a cricket team without seeing a pair of Oakley's attached to most players' heads. And it's not just a fashion statement – cricketers are out in the sun for hours a day, and they're required to keep their eyes peeled at all times.
Even if you're just a weekend warrior, it might be worth looking at how you can keep your eyes fully protected, and possibly improve your reaction while you're at it.
A light, but snug frame is essential for those long days, and an open frame is ideal as it gives you a wide field of vision.
Polarised lenses are great at reducing glare on those bright days, and mean that you won't have to squint. You can even opt for a lens which enhances red against green, helping you pick out the ball easier.
FISHING
As well as the 100% UV protection, polarised lenses are a must for fishing.
"Because polarised lenses block the sun's glare when it reflects from the water, you will be able to see under the surface of the water," he says.
This is invaluable to see where you should be casting your line.
Similar to cycling and cricket, different lens colours perform optimally for different light levels, and an anti-reflective coating on the inside of your lenses eliminates the sun's reflection when it is behind you.
If you do splash out on an expensive pair, it is also worth investing in some safety straps to stop your glasses from flying off into the water when you jump up for a big catch.
GOLF
The problem with wearing sunglasses when you're undertaking any sort of activity is that it can seem like a hindrance – even the slightest tint can seem like it's altering the quality of your vision and judgement.
"When you're talking golf, you need to try out as many pairs of sunglasses and different lenses as possible to get the tint that is optimal for you – they can even improve your distance judgement."
A brown, copper or amber lens will heighten the contrast, so you can easily distinguish fairways and greens and follow the ball against a bright blue sky.
With sunglasses available for almost every application you can think of these days, there really is no excuse not to be wearing them whenever you're outside, whether it's sunny or cloudy. Not only that, but you might even see an improvement in your form, or you may uncover the comfort you need to help you enjoy your sport or activity even more.
However, if you're still not convinced that a pair of sunnies can help your tee shot or improve your fielding, at least you'll look the part. What's more, you'll be giving your eyes the protection they need to enjoy healthy vision for years to come.

Off the long run
ManSpace Magazine recently caught up with Australian Test cricketer Peter Siddle to find out what occupies the bowler in his spare time, and how he keeps his cool when the wickets aren't falling for him.
"I'm a pretty relaxed guy most of the time, so I don't tend to get too hung up during the games. I keep it pretty simple really – I like to chill at home by watching the footy or a movie. But I also love just going for a walk or spending a bit of time at the beach," Peter says.
"I play a bit of golf now and again, but I'm not very good. The good thing is that I don't get too frustrated, so it makes it easy for me to go and hit a round. If I have a bad shot, I say 'oh well' and just get on with it."
He might be better with a bat than a club, but Peter says he can still hold his own with the rest of the cricket team.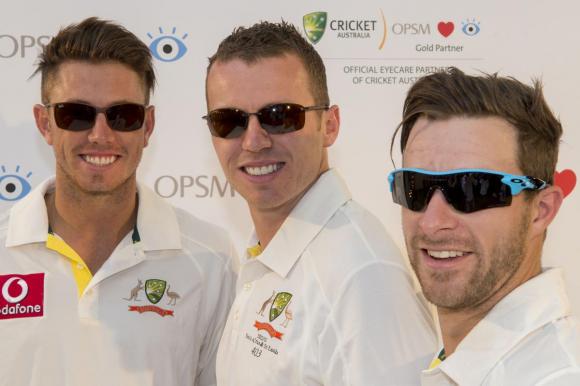 "I reckon Wadey (Matthew Wade) and I are pretty even, but Jimmy (James Pattinson) isn't very good at all! Punter (Ricky Ponting) was always the best one in the team."
He adds that even though he occupies his spare time with the simple pleasures in life, that time is still very important to him.
"It's massive. It really is so important. You play a test and whether you're batting all day or not, your mind is still fixated on the game the whole time. There are all sorts of thoughts going through your head – different issues and scenarios that could happen in the match. You're always thinking and your brain is always ticking over, you don't want to take that home and into your everyday life.
"It really doesn't matter what you're doing – even if you're just sitting on the couch chilling out, it's good to just get away from it all and unwind after a hard day."
This is something he says ranks highly with not just himself, but the rest of the team.
"Me and most of the boys are into a lot of other sports, so that keeps us occupied – keeping up with the basketball, footy, or the soccer. We're always outside, so sometimes that time in your home or in your hotel room just watching TV can be quite relaxing," Peter says.
If he happens to be having a bad day on the pitch, Peter says it pays to stay positive, no matter how sour the situation gets.
"I remind myself that at the end of the day, the sun goes down and comes up the next day, so it's a completely fresh start – you've got to just forget about what happened.
"That's the thing that has always worked for me as a player and as a person – staying positive. You can't change what's happened. What's done is done, and you have to move forward. I've always stuck by that.
"If you've had a bad day, go home, have a feed, rest up, turn up tomorrow with everything forgotten and start fresh. I think that's the best way to be."
Having this outlook is something Peter believes has helped him out on the pitch over the years.
"You don't need to turn up to the next day of a Test worrying about what went wrong the day before or what didn't work. If you want to analyse that stuff, you have to do it on the same day, and then you know exactly what to do when you walk on the park on the start of the next session.
"You know what you have to do to improve, you know where to go, and you just have to keep moving forward without looking back."
Thanks to OPSM for providing the information for this article and providing access to the Australian Cricket Team. If you'd like to find out more information about OPSM's services and product range, you can visit opsm.com.au