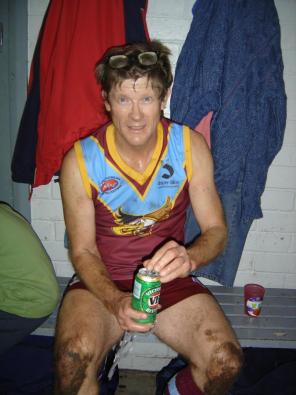 Ask any retired footballer what they miss most about the game and they will inevitably say 'the club'. While game day may be the reason they got involved in the first place – and training was the necessary evil in the middle – the support and camaraderie that builds in an encouraging club environment is often the greatest reward.
Around the country, tens of thousands of men will take part in some form of football every weekend. For some it will be a serious pursuit, while others will just be hoping for a kick … but all of them will be richer for the experience of getting out of the house, remaining active and enjoying the support of the club.
Now, if you're the type of bloke who automatically starts talking about how you'd like to play but you suffered some injury 10 years ago, then you might want to stop reading now … or perhaps you should keep reading … because the journey that Kent Robinson has travelled, largely with his football club by his side, might make you think differently about your own position.
Kent plays football for the Marcellin Bald Eagles – an over 35s Australian Rules Football team that competes in the AFL Melbourne Metro Superules Competition, Division 1. While its basis is obviously a football club, the involvement of a few key personnel has made the Marcellin Bald Eagles much more than that.
Regular readers of ManSpace will know that our own doctor in residence, Dr Bernie Crimmins is a champion of men's health issues. He is also a member of the Baldies (as they are commonly known) and – quite rightly – saw the football club as an excellent avenue to practice the message.
As such, the Baldies say they are a club with a common cause – health, wellbeing and fitness – of which football is the basis for them to get together. It is a common thread throughout hundreds of clubs from various codes around the country, and is incredibly important to many blokes for their mental and physical health.
Kent was one of the original members of the Baldies when the club was founded back in 2001. It was a natural place to be for a man who always treated health and exercise as a fundamental part of his life.
"Everyone in my family is concerned about what we eat and how we keep fit – it's very important to us," says Kent. "I've always enjoyed riding and running and keeping active, but there is a fantastic aspect to playing team sports and the Baldies has always been a brilliant club because everyone gets involved.
"I used to take training because I've always been a bit of a fitness nut, but there are lots of ways you can be involved … I mean, we've basically all had a go at being coach!"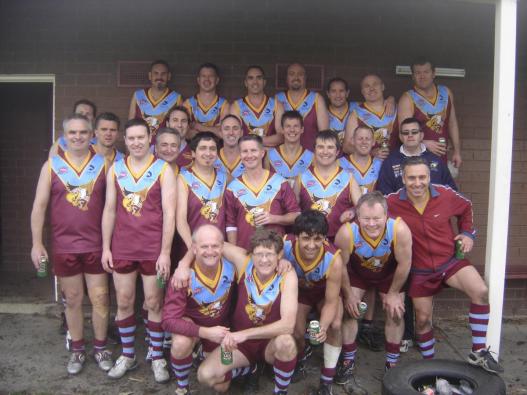 With a loving family, a good job, great friends, stimulating personal interests and a healthy basis of personal fitness and wellbeing, Kent was unquestionably making the most of his life, until a series of events tried its level best to undo his work.
"My first issue came when I was made redundant at work," he explains. "It was not a performance issue, but rather a restructure at the top level that meant there were always going to be casualties – and I was one of them."
While his qualification skill-set may have said 'micro-biologist', Kent prefers to say he was a 'beer maker' looking after major breweries with Carlton & United throughout Victoria, Western Australia and Tasmania – a career path with only limited positions around the country.
"I was unemployed for a little while and trying to deal with that which was hard enough. Then one day when I was shaving I noticed a lump on my face. Given my background in micro-biology, I knew I had something wrong and so got it checked out."
Kent was diagnosed with a cancerous tumour beside the eye; with the lump he discovered proving to be a secondary tumour. What followed was six weeks of intensive radiation therapy on the face and neck.
"I had a very good doctor and the people who treated me were fantastic, but it's still a very confronting experience," says Kent. "Essentially you get attached to a table with a mesh face cover that resembles a fencing mask so you can't move. And then for 20 minutes you're zapped; you don't feel anything but a little tingling and you end up feeling sunburnt from the rays."
At the time Kent was diagnosed with the cancer, he was only 48 years old and very fit. While the radiation therapy was considered to be successful, there was some lasting damage, including permanent hair loss on the head and face, and damage to the eyes and saliva glands. None-the-less, he remained determined to maintain his fitness and so kept playing football, even while receiving treatment.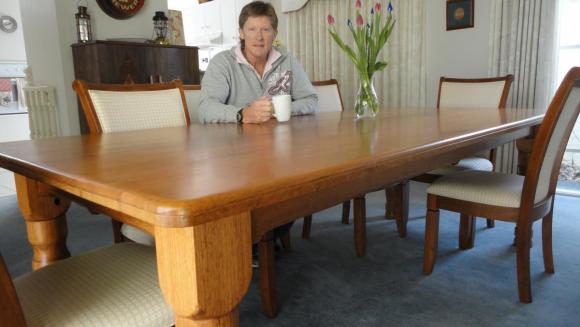 It was at a training session when he was thrown another challenge – a strange moment where his face started swelling – prompting fears of a return of the cancer. Subsequently, he was told he would undergo six months of chemotherapy – a further kick at an already delicate time.
"Firstly, there's the obvious stress of it all. You're 48 years old with young kids and you have those natural thoughts about what you may miss out on if it all goes wrong. It's pretty emotional – and the smallest things will get to you. I remember going to a school concert for one of my kids and wondering if I'd be there to see it next year. Then I had the problem of not having a job and what that meant to my family, and you haven't even started talking about the treatment and how that affects you.
"I lost my sense of taste at one point and – as a result – lost about 10kg. One day I woke up and had breakfast, and by the time I went to have lunch I couldn't taste anything. It takes you a while to get used to eating without taste because your body tells you that if you don't recognise the flavour of something that it must be bad for you. It becomes really difficult to hold down food.
"It is tough – you're constantly exhausted because so much of your energy is going into self-repair, but you're struggling to eat to replenish that energy. I would lie on the floor in the middle of summer under the window with direct sun flowing in, just to try and feel warm."
When you consider that remaining active and fit is an essential part of Kent as a person, you can't imagine how difficult and frustrating this time must have been. But such is his determination, that he found ways to keep moving and the football club was an integral part of his program.
"I kept going to training throughout my treatment. I was struggling to keep fit, but it was important to me, so I'd go along and have a bit of a run. And it didn't matter if I could complete the whole thing, or only managed one run through – the support was still there.
"I'd be on the ground heaving and the boys would just run past and pat me on the back and say, 'Don't worry, I'll go this time'. It was just a nice thing to do – they knew I was sick but that it was important for me to be out there, so they just provided support to keep me going without making me feel like I was in the way or overselling my efforts."
Halfway through the chemotherapy Kent received some welcome good news – a job offer back with the Foster's Group. It was however in the wine division, which would mean a move interstate.
"It was a really important moment for me. I went into the job interview and it was pretty clear I was sick. My hair was falling out and it was – after all – the same company I was working for previously, so they knew my history, but thankfully I was offered the position.
"That was a major boost. I'd lost my job, found I had cancer, been through radiation therapy, had an adverse reaction which caused swelling, and was halfway through some chemotherapy … so to be offered a job was the spark I really needed. It's all about getting life back to normality."
So unwavering was Kent to get on with life that he took the role immediately and made his way to Adelaide.
"I was only halfway through treatment but knew I could continue the remainder in South Australia, so I literally went in for a chemo session on the Thursday, packed the car up with everything I needed and drove over on Friday so I could start work on Monday."
Serious perseverance indeed.
"Some people thought it was a bit nuts but I knew that if I was sitting at home I would just lie around feeling sorry for myself. You feel a bit crook in the guts for a couple of days after a treatment, but it's not much worse than a bad hangover, so you just push on.
"My wife and I sat down and considered all the options. At that stage we still didn't know whether I would completely recover so it didn't seem right or fair to pack up the kids, move to another state and ask them to start new schools at an important time in their education. And realistically, my job involves so much travel, that even if they'd gone over I wouldn't have been around much more than weekends anyway, so I just went on my own."
Kent and his wife are originally from South Australia and still have family over there, so he moved in with his father, supporting each other through some difficult times.
"Dad was alone, so I was able to help him out, and it meant I wasn't going home to an empty house. I think we both get something from that."
Despite the turmoil of a new job, a move interstate and the on-going treatment, the stubborn determination was still there.
"To me, a huge amount of it was trying to keep my routine as normal as possible. There is a sense that if you can't keep up that routine that you're resigning yourself to the illness and you might as well give up. That doesn't mean that you can continue on exactly as you did before, but it was fundamental to me that I try to keep as much normality as I possibly could.
"It was all about little steps. At one point I was simply trying to negotiate a 1km run back from the kid's tennis lesson up the road. It was tough, but I made it through. Even when I was doing the chemo in Melbourne, I would sometimes ride my bike to and from the hospital (a round trip of roughly 20km).
"The quicker you can get back to that normal routine, the quicker you feel your own recovery – and that's essential."
It all amounts to a strength of character that is hard to comprehend from a distance. Kent speaks about it in such a matter-of-fact manner that you need to stop him once in a while and get him to repeat exactly what he just told you.
The concept is simple – gets as much normality back into your life as soon as can – but the effort involved and all the little steps on the way is truly difficult to grasp. The final result is inspiring.
While that drive must come from within, it also takes a different strength to accept help from others, and Kent is glowing in his acknowledgement of others.
"It's a personal battle, but you can't do it all yourself. I decided immediately that I would come back every weekend to train or play with the Baldies. There are times when you have work commitments overseas or something, but over the journey I've been able to make it back and play most games. I'm very lucky that my work flies me back as part of my employment arrangements, so I've been able to keep it up.
"The whole concept of the club was creating something for old blokes who want to have a kick – and it worked. Then when Crimmo (Dr Bernie Crimmins) got involved he saw it as something that could be a whole lot more and it's morphed into something that is actually an all-year-round health and wellbeing club."
Clearly that philosophy has been justified in Kent's story – and some credit must be given to the club.
"We get together to play football, but we all know that it's a lot more than that," he says. "We're a group of guys who like to keep fit and it makes sense to do that all year round – it's a complete approach and definitely helps us to keep going when footy season rolls around again as we're not starting from scratch every winter.
"Best of all, is that it creates a community. If we stopped over summer it would be a struggle to get this group back together every year and it would lose its purpose, but this way we stay together and a stronger sense of identity grows."
It has been five years since Kent was diagnosed and – aside from a few side-effects from treatment – he has been given the all clear in respect to his health. Not that it was an easy journey. He says it took a good three years for recovery – and most of that was from the drugs.
"The drugs are nasty – they debilitate your whole body. Essentially, they are trying to kill the cancer cells before they kill too many of your own cells, so you just don't feel right – there's not much of a better way to explain it than that.
"But as I said before, the most important part for me was getting normality and consistency back into my life. That was partly getting back into work, it was partly about maintaining my family and their life, it was partly about fitness and wellbeing to the best of my ability, and partly about keeping the support network around me at all times. And that's where the club is an incredible support for me.
"I was never going to stop. While I am physically able to play, I will continue to play."
When you consider everything he has been through so far, I can't see anything that would stop him from playing for many more years to come.
If anyone is interested in getting out and having a kick with their local Master's League Club, you can find all the information you need on the website www.aflmasters.com.au or call national general manager Neil King on 0409 361 644.