My craft beer-loving journey has been quite the rollercoaster of tastebud emotion. It started out with an insatiable obsession for IPA's before slowly drifting off into a passion for pale ales and finally landing on a penchant for stouts and porters.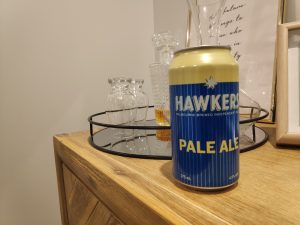 But dear friends, Hawkers Pale Ale may have just convinced me to jump back on the pale ale wagon in a big way!
I cracked one last night after a fairly intensive shopping session after work. You know the kind where you wait outside the changing room doors while your partner tries on an array of outfits that you don't quite know whether to praise or turn down, all the while feeling super uncomfortable in a ladies-only clothing store? Yep. That kind of shopping session.
The thing I loved about this beer was the fact it tasted like the love child of an IPA and a pale ale. It was bursting with hops, yet it was seriously sessionable. In fact, I reckon it tiptoes on XPA territory, while not fully stepping over.
Hawkers state the following on their site, 'Don't let the powerful hop aroma of this Pale Ale hold you back. This beer is perfectly sessionable, generously hopped, and enjoyable anytime' and I reckon they hit the nail on the head.
Tropical notes will hit your palate first, before citrus kicks in and leaves that refreshing feel lingering longer after the last sip.
With that in mind, if pale ales do it for you, this delicious drop will have you wishing you'd tried it sooner.