There's nothing quite like enjoying Australia's fine weather by heading outside with friends, delicious food and, of course, great music. Such was the premise for House of Marley's Chant Bluetooth speaker, which is designed to be portable and compact, without sacrificing any of House of Marley's high-quality audio performance we've come to know and love.
House of Marley is committed to producing the best and most reliable audio-hifi products that provide a lifetime of enjoyment. Their products are engineered to deliver the Marley "Signature Sound" and undergo custom tuning to deliver the most realistic and powerful performances possible.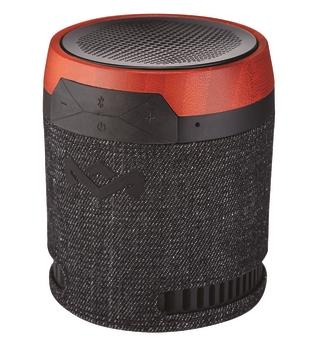 The Bluetooth-enabled 'Chant' speaker is House of Marley's mid-tier powerhouse for the music-lovers that love to share. House of Marley's philosophy of producing superior quality, earth-friendly products is evident in the design of the Chant Bluetooth. It's nestled inside its own 'Midnight' styled, REWIND carry bag that's made from crushed recycled bottles mixed with reclaimed hemp and organic cotton. Meanwhile the body of the speaker is made with recyclable aluminium and plastic and features a ring of wood around the top near adding aesthetic sophistication.
The Chant's clever carry-case unzips at the top to expose the speaker grill. Cut outs have been added near the base of the case also expose the speaker's inputs/outputs and buttons, meaning there is no loss in functionality while you're pumping the tunes.
The Chant Bluetooth provides convenient and wireless music streaming with high-quality sound in one compact device.  It's fitted with a standard 3.5mm input and comes with a cable to make it compatible with hundreds of devices so you can accommodate everyone's musical requests wherever you go.
The Chant Bluetooth also features a built-in microphone with answer/end call functionality, making it the ultimate portable speaker unit. So whether it's a trip down to the beach, a picnic in the park or you need some tunes while you work out, the Chant Bluetooth is the perfect wireless speaker to have on hand.