For many musicians, recording in the studio can be as daunting as performing on stage to thousands of screaming fans. Some of the world's most legendary bands have had their biggest feuds in the studio and it is no wonder – having to execute that 'perfect take' when in the confines of a small room and under pressure from a producer and fellow band mates can be an incredibly testing experience.
That is why the location and interior design of a studio can be as important as the equipment inside it – the more comfortable and relaxed an artist feels, the better they are likely to perform.
This is certainly something Chris had in mind when he designed his studio on Melbourne's urban outskirts. He has managed to transform part of a massive shed into a state-of-the-art recording studio that balances high tech equipment that would be welcome in most professional studios, with an interior that is as inviting and relaxing as the serene paddocks in which it is located.
Situated around the back of Chris's family home, the big metal shed hides a cosy cove that has all the sound proofing and equipment needed for you rock out as loud as possible yet not be heard in the next room.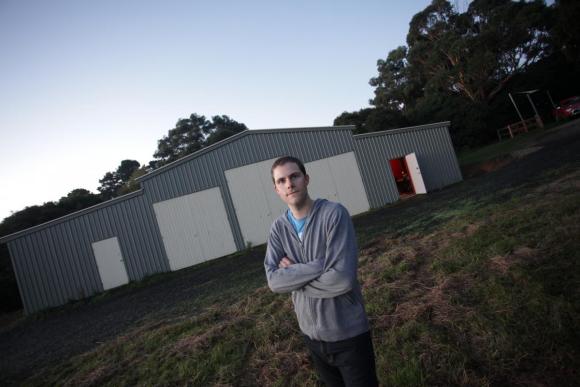 With such a professional fit out, it is surprising to find that this is Chris's first attempt at building a studio and that he has been involved in every aspect of the three year project – he designed the architecture, chose the materials to build it and took care of all the techy audio wiring.
He didn't rush into this though. In 2008, as a fresh graduate from an Audio Engineering degree, his dad proposed to him the opportunity to build his own recording studio. However, instead of diving straight in and attempting to put his education into practice, he resisted the temptation and spent six months researching everything he needed to know to ensure the project was a success.
This did not mean just studying the technology and wiring that is required to make quality recordings, as the room itself is equally as important as its contents. The size, shape and materials used will also affect a recording and is just as important as expensive equipment. In fact, the best equipment in the world can be rendered irrelevant if the room has bad acoustics.
Consequently, establishing the exact dimensions for the studio was the first big judgment Chris had to make. Having only a small proportion of the entire shed to work with, it was important he utilised the space as best he could.
"There are certain measurement ratios that work better than others. The relationship between the width, length and height of any room affects how things will sound, but it is especially important in a recording studio."
Surprisingly, the worst case scenario is to have a room that has the same width, length and height as this causes problems with certain sound frequencies merging and disrupting the recording process.
"Moving into an empty space gave me the luxury of being able to put walls and ceilings wherever I liked," says Chris.
"Other studio builders often go into an existing space where everything is already in place and make it work the best they can. In my case, I was lucky because I got to put everything where I wanted and could refine it from there."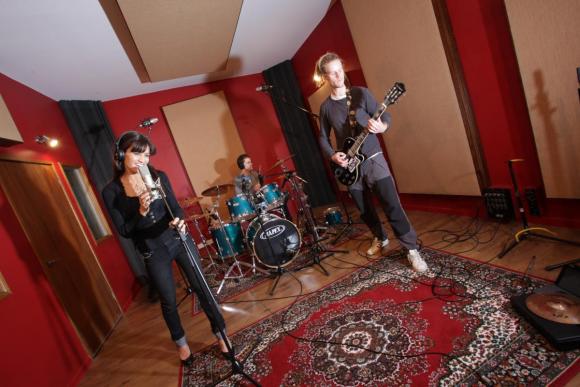 By day, Chris works full time in the automotive industry, so he dedicated much of his spare time to the project.
"There were stages when I would spend every night after work and my weekends building the studio. As much as I enjoyed it, it was hard work and there were times when it was hard to get motivated. I remember one winter in particular when it was cold outside and I didn't feel like going out to the studio to put up plaster sheets when it was nice and warm in the house.
"The structural frame and the electrical wiring were prepared by professionals because I don't have the expertise, but the fit out and all audio wiring was by me and with favours from my friends, family and girlfriend.
"In all honesty, I couldn't have done it without fantastic support from friends, family, my girlfriend and – most particularly – my dad Barry. I can't thank them enough."
Even though the home and shed is on the urban outskirts, the area is still considered residential so the shed had to be sound proofed to prevent any noise from disrupting neighbours and to avert any sound coming in from the outside and interfering with recording.
"I wanted to be able to have a band in here playing at full volume at any time of day or night without being worried about the neighbours complaining. I haven't had a call yet so I guess it must be working!"
Great care also had to be taken to diminish any sound leaking from the live room (where the band plays) to the control room (where the producer twiddles with knobs and listens to the performance through speakers). This can be particularly difficult when you consider there can be a guitarist playing at full volume just metres away.
Although it is impossible to completely prevent sound from penetrating the walls, Chris came as close as he could by combining two layers of 16mm fire retardant plaster with a layer of Green Glue Noiseproofing Compound in the middle (which is specifically designed to absorb and block out sound).
The further you inspect the studio, the more you realise that everything is clinical in its design and everything has been placed in a particular position or built in a certain way for a reason. For instance, none of the walls in the studio are completely parallel – a detail Chris says the builder didn't appreciate, but one that was vital to prevent 'flutter echo', which can cause problems with unwanted sound frequencies.
Beyond its professional use, Chris acknowledges that a major benefit – and motive – in building a studio round the back of his house is that he can retreat there when he needs some time to himself.
"I don't watch much TV so I find myself coming home from a long day at work and staying down here in the studio for most of the night. Even though the build has finished, there are always small things to work on – I can always tinker around with some new software," he says.
"It is also great for practice. I can pound on my drum kit and be as loud as I want yet not bother anybody – and that is much better than sitting the house and watching whatever bad TV is on."
It is clear that music is a major passion for Chris – he plays multiple instruments and fronts his own band, yet he didn't build the studio merely as a hobby as he sees it as a serious business venture in the future.
"It is set up in a way that a band could bring in its own producer, but I would like to think that in most instances I will be working with the band assuming the role of a studio engineer and producer," Chris says.
"I am still in the early stages of getting the business registered and up and running. At first, it will be a juggle between putting time into the studio business and doing my normal day job."
Despite his obvious enthusiasm, Chris has resisted the temptation to start taking paid bookings from bands straight away. Instead, he aims to work with his friends initially to increase his experience and build confidence.
"A lot of jobs are passed on by word of mouth – that is the nature of the music business. So if word gets around that I'm not doing such a good job at an early stage, it can really stop things from taking off. I will try and make sure that doesn't happen.
"I want to make sure that when it is time to get really stuck into it, everyone is really happy with their results."
Chris notes that he could have used his recording and audio experience to work for a commercial studio or to be a freelancer, yet this did not carry the same appeal as having his own space.
"The opportunity to do this was available and it seemed a lot more appealing than working for other people. I like the idea of having a place of my own in which I feel comfortable and I can do things the way I want.
"I had to get some personal enjoyment out of it as well. If I did it purely for the business side of things, it probably wouldn't ever happen because it comes down to what I love doing and that is why I put as much effort into the project as I did.
"I really wanted it to be a useable, good sounding space but also a comfortable area that people could come in and spend 10 hours a day for five days in a row and not be bouncing off the walls wanting to escape."
It is with this firmly in mind that Chris put so much effort in getting the aesthetics exactly as he wanted it. For example, he refrained from covering the walls in a traditional grey absorbent material, because although it would have benefitted the room's acoustics, it would also have made the studio feel like a padded cell. Instead, individual absorbers are dotted around the studio at premeditated positions to absorb unwanted sound reflections – with remarkable attention to detail.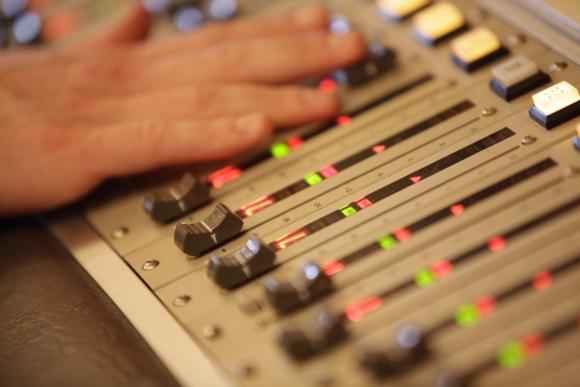 "I have a friend who is a cabinet maker and he designed a wood trimming to make the absorbers look more attractive.
"The trimming started off as large bits of American oak. We put them through a saw at my friend's workplace, sanded them, polished them, sanded them again and polished them again, and finally stained them. We thought this would be a night's work but we stayed awake polishing until the early hours of the morning."
The final result is a professional grade studio that manages to strike the rare balance of gifting musicians a space to work and a space to escape at the same time.
When it comes to successful, commercial recording studios, many of them are in the city or on a bustling street in an inner suburb and that is why Chris believes the setting of his shed studio gives him an advantage.
"Every band is on a budget and often it is a very tight one. Most people can't afford to go to a big commercial studio that has an enormous rent to pay and big overheads. I am not going to have the biggest bands in the country in here just yet, so the rates will be competitively priced.
"It is different to inner-city studios because you can go outside at anytime and have some real space. When it comes to lunchtime, bands can go outside and breathe in some fresh air and take some time off. That is very important."
That is why the venture is so important in the current climate of the music industry. Nowadays, it is becoming increasingly common for artists to record songs in the bedroom. A wealth of affordable technology is available that enables reasonable quality recordings without the need to go to an expensive recording studio. This has resulted in the closure of many smaller commercial studios.
For this reason, it is refreshing to learn that somebody is still committed to producing quality recordings and
is willing to stake an investment in what has largely been regarded as a sinking ship.
"If you hear a demo from a band and it doesn't sound a million bucks, that's fine. It is what it is. But if somebody wants to approach radio stations and record companies then the recording is going to have to be of a higher quality – which is where a place like this comes in."
Chris's personal touch is everywhere in the studio, from the trimming, to the lighting and the complex audio routing. And because he knows it inside and out, if there is ever a technical difficulty you can be sure that he knows what the problem is. Not only this but the extent of his emotional, hands-on involvement means there will be a little part of Chris in every song that gets produced in the shed studio.
If anyone is interested in engaging the services of Chris and his studio, you can email him at mayflymusic@hotmail.com