I'm not sure if this will be considered a statement or a confession – but I quite like a gin. Actually, I'm going to say it proudly, I really enjoy a gin. Gin and tonic, gin and bitter lemon – in summer, in winter, in between drinks… and I don't think I'm alone. I believe that in bars and pubs around the country, there is an uprising of support for the 'old lady' of the spirits section.
You see, that has long been a problem for gin – its image. For many people, the word 'gin' raises thoughts of gossiping ladies sneaking quiet drinks in tea cups, stuffy English society and … well … boringness.
Thankfully, there is a new approach and – with it – a new appreciation, with a small group of local men doing their part to broaden the appeal and demonstrate the true potential of this classic drink.
The West Winds Gin is a proudly Australian gin, made by four mates who have a passion for quality food and beverages. In its short existence, it has gone on to win Gold and Double Gold Medals at the San Francisco World Spirits Competition and can be found on the shelves in hundreds bars in Australia.
Its success derives from the passion of the four men involved and what they bring to the final product – a mixture of branding and marketing, creative flair, exceptional palate, and business acumen … much like the recipe for a good cocktail you might say.
Jeremy Spencer is the marketing component of The West Winds mix. Like the other guys involved in the process, he has 'another job' but the passion for this side business makes it easy enough to fit into the schedule.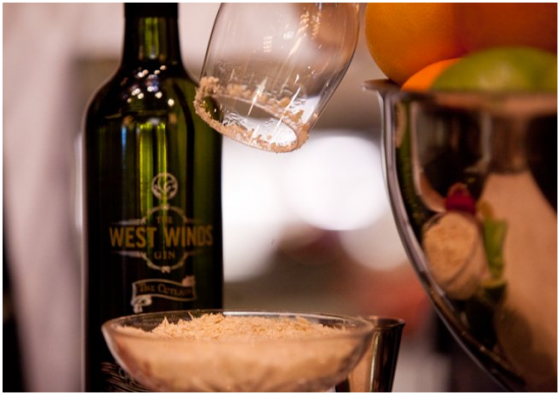 "It all started when one of the guys, Paul White, bought himself a still and he wanted to tinker around with it," says Jeremy. "Now, I think it should be noted that Paul is something of a genius, so when he sets his mind to something, the chances are it will happen in some shape or form.
"I was brought in under a big veil of secrecy. Our business man, James Clarke, asked me to join him for a meeting at a coffee shop on a Tuesday morning. He really built up the suspense – it was all very clandestine; I didn't know what it was about and was told not to bring anything.
"Then he tells me that he wants to make some spirits and wants me to be involved. I thought it sounded really interesting. Then he tells me he wants to make Limoncello… I told him I wasn't interested," he laughs.
"But then he said they were also thinking about making some gin and I thought we could be onto a winner."
The next step was getting Jeremy's good friend Jason Chan involved. For anyone who has lived around the Melbourne area, Jason has built up an impressive reputation through his cafe Batch, in Balaclava, and the very cool restaurant and bar Seamstress in the CBD.
"Jason has an extraordinary understanding with food and drinks, and he is also an excellent bartender – I actually met him when we were both working the bartending circuit for years. Jason has won two Cocktail World Cups and has the most amazing ability with flavours.
"So the four of us sat down and started to put down some proper details – and it was a full collaboration of ideas and thoughts as to how it should be made and put to market."
As a man who likes to have little projects on the go, I can only imagine how exciting this time must have been. With the success of The West Winds now, it is easy to forget that it began as something of a side-project based off personal passion and the coming together of specific skill sets.
The final result – in its quality and attention to detail – pays testament to the care and effort put in.
"The first decision was working out where would be the best place to set up the still in a permanent location. We settled on Margaret River in WA, as three out of the four of us had spent our formative years in there so we had a certain romance to the area.
"Importantly there was also a practicality that Margaret River has an excellent supply of high quality rain water which is important for the distilling process. We do actually have plans to move the manufacturing facility a little further north for more practical reasons, but will continue to use the Margaret River water as we believe it's that important."
The next step was deciding what style of gin to make. As I've already confessed … I mean … explained, I enjoy drinking gin, and part of the appeal comes from the great variety in styles available.
By definition, gin is a neutral grain spirit re-distilled in much the same process as vodka. The fermented base is mixed with botanicals to impart a flavour, and for a beverage to be classified as a 'gin', at least 51% of its botanicals – by weight – must be juniper berries. Once you've passed that 51% requirement, you have a lot of options as to what you can do, with common botanicals including coriander, citrus peels (bitter orange, lemon, grapefruit), angelica root and seed, liquorice, bitter almonds, nutmeg, cinnamon and anise, all adding different complexities to the final product.
"We sent Jason over to WA and he started playing around with the still," says Jeremy, "and he came back to us with two recipes.
"We always thought we should start with a fairly traditional, soft, entry-level gin along the classic London dry style; and he produced that beautifully. But Jason also wanted to make something with a more local flavour, so he decided to create a more savoury style that used Australian bush tomato and some uniquely Australian botanicals."
While the London-style has won awards and holds its own on the top shelves of any liquor cabinet, it has been the savoury style that has caught the eye of many people. When you consider what a wonderful culture we have in food, beer and wine in Australia, it does seem strange that it has taken so long to produce a solid industry in Australian spirits. The fact that there is a gin that has utilised native Australian botanicals is something we can hang our hat on in the world scene.
"If we were going to make an Australian gin, it was important that we used local botanicals that could be sourced locally as much as possible – and we're pretty proud of that.
"The coriander comes from a neighbouring property in Margaret River, the lemons come from Gingin (just north of Perth) and a fair percentage of the juniper berries are sourced from McLaren Vale, while the native Australian bush tomatoes have been used by Indigenous people for thousands of years and are distinctly Australian. When you then consider that there is wattle seed, lemon myrtle and cinnamon myrtle in there… well, you've got a fairly uniquely Australian drink."
The next step was to get the name right.
"There's a brilliant history with gin," says Jeremy, "something you could write a fantastic book about. Much of it comes from the old sailing ships and we wanted a synergy back to that. The West Winds name came from the winds that blew the travellers towards Australia from Europe in the 1600s searching for spices and botanicals and everything exotic.
"Equally, we needed names for the two styles – the traditional gin we called The Sabre, while the savoury was named The Cutlass. Again, this came from history and the tie-in to the old sailing ships.
"The Sabre is the sword of the English gentry. If you look generally at that period of history, rum was the drink for the sailors and the common folk, and the English Naval Officers wanted to be drinking something more sophisticated. So The Sabre – as a name – represents the traditional dignified gin drinker.
"On the other side we then made The Cutlass, which is of course a pirate sword, and that refers to the rebellious, more adventurous flavours of the tomato and high levels of coriander and strong flavours."
With the drink in hand and an image to shake up the sector, the biggest step was always going to be changing the perception of gin in the general public.
"You do get some resistance, but I always say that you need to get a really simple, but well-made gin in their hands. People often treat spirits like every brand is the same but there are many different qualities out there, as well as different styles.
"I liken it to wine: someone can tell you that they don't like wine but when you bury into that a little bit you find that they first experienced it as a 16 year old down on the beach sharing from a 10-litre cask. When they try it again a few years later and get the style they like, they suddenly decide it's not so bad.
"A lot of the people I meet who say they don't like gin have often experienced it as a 'house spirit' from a night club with three-day-old lemon and half-flat tonic water. I'm not saying everyone is going to love it, but if you want to give it a shot, get some quality gin with real tonic water and the right garnish cut on the spot."
While the product has awards to speak for itself, the drive to get it out there and appreciated in the market has come from the combined passion of the four guys.
"I guess that's something about gin that we all liked. The freedom in what you can do with it allows a certain creativity and I think that was really important for us in getting it off the ground and keep the energy going for the future. If you're just trying to recreate something then you can lose the passion, but when you're able to put a little bit of yourself into it – and you're proud of what you've created – then it's easy to keep pounding the streets.
"Mate, at the end of the day, I just like making drinks. I have for a long time and I get a real sense of enjoyment from doing it. But having this gin, and being involved with it from the beginning is a real treat above what I've done with drinks before."