Sheds come in all different shapes, sizes and costs. No matter what you're after, it is important to make an informed decision so you can ensure you're getting the best shed for your needs.
Blow me down
The James Cook University school of engineering in Townsville operates a world-renowned cyclone testing station.
This facility reviews post-cyclone building performance and community assets to see what can be learned before the next big blow strikes. The survey team, being located in Far North Queensland, is generally not far from the storm front.
Two recently released reports on the 2010 tropical cyclone Ului and the 2011 tropical cyclone Yasi contain useful information about how nature takes it out on sheds and garage doors. In both events, buildings were subject to wind speeds of more than 150km/h.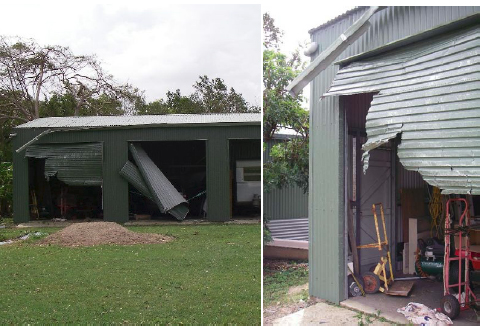 Not surprisingly, a garage door is one of the main areas of exposed building failure. If valuable equipment or irreplaceable items are kept in a garage, you could be in for problems.
The review revealed many roller-door failures in which the door had been disengaged from the guides, detached from the drum and turned into wind-borne debris.
It is worth understanding how this happens. There are principles relevant to the ability of all doors to resist wind pressures. One of the most important is that a door is likely to experience inward or outward pressures in a cyclone. This is also true during other severe winds, such as those in thunderstorms.
A combination of positive internal pressure and negative external pressure (Figure A) may arise if the door is on a leeward or side wall.
A combination of negative internal pressure and positive external pressure (Figure B) may arise if the door is on a windward wall.
The forces on the door are about equal in magnitude for the two scenarios. The door must be designed to resist such forces in both directions.
Panel-type doors seem to have a lower failure rate than roller doors in similar applications. They resist wind loads better, as each panel is rigid, offering reasonable depth and inherent stiffness.
So, if you live in the tropics or a wind-exposed area, make sure your supplier provides an appropriate solution to resist the local weather.
How safe is your shed?
When buying a shed, look for the ShedSafe symbol. This means that samples of the design and engineering (plans and structural calculations) used by the manufacturer have been subjected to a design check and documentation review.
The reviews are carried out by an independent third-party structural engineer according to ShedSafe accreditation criteria, and the manufacturer has assured that its sheds comply.
In addition, the manufacturer's staff has undertaken training and will recommend a shed with a design suitable for your site and use – including consideration of wind loads.
Even the person selling or installing the shed (as distinct from the manufacturer), who in some cases may run a franchise, has undertaken training to determine wind-load considerations for your site, based on information supplied and local knowledge.
The ShedSafe program is managed by the Institute of Steel to help buyers make informed decisions.
How to spot the real thing
Beyond a metal shed's design and how well it is installed, longevity is determined by the quality of the sheeting.
This is assessed in two ways: according to the thickness or gauge of the material, and the coating applied.
Long gone are the days of the galvanised shed and guttering.
Zincalume®, a zinc and aluminium-based coating applied to the surface of strip steel, provides the highest level of protection against rust.
BlueScope Steel has exclusively produced Zincalume and Colorbond® (Zincalume with a baked coloured paint finish) for more than 35 years at Port Kembla.
The company supplies Zincalume to Australian roll-formers, which produce different profiles for walls, roofing and the like. If your location is close to the ocean, a higher level (coating) of Zincalume or Colorbond Steel will probably be specified.
So watch out for imported copies of Zincalume. Make sure the shed supplier states in writing that Zincalume is being used. Look for the brand on the metal and you can't go wrong.