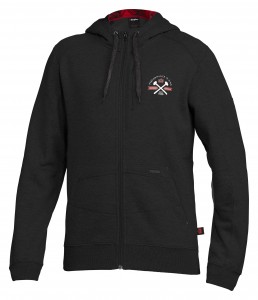 Designed to take busy tradies straight from the worksite to a meeting, the new KingGee Tradies range includes a number of practical yet professional hoodies, shirts, shorts and pants that are suitable for the changeable Aussie climate.
For those cold and early starts, the new KingGee Tradies winter range welcomes the Tradies Seasonal Zip Through Hoodie . Available in Black and Grey, the hoodies merge style with function, incorporating a flannel hoodie detail, fleece lining and storage compartments to hold a multitude of tradie essentials.
Completing the winter range is every tradie's wardrobe staple – the Tradies Flannel Over Shirt in Blue . From worksite to weekend, its high quality dense flannel fabric (UPF 50+) provides warmth like no other; without compromising comfort or breathability. As versatile as a tradie's skill set, this shirt can be layered as a jacket or simply worn on its own.
Providing tradies with fashion-inspired workwear year-round is the KingGee Tradies' new core range, which has six garments designed to withstand a range of climates and working conditions.