Ian Kenins visits a 'motorcycle club' with a difference.
The Kustom Kommune in the inner Melbourne suburb of Collingwood is one of those concepts you'd reckon should have been realised long ago.
Basically, it's a place where the residents of tiny houses in narrow streets can go to store their motorcycles, or spend time fixing, restoring or customising them. And yet the Kommune is just over one year old.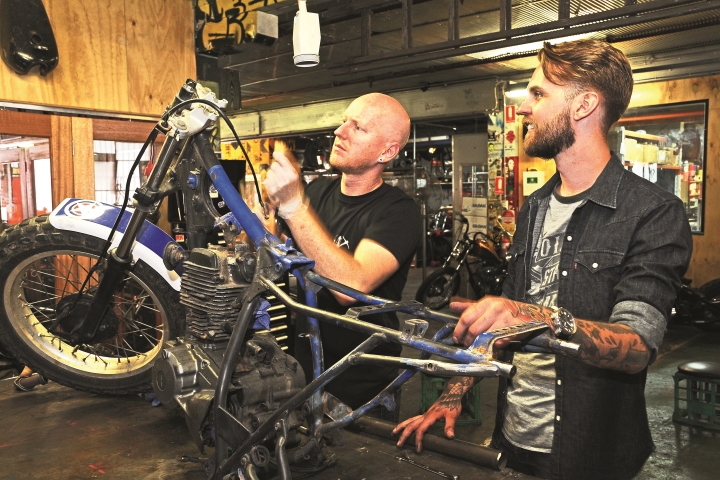 The two guys behind the Kommune, Richie Baldwin and Jimmy Goode, are themselves inner city motorcyclists and amateur mechanics. Richie would have grease, tools and parts spread over his front porch while Jimmy did his repair work in the home bathroom or on the street where his machine was often parked between a BMW and a Mercedes.
"Their owners weren't too happy about that," he says. "So we thought, 'we need to do something about this.'"
What they did was start a crowdfunding campaign for $30,000 through Pozible and, adding in their own savings, set about finding a 400 square metre warehouse.
"It had to be the right space in the right zoning at the right price, with a particular look and feel. It had to feel very urban," says Jimmy.
"We had to make sure we weren't too close to people's homes," adds Richie. "Because the last thing we wanted was to be shut down three months later due to the noise."
Then there were tools and equipment to acquire, shelves to store everything, and labour to fit everything in its right place. "From the start it's always been a community project," says Richie.
The crowdfunding campaign gave the concept exposure and created anticipation on social media sites.
"When we opened up we were inundated with people offering donations; not just money but their trades services and general help," says Jimmy. "We wouldn't have got to where we are without those donations."
Richie says they also approached every tool company they could think of until SP Tools provided what they needed at cost, saving the venture tens of thousands of dollars. Legendary US company Harley-Davidson also donated equipment and two motorcycles to the Kommune that were then customised by skilled members. One of the bikes, a Street Tracker 750, won them international acclaim by being listed as the 8th best rebuild for 2014 on the Silodrome Gasoline Culture website.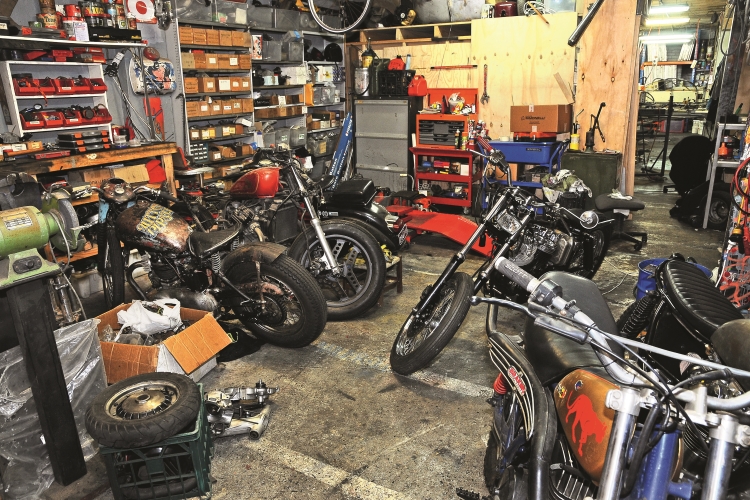 The Kommune has the look and feel of something genuine and is, in equal parts, a workshop and a meeting place.
Companies like Harley-Davidson and helmet maker Bells have held functions and product launches there, and photo and art exhibitions have been staged on the premises. Member Michael Capraro says, "It beats working on your own at home." He's in the process of customising a 2013 Royal Enfield to look more like the bike Steve McQueen used in his freedom bid in the classic WWII movie The Great Escape.
"These guys are great and help you out if you need parts or a helping hand," says Michael. "And the tools and workbenches are all here."
When his bike broke down last year Michael posted his dilemma on Facebook. Within minutes offers of help came from Kommune members nearby. "It's almost like a brotherhood," he says.
And so he invited some of the brotherhood to celebrate his 50th birthday held at the Kommune- complete with bar, food service, a DJ and lots of bikes on display.
The Kommune is run like a not-for-profit enterprise with membership fees being used to purchase new equipment, pay rent and power bills.
Simply storing your bike onsite costs $249 per year, or $69 per month, while use of the workshop starts at $20 per hour for casual use to an unlimited monthly access for $199.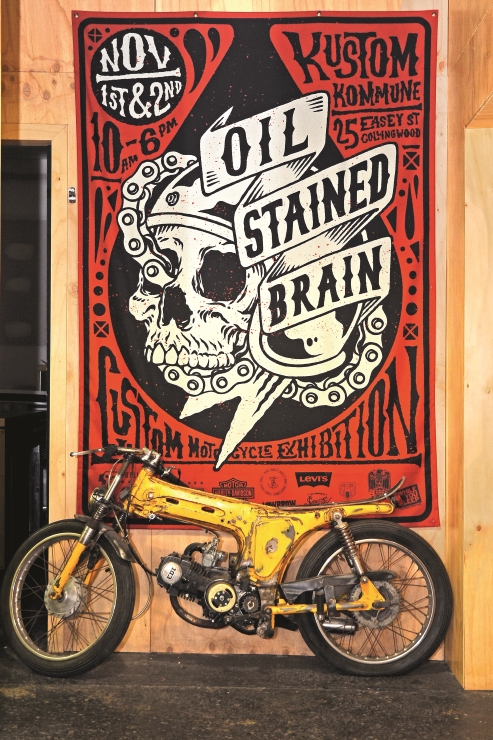 However, "It's not only about offering a space," says Jimmy. "We help people get into motorcycling as well."
The Kommune also offers courses: one on auto electrics run by a mechanic with years of experience; the other on motorcycle safety by a qualified engineer. "Another guy Glen just comes in most days and lends anyone a hand," says Jimmy.
"He just likes being here and will weld a bracket on somebody's bike for a six-pack."
To devote time to the Kommune and its 346 members, Jimmy and Richie gave up their day jobs – Jimmy was in marketing and events, while Richie was an ad agency creative director.
Both learnt the basics of bush mechanics from their farmer fathers.
"And we're graduates of the University of YouTube,"says Jimmy.
"But this is a do-it-yourself place," stresses Jimmy.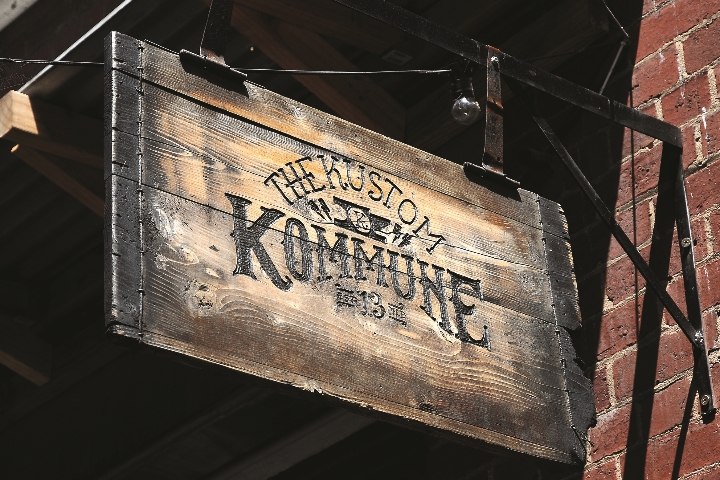 "We don't tell people to come and we'll fix their bikes. We tell them to get their bike's manual and if they get stuck we'll try and help."
For our female readers out there, the Kommune is not just a bloke's world. On the day ManSpace visited the Kommune, Sarah Feagan rode in to do some work on her trail bike. "I was once an apprentice motor mechanic," she said. "But motorbikes are so different."
"Sarah, and the other lady members of Kustom Kommune, needn't worry," says Richie.
"The great thing about the space is you can't make a mistake. If something goes wrong you get help."
The way this commune is going they might just give motorcycle clubs a good name.