Lawrenny Estate Distillery has released its initial whisky bottling online, the Ascension Tasmanian single malt whisky.
A little over three years ago, Lawrenny Estate Distillery was established with the objective of making use of the amazing natural resources of Tasmania's Central Highlands and of Lawrenny Estate, in developing a world class single malt whisky.
While the first of its main releases are expected to be available from mid-2022, there is a very limited bottling that will be the first for Lawrenny. Carefully matured across a range of barrels, the initial Ascension release provides an introduction to its unique style
Ascension describes the journey the whisky has taken throughout its carefully guided maturation as it moves from the smallest to the largest casks at Lawrenny Estate
It's created using local Tasmanian barley, pristine river water and a blend of yeasts before sitting in small bourbon and port casks. Once close to maturity, it's transferred into fresh 100L casks for several months to add another dimension before the final touch of a combined bourbon and port whisky resting in antique 600L Pedro Ximenez sherry casks.
The result is a single malt that not only showcases the very best of each cask type and size but introduces people to the Estate's vision for its ongoing journey.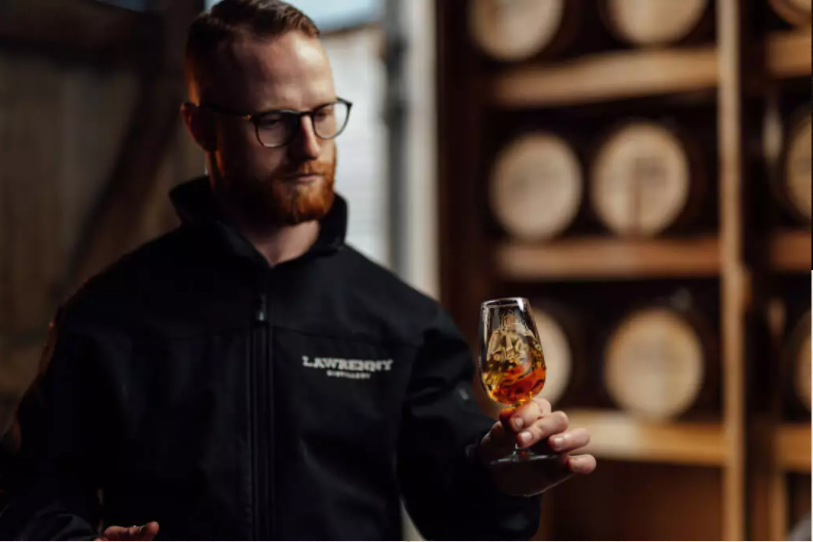 Its colour is a deep, dark ruby that has notes of honey-roasted cashews from the bourbon cask as well as the dripping treacle and warm raisins of the port and sherry casks. A weighty body throughout the palate acts as a platform for grilled nectarine, toasted coconut and mango lassi to collide with blackberry jam, rich tobacco and the complexity of oak to create a profile beyond comparison.
Lawrenny is also hosting an online sampling event on 15 December 2020 at 7:30pm on Facebook Live, introducing guests to the new release and guiding them through product sampling.
Additional sampling sets are available that include a Lawrenny glass, 30ml Lawrenny Ascension Whisky and a sample of the pure Lawrenny waters.