You know you're getting older when shopping for homewares, lighting accessories and tiles becomes a regular activity that you actually enjoy. Yep, I said it.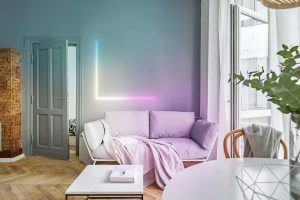 My partner and I recently bought a bigger house, so with that came the need to shop. We went from a tiny two bedroom unit to a much larger three bedroom home, so we've got a lot of extra space to fill in. And with that in mind, we've ended up down many a late night web-browsing rabbit hole.
You know the type you get stuck in when you jump on YouTube for a specific purpose, but then get drawn in by all the suggested videos that pop up. Three hours later you're watching videos of deep sea creatures and autonomous killer drones…
So when it came to lighting solutions, I stumbled upon a range of smart lighting options that can be turned on or off via voice command and an app. No doubt there's some even smarter lights floating around the place, but I find this kind of stuff to be pretty damn incredible.
LIFX is one such manufacturer of 'smart' lights and its Beam model tickled our fancy for a wall in our second living room that needed a little something-something.
Available as a pack of six magnetic pieces, measuring 30cm x 3.5cm x 2cm, and one corner piece,
LIFX Beam's advertised as a striking frame for doors, windows, shelves and bedheads. We thought of it more as an alternative to wall art, as it really is more decorative than functional.
Each translucent beam is filled with LED's and is equipped with a module and magnetic connector at each end. The idea is that you decide on the orientation of the lights before adhering them to the wall via adhesive strips.
Additional lengths and corners are available as extensions, with up to eight sections and two corners able to be connected per controller.
Colours and brightness can be managed via the LIFX app whereby you can choose different themes to suit the room or occasion.
So while it might not be for everyone, the LIFX Beam is a cool bit of kit to brighten any space in the house. We're just hoping it isn't the beginning of an even longer rabbit hole into alternative wall lighting solutions for our new house.