A boilermaker turned artist has made it his mission to turn debris caused by bushfires into enjoyable pieces of art, writes Ian Kenins.
For most of his life Jeff Kirsten paid little attention to art. "It interested me from the point that I would look at sculptures and think, 'That looks good; I could make that,' but I couldn't be bothered because I was working twelve hours a day, sometimes seven days a week," Jeff explains.
A boilermaker by trade and South African by birth, Jeff arrived in Australia 30 years ago with his wife and a thick accent. The former left him but the latter remains. Jeff's skills took him to every state in the country before he retired to Dereel, a small rural community in central Victoria, where he bought a house with his new partner, using some old tools and welding equipment to supplement his pension.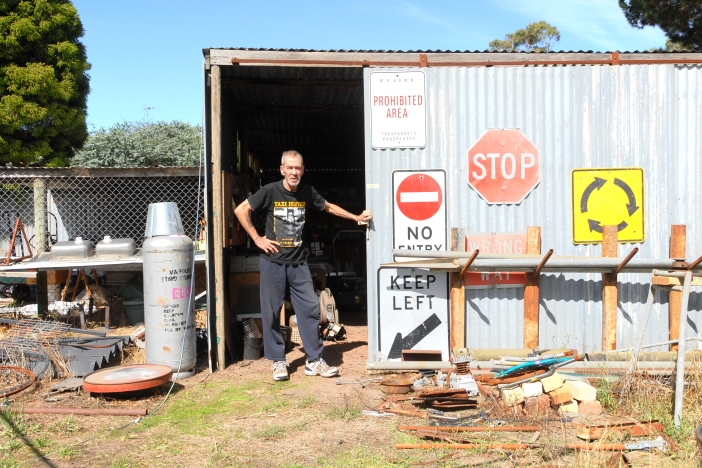 Then, on March 27 last year, a bushfire ripped through Dereel, destroying dozens of properties and livelihoods. Everyone chipped in to help, as did Jeff, by reinventing himself as an artist and turning his ramshackle tin shed into a studio. "I went to look at a few of my friend's houses and everything was just wrecked," said the 70 year-old. "I asked them 'What are you going to do with all this?' and they said they were just going to take it away to the scrap yard. I was looking at all the tools that were burnt and it clicked in my mind that I could use all this scrap and make something out of it."
Jeff placed a notice on Facebook requesting people avail their refuse and before long his backyard became the local tip and Jeff put his fertile imagination to work. A hammer, suspension spring and two horseshoes became a dog; a dozen horseshoes, four bike pedals, some garden shears and a frying pan became a turtle, while hundreds of carriage bolts formed a female torso.
"I've always been arty in the sense that I like unusual things."

The real scene-stealer stands in Jeff's front yard, which faces the main road. It's a 1.8 metre-tall alien made from spanners, pliers, hammers, wrenches, drills and drill bits, garden forks, springs, screws, nuts, bolts, spark plugs, saw blades, bike chains, bike cogs, a fuel tank, a baking tray, garden taps, scissors and more. "When people come up the road, they stop and reverse and stare," Jeff says.
Seventeen of Jeff's works found a wider audience in March this year when the local Golden Plains shire staged an exhibition.
Titled From the Flames, the art show was part of a recovery program to help the local community deal with the first anniversary of the Dereel bushfire.
"I felt guilty because I was selling this stuff I got for nothing," said Jeff. "But I put a lot of work into it and made some things that people can put back in their gardens as a gift, hopefully not a reminder of the fire, but something they would like from pieces from their sheds."
Each piece of rust provides Jeff with inspiration.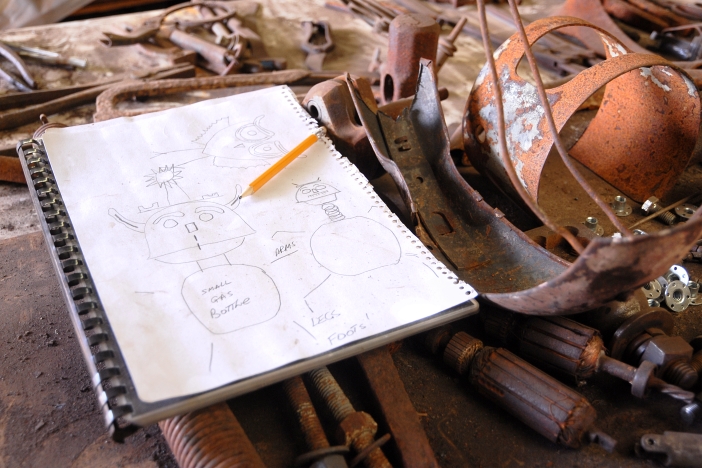 "You just have to figure out what to do with the scrap you've got. The other week I was sitting here and somebody brought over some stuff and I said 'Just throw it in the wheelbarrow.' It was a small exhaust pipe and a kick-start thing from a motorbike. I left it alone then looked at it one day and thought, 'Hang on, I'll cut the pipe off the exhaust and use the springs for arms and legs and there's a person.'" A rusted rabbit trap recently gave him another idea. "I'll weld it so it's open and put a button inside with a sign that says 'Press the button,'" he laughs.
There are also times when a sculpture doesn't work out. "I might start off with an idea then half way through it I'll say 'No, no, no" and I'll look around and see a spanner or something else and put that on because it looks good there."
There are a lot of other sculptures Jeff would like to make, particularly with car engine or gear box parts, "but they're hard to get your hands on." An old chook shed houses items that may or may not be used, while a lot of non-fire related debris has also found its way to Jeff's property. "I can't say no because they've brought it here. It will stop, eventually," he said, more in hope than expectation.
It's no surprise that the qualified boilermaker says welding is the easy part of his art. "Anybody can do that, and I mean anybody. If the steel is rusted to the point where the metal is too thin, then I can't use it, but if you can clean it up and know what you're doing, you can use it – just run a buffer or a grinder over it and it welds. But welding mild steel to cast steel is brittle and you might break it."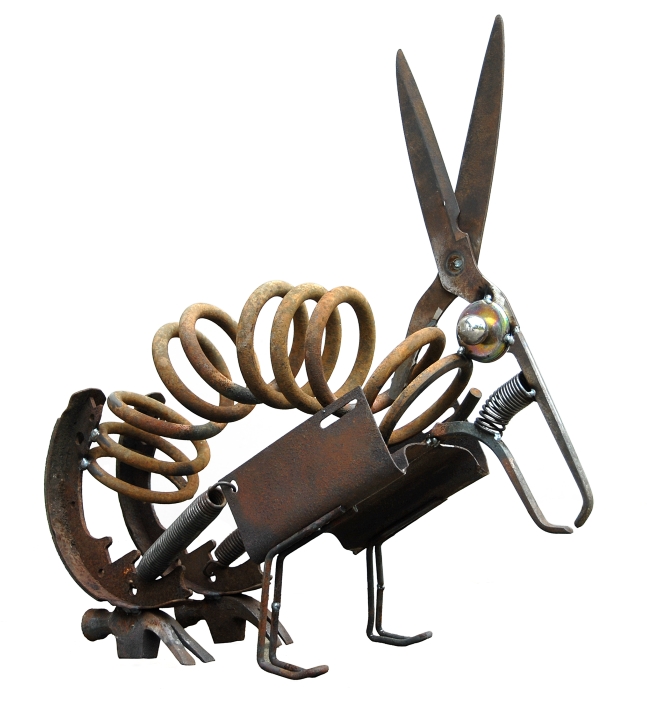 Despite his sculptures' unique qualities, Jeff isn't likely to make a fortune from them. "People are telling me I'm selling my stuff too cheap but I tell them this isn't one of the trendy suburbs in Melbourne. This is Dereel and people haven't got $300 for that one or that one," he says pointing to a Maltese Shitzu made from white-painted bicycle chains and a bird made from a shovel head, two garden forks and extension springs.
"The welding wire is about $60 for a roll and it's $100 to fill the gas cylinder. I sold two pigs made from old rusted cylinders and bike pedals for $60 each."
As a retiree, Jeff is in no hurry to rush his art. "With the alien it got to the stage where I said, 'I'm not going back into the shed for three weeks because it gets too hot and I've had enough of bloody welding.' The rays from the welding arc will burn your eyes like sunburn and they'll peel like sunburnt skin." Still worse was when a still-hot ball bearing sliding down his unbuttoned overalls and into his underwear. "That hurt like hell." On other occasions he simply has better things to do. "I look at the time and it's half past two, so bugger that – I'll come inside, sit down and have a beer and relax."
Apart from keeping him occupied and earning a little pocket money, Jeff says he mostly sculpts for other people's enjoyment. "You're driving in the country and you see all these things in a yard and stop and say 'Wow – look at all that!'" But not everyone is a fan. "Some people walk in here and say 'What rubbish is that?' but 90 percent of the people say, 'That looks great' because they see the sense of humour in it. Art is in the eye of the beholder." And the boilermaker.