Introducing the Dremel 3D Idea builder – the first ever consumer 3D printer and idea building eco-system to hit Australian shores.
The Dremel 3D Idea Builder isn't just a product, it's a complete eco-system that brings together Dremel's unrivalled 3D printing hardware, idea software, content creation applications, printing accessories, online functionality and technical support. With endless multi-material projects and content which users can create, the 3D Idea Builder Eco-system is the first of its kind.
KEY FEATURES
Key features of the 3D Idea Builder include a contemporary Full Colour Touchscreen, a Removable Build Platform, Active Cooling Fan, a Fully Enclosed Workspace and state-of-the-art On-board Software. The Touch screen panel is fully operational even without hooking it up to a computer, giving users easy access to helpful information.
Visit www.dremelweekends.com for more information or to find a host of innovative DIY projects.
The 3D idea building On-board software is easy to use and assists in printing any model you can think of. For advance users, this software can be used to tweak various settings to achieve the best results possible. For more details see below.
ACCESSORIES
The Dremel 3D Idea Builder is fully supported by a wide range of accessories from Building Tape and Levelling sheets to a USB Cable, Object Removal tool and an SD Card. The Building Tape ensures adhesion, is light weight and has a lifetime of 1 sheet; 100 prints. With a choice of 10 different colours – the most popular being Cotton White, Natural White and Deep Black – your ideas and projects will really come to life.
Visit www.dremelweekends.com for more information or to find a host of innovative DIY projects.
3D WEBSITE AND CUSTOMER SUPPORT
The Dremel 3D website is the nexus of the 3D Ideal Builder Eco-System. The website includes product information and details, a database of hundreds of free 3D models and project ideas, 3D model templates and customizers, product support which includes how-to videos and much more! Dremel also provide excellent customer care for those who purchase the 3D printer which includes extended warranty and service hotlines that connects customers to the Bosch Service Centre.
3D IDEA BUILDER SOFTWARE
A major addition to the 3D idea builder Eco-system is the 3D Idea Builder Software which was developed in conjunction with Auto Desk to provide an easy to use program that assists used in printing their Ideas. The software guides users through the printing process with ease, providing them with the estimated printing time, how many layers will be printed and how many meters of filament will be used. Advanced users will be able to tinker with their projects resolution, layer height and density settings, as well as build spend and fan control. The Idea Builder Software is makes any project possible.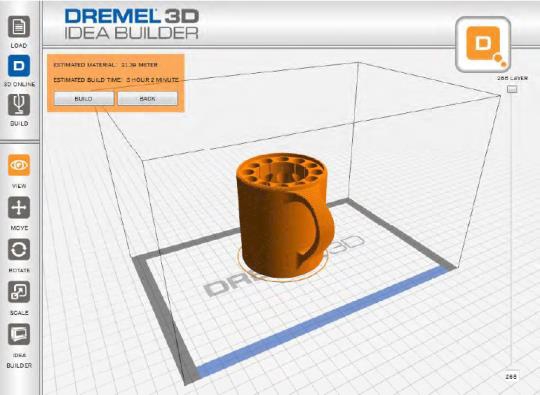 Visit www.dremelweekends.com for more information or to find a host of innovative DIY projects.
MODELS AND CONTENT
Print almost anything you can think of with the 3D Idea Builder. Create USB holders or tablet stands to get organized, mix function and fun by printing phone cases or stencils for artwork. Teach Kids about the wonders of physics, geography and astronomy with playful hands-on projects like marble mazes, a race car track and solar system or world map puzzles.
All this content and more is possible through various sources such as the Dremel 3D website and 3rd Party Online Databases. Even better why not just use some of the printer's pre-loaded models or design your own via CAD software. The possibilities are endless.
On 3D Printer. Countless Possibilities. Check you the link below for more creative inspiration from Dremel's 3D Idea Builder – https://3dprinter.dremel.com/3d-printer-ideas
The Dremel 3D Idea Builder will be available in select National Bunnings stores across Australia at RRP $1,399.00.