Muck Boots have always specialised in high performance boots for the adventurous and rugged among us. The name itself makes sense once you work out exactly what their products are made to combat, and that's muck.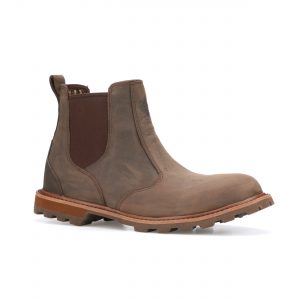 Mud, puddles and rough terrain are all part and parcel of the outdoors, and if you don't have the right foot protection, you're left with destroyed shoes, filthy socks and sore feet. Let's be honest though, gum boots aren't exactly the sexiest wheels going 'round.
So for those that like to mix up style with practicality, Muck also has you covered with its new Chelsea and Freeman leather boots.
Featuring the brand's signature 100% waterproof technology combined with a stylish, oiled pull-up leather, the new collection ensures you won't ever have to sacrifice function for fashion.
Both ankle boots also feature slimmed down midsoles for a more casual look, making each style wearable onsite, in the office and at the pub. Not bad for a boot hey?
Like its other products, the new collection promises maximum comfort all day long with a fitted neoprene strobel and soft, foam footbed for extra cushioning with every step. And after rocking a pair for the last few weeks, I can comfortably say the description is right.
I recommend wearing them in and getting accustomed to the ankle hugging neoprene before rolling 'em out for a full day on site or on the town, as it did take some getting used to. That's pretty standard affair with most shoes though.
Having ruined a few boots with water (and beer) at the pub, the fact that these are waterproof is a game changer in my opinion.
No water stained leather and the ability to give 'em a quick rinse and wipe down after they've collected some 'muck' without changing the look is much appreciated. They're seriously good looking too, so that's always a bonus.
Check 'em out here.