Sports recovery is a hot topic – there's big business in superstars and millions of dollars are invested into research every year, across the globe.
I can't claim to be a superstar in need of such focus. But I do play sports and, like any sports player who's kicking on up the years a bit, recovery is key and bloody hell does it get harder the older you get!
I've used a massage gun once before and, for someone who just about knows the standard English for body parts as opposed to the Latin names, I found it pretty good.
The Hydragun came at a great time as my field hockey season got back in action in recent weeks. As a goalkeeper, agility is key but that's hard with a dodgy back or glute – both of which I suffer from.
No expense is spared on packaging and your Hydragun arrives in a sleek, business-like case encompassing the gun, charger and a host of attachments which, at first, look like they might be used as torture devices – I was half right about that…
There's also a nicely designed booklet that, acknowledging that users generally won't be qualified physiotherapists, gives you some tips and pointers on how best to use the gun and, more importantly, which attachments should be used and where.
All of my use came post-exercise, the first being after my first night back on the hockey pitch, though admittedly not immediately after.
Instead, I found myself walking like John Wayne the day after our game and wondering what fresh hell I could endure. That evening, I decided to unleash the gun and have a go at my aching muscles. I don't know about anyone else but I always find that the second day after a workout/game etc is worse so, with that in mind, I attached the standard 'ball' head and got to work.
In all honesty, this was a quick once-over session where I took my usual 'chasing the pain around' approach – my layman logic is that if I use the gun in a place that hurts and it stops hurting, I move to the next spot, and so on.
To my delight, I felt fine the next day. Sure, there were a few twinges here and there but mostly from the areas I have persistent issues with.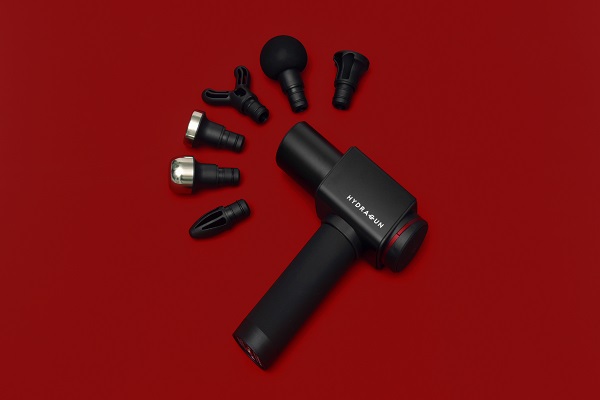 It was a little later when I really sat down and got to grips with the device and all of its extra accoutrements which, in and of itself is a big bonus as most other guns I've seen come with one basic attachment and you buy the rest. The fact that Hydragun offers the full experience in one fancy carry case is a big selling point, in my opinion.
Anyway, I decided to look at the whole offering in a much more clinical manner.
I've got problems with my hips/glutes so I figured I'd go there first. The 'ball' attachment doesn't really work over clothing so I switched to the steel-head equivalent which did the trick nicely, though I definitely noticed the increase in pressure.
It still didn't quite hit the spot though. So I switched to the 'bullet' attachment which was very effective for its purpose but not nearly as much fun as another product brandishing the same nickname…
This combo, for want of a better phrase, lifted me out of it – it's the perfect attachment for those niggling, deeper muscles but hell, you won't use it for too long. It's effective but use sparingly is my advice.
Finally, the 'fork' attachment is designed for medium muscle groups like your calves and shoulders. Having taken to the hilly roads around my home, I was glad of it one evening after a particularly unforgiving hill. Similarly, life at a desk isn't great for your upper back so the fork attachment is a good option for easing a few knots out of your neck and shoulders, even if it is a bit awkward to manoeuvre further back.
All-in-all, I was well impressed with the Hydragun – it's effective and functional which makes it a handy piece of kit to have in your recovery arsenal. And the fact that it comes complete with all of the extra attachments makes it a very appealing offering.